De Saegher Dairy to host the final 2017 Breakfast on the Farm event on August 19
Join us in Gratiot County for the last Breakfast on the Farm event of the year. Learn about how your food is grown and raised, and meet the farmers dedicated to bringing your family safe and nutritious meals.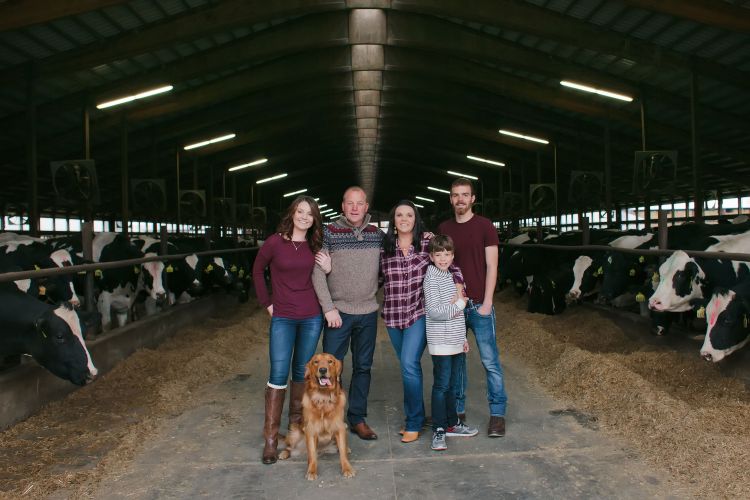 Michigan State University (MSU) Extension will host this year's final Breakfast on the Farm (BOTF) event Saturday, Aug. 19, at De Saegher Dairy in Middleton. BOTF is a free, fun and family-friendly event for people of all ages to enjoy.
This BOTF will give visitors a chance to see how their food is grown and raised. It will take place from 9 a.m. to 1 p.m., with breakfast served until noon. De Saegher Dairy is located at 8086 West Buchanan Road in Middleton.
De Saegher Dairy is a family farm, owned and operated by the De Saegher family, who moved to Michigan from Belgium in 1999. When they first moved to the U.S., they milked 35 cows. Now they own four large dairy farms in Michigan and milk 13,000 cows. Visit the De Saegher Dairy page at our BOTF website to learn more about the De Saegher family.
At this BOTF, guests will be able to see the life cycle of a dairy cow from the moment it's born and being cared for by its mother until it begins producing milk. There is a chance guests will witness a calf being born and interact with calves in the nursery. A live demonstration of the milking parlor will give guests an inside look at how cows are milked.
"We really want to show consumers how milk is produced on a modern dairy farm and answer all of their questions," said Lotte De Saegher. "It's important to us that we showcase our standard of excellence in caring for our animals, the environment and in producing a safe and nutritious product."
BOTF is free, but tickets are required to eat breakfast. Beginning July 19, free tickets are available online and at the following businesses:
Alma: Commercial Bank, Gratiot County MSU Extension, GreenStone Farm Credit Services, Pizza Sam's
Breckenridge: Gratiot Outdoor Equipment, Isabella Bank
Carson City: Harvey's Milling Co.
Ithaca: Gratiot County Farm Bureau, Hearthstone Oven, Isabella Bank
Middleton: Commercial Bank
Mt. Pleasant: GreenStone Farm Credit Services, Isabella Bank
Rosebush: Roz's Diner
Saginaw: Saginaw County MSU Extension
Stanton: Montcalm County MSU Extension
St. Johns: Clinton County MSU Extension, GreenStone Farm Credit Services
St. Louis: Bader & Sons, Frosty Cone
Visit MSU ANR Events to obtain FREE tickets online.
The sponsors for the 2017 BOTF events are Corn Marketing Program of Michigan, United Dairy Industry of Michigan, Michigan Wheat Program, Michigan Farm Bureau, Michigan Farm Bureau Insurance, Michigan Foundation for Agriculture, GreenStone Farm Credit Services, Dairyland Seed, Michigan Milk Producers Association, Michigan Soybean Promotion Committee, Dairy Farmers of America and Crystal Flash.
For more information about the Gratiot County BOTF or other events, please visit the Breakfast on the Farm website. Questions can be directed to Ashley Kuschel at 586-469-7616 or kuschela@anr.msu.edu, or Mary Dunckel at 989-354-9870 or dunckelm@anr.msu.edu.