Demonstration gardens in retail garden centers – show them how it's done
Garden center retailers should not only sell plants, but inspire their customers to use them.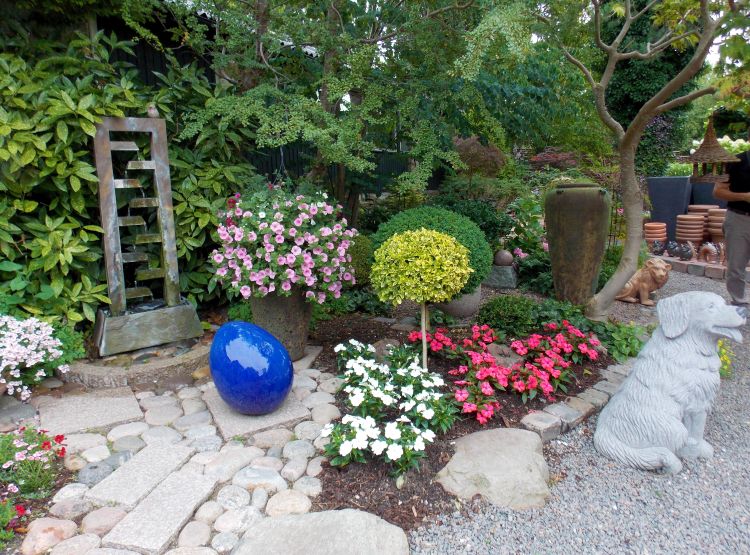 A highly effective and profitable garden center not only sells plants, but inspires their customers with ways to use them. Some of the garden centers featured on the International Garden Center Congress tour in Denmark took the opportunity to showcase not only how plants will look in the landscape, but how they can accent hard goods and garden decor. This suggestive selling helps the customer see how the product can be enjoyed in their own environment and helps them make the leap from "shelf" to "home."
One of my favorite garden centers on the tour, Skrædderbakkens Havecenter, landscaped the path leading into their garden center (Photo 1). This garden center was 54,895 square feet, including the indoor, outdoor sales area and the parking lot, with total sales of 4,200,000 DKK or $630,000 per year. This garden center won the prestigious "Garden Center of the Year" for best medium-sized garden center in Denmark in 2010, 2011 and 2012. The owners distributed a few interesting sculptures and fountains in the landscape, including the cute, visually-challenged replica of Michelangelo's David (Photo 2).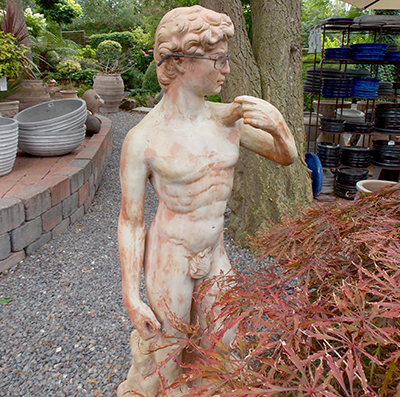 Another garden center with excellent demonstration gardens was Gardenshop Høsterkøb. Specializing in rhododendrons, roses, shrubs and trees, this garden center had approximately 54,000 square feet of outdoor sales area. Their total sales per year is 35,000,000 DKK or $5.25 million. Amongst their roses (Photo 3) was this lovely hardscape with a water feature (Photo 4). Water sounds promote a calming, relaxing emotion and can both enhance the shopping experience and entice some customers to want to include water features in their garden.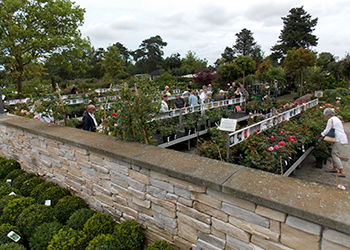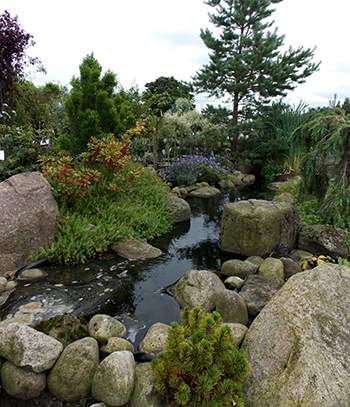 Another interesting garden center was Langeskov Planteskole, which is located in central Denmark. It had by far the most space dedicated to inspirational gardening. They had 2.5 acres of outdoor areas that was mainly home to 25 different inspirational gardens (Photos 5 and 6). The café overlooked the gardens and customers were lead through this area before shopping in the retail nursery where plants were blocked by color and size and not by species or culture. This garden center had a total sales area of approximately 97,000 square feet with 14,000,000 DKK in sales per year or $2.1 million.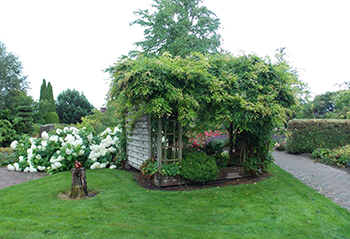 Some garden centers might not have the ability to install and maintain such extensive landscaping or demonstration gardens. For example, Plantorama Hillerød, the largest garden center in Denmark, did not have any outdoor sales area. All plants, decor and pet supplies were in the greenhouse sales area. This garden center still provided the consumer with inspiration with a lovely monochromatic design (Photo 7). Their indoor sales area covered 2.5 acres and have 70,000,000 DKK or $10.5 million in sales per year.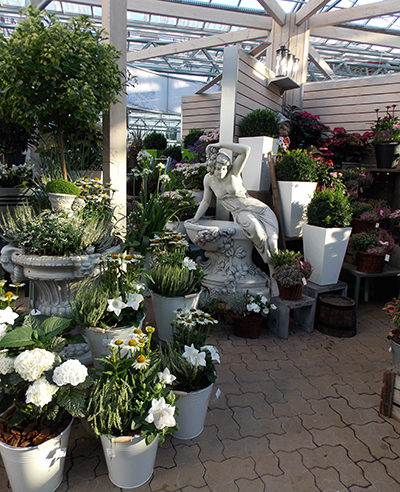 Whether retailers choose to landscape acres or just provide tasteful end-caps in stores, Michigan State University Extension recommends showing your consumers how it's done! They are just waiting to be inspired! It is a big leap for most customers to see a product in the store or on the shelf and imagine how it will look at home. Help your customers "connect the dots" by inspiring them when and where you can.