Director Witter's message
During this last year, we have experienced a number of exciting new opportunities and said goodbye to a long-term faculty member.
Dear Friends and Colleagues:
During this last year, we have experienced a number of exciting new opportunities and said goodbye to a long-term faculty member.
Dr. Joanne Westphal started her career at MSU in 1995. She received her bachelor's degree in Biology from Wisconsin State University in 1970, a master's in Soil Science from the University of Wisconsin in 1973, a Ph.D. in Soils from the University of Wisconsin in 1977, a master's in Landscape Architecture in 1983, and a D.O. from Michigan State University in 1995.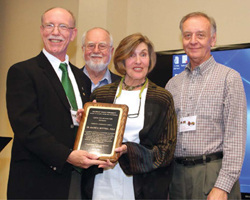 At heart, she has always been a landscape architect, who also became a practicing physician. She is a Fellow in both the American Society of Landscape Architects and the Council of Educators in Landscape Architecture. As a faculty member in SPDC, she focused on issues of health in the built environment, therapeutic site design, context-sensitive design, and research methodology. She touched the lives of a number of our students, and her contributions will be missed. We are in process of hiring a new tenure-stream faculty member to replace her position.
Dr. Pat Crawford was selected by Provost Youatt to bring together an administrative, teaching, and research agenda for MSU in Detroit. She is helping to create a coordinated program with five MSU colleges named DETxMSU: Summer of Hustle in June 2016. This program will grapple with the big urban challenges of today and tomorrow facing Detroit.
Dr. Crawford and her students will be taking the World Class Built Environment approach to our section of DETxMSU. We will be starting on our fifth WCBE project this fall. At the end of spring semester, we had a cross-section of the School's faculty present their teaching methods and how those changes have impacted our students. Presenter Karen Russcher showed and described student projects that demonstrated dramatic positive changes in the students' design and rendering skills.
Trish Machemer not only continues to do a great job as the LA Program Leader, but also has almost double the number of students who take her online ISS class. This work contributes significantly to SPDC. She also has been working on a book with Dr. Burley and successfully co-taught the study abroad course with Dr. Crawford last year.
Jon Burley was an invited guest speaker at universities in China, Malaysia, Indonesia, and Japan during the last year. Jon's publishing and outreach in China continues to grow, attracting a number of Chinese scholars to come and work with him each year.
He also served as a co-coordinator for an international conference sponsored by the World Scientific and Engineering Academy and Society at MSU, where 100 papers were presented over three days in September. Our Landscape Architecture Alumni and Advisory Board (LAAAB) co-sponsored the LA portion of the conference, and LA faculty and students contributed presentations. The Board continues to do great things on the Program's behalf.
Paul Nieratko and LAAAB once again successfully planned the annual golf outing to raise almost $2,500 in scholarship funds supporting our undergraduate LA students.
Paul is currently working with Flint's Mott Park Neighborhood Association, the Glendale Hills Neighborhood Association, and representatives from Kettering University and the Flint Planning Department in his LA 344-Connections of Scale design studio. The studio is providing re-design concepts for the conversion of the 98-acre former Flint Mott Park Golf Course into a mixed-use active and passive park. He also planned the next LA Design and Graphics Workshop, which was held November 19-21, 2015.
Professor emeritus Warren Rauhe and Wayne Beyea continue to do great work in the field. This fall, their work on creating community Place Plans will receive a Diamond Award from the Michigan Society of Association Executives for their creativity and the impact of the plans.
Our faculty and students continue to do more great and exciting things than can be summarized in my note. Please enjoy the rest of the newsletter and learn more about what we do. Thank you to all of you who continue to support our LA program and School!
Sincerely,
Dr. Scott G. Witter, Director