LA Club 2015-2016
LA Club got off to a great start this year with officer's meetings scheduled regularly on the 2nd Sunday of each month, closely followed by LA Club meetings on the 2nd Monday of each month.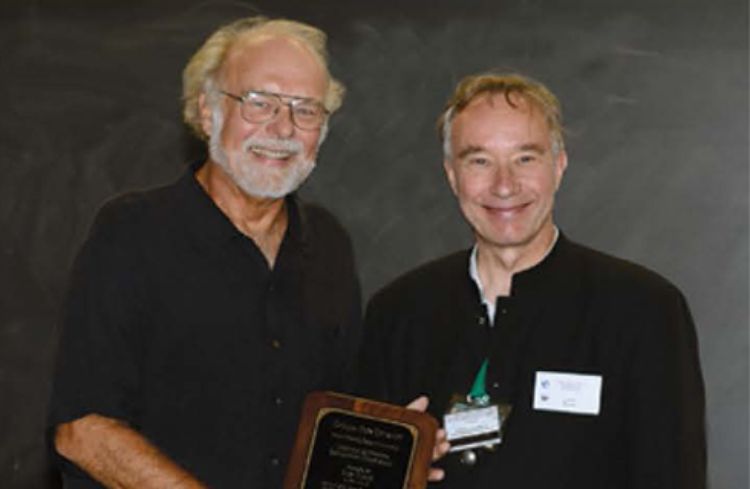 LA Club got off to a great start this year with officer's meetings scheduled regularly on the 2nd Sunday of each month, closely followed by LA Club meetings on the 2nd Monday of each month. At the first LA Club meeting, landscape architecture and engineering majors were represented and attendance soared with over 30 students present.
A few Landscape Architecture Alumni and Advisory Board (LAAAB) members (Deb Cooper, Bob Ford, and Steve Troost) and LA Club officers met at Beggar's Banquet to get acquainted and discuss the direction of the LA Club over the next year.
Already, LA Club and Faculty have put together successful fundraisers and events. We had this year's first Alumni + Student Tailgate, which was well-attended by students and alumni despite rain and chilly weather. Students and Alumni brought food and beverages (so much!), networked, and played outdoor games. Then we beat Air Force. The Tailgate was followed by the Distinguished Speaker Series with Roger Trancik that Sunday evening, and a conversation between Roger and students over lunch on Monday.
At LAAAB's biannual meeting, LA Club presented new ideas for an Alumnito-Student Mentorship Program. That program is presently in the works; anyone interested in a full- or half-day student job shadow is welcome to contact Mike Hou. Also, please contact Mike Hou if you would like to support the LA Club by purchasing a 2016 calendar for $15.
The MSU Alumni Golf Outing + Fundraiser at Hawk Hollow was a success, as was the T-Sign Making event a few days prior. The LA Club's New Fall Opener for new students and present members, organized by the Social Events Committee, had great attendance. It is followed this month by an informal Dinner and Mixer for all LA students.
All 5th year students, as well as several younger members of LA Club, including officers and class representatives, attended the MiASLA Jens Jensen Presentation and/or the Meeting in Ann Arbor + Ypsilanti, and a few students attended the ASLA Annual Meeting + Expo in Chicago in early November. Also in November, LA Club will be participating in a volunteer event, and hopes to end this year with a holiday party in December the week before finals.
So what's next for 2016? A Stress-Free Event for all students of SPDC Student Organizations will take place the evening of the SPDC Hayride. We saw Bill Johnson and Bob Chipman at the Big Ten Biennial Workshop and Design Charrette on November 19-21.
Last year, SPDC held a Career Fair for LA Students of all years which was heavily attended by students and firms. The Fair was followed by a Distinguished Speaker Series the same day and Interviews the day after.
Students loved the career fair so much they requested the same format this year, and LA Club has decided to create a professional event preceding the Career Fair, maybe in late January. A speaker panel of three LA professionals will give students advice and suggestions about what to put in a portfolio, and will offer suggestions to younger students who may not yet have enough work to put in a portfolio.
More events are being scheduled at every meeting, so if you'd like to be included in LA Club's Google Event Calendar, e-mail Katie Ling. Thanks, and see you all soon!
Hello from LA Club 2015-16!
It's time again to introduce our new Officers and Committee Chairs!
President: Katie Ling (5th Year).
Vice President: Maleah Beatty (5th Year).
Treasurer: Marlena Smith (5th Year).
Secretary/Social Co-Chairs: Morgan Haffey (4th Year) and Brock Downs (4th Year).
Fundraising Chair: Arianna Zannetti (3rd Year).
Volunteering Chair: Cresha Wee (4th Year).
Alumni Liaison: Mike Hou (4th Year).
4th Year Rep: Nick Blok.
3rd Year Reps: Curtis Schaldach and Brad Hornburg.
2nd Year Rep: Abbie Reimel.