Disasters don't plan ahead. You can.
September is National Preparedness Month. Take action to plan-ahead and be prepared for just whatever might lie ahead.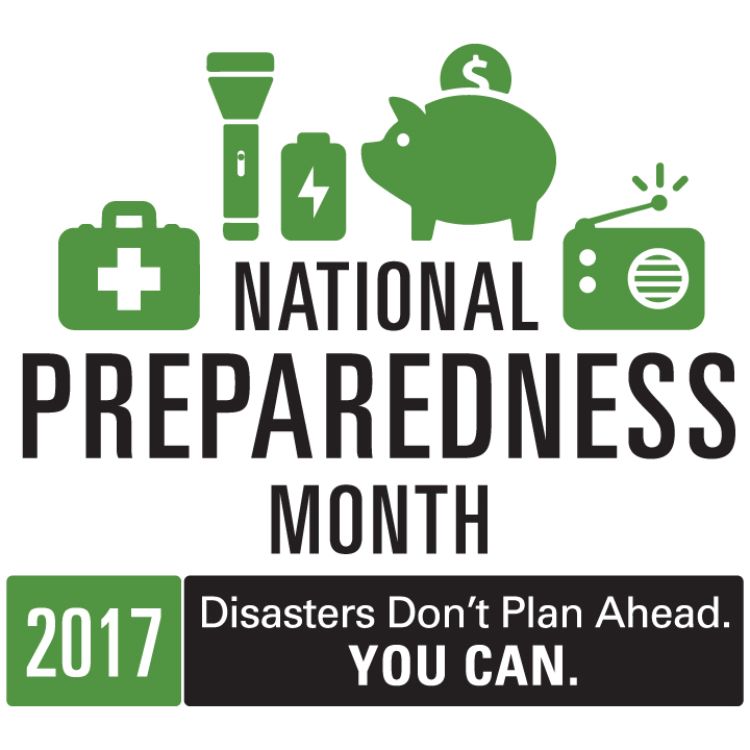 September is National Preparedness Month (NPM). The goal of NPM is to increase the overall number of individuals, families and communities that engage in preparedness actions at home, work, business, school and places of worship.
Each of us can take action to plan-ahead and, in so doing, be prepared for whatever might lie ahead. To help you in this, each week in September take a different focus with your efforts:
Week 1: September 1-9 – Make a plan for yourself, family and friends
Week 2: September 10-16 – Plan to help your neighbor and community
Learn skills you need to help yourself and others until help can arrive.
Take Until Help Arrives training.
Talk with your Power Company about utility safety.
On National PrepareAthon Day, Friday, September, 15, hold an event.
Week 3: September 17-23 – Practice and build out your plans
Complete an Emergency Financial First Aid Kit .
Maintain monetary savings for use in case of an emergency.
Participate in an emergency drill.
Know how to access community resources (e.g., shelters, food banks).
Week 4: September 24-30 – Get involved! Be a part of something larger
There are many resources to help you prepare for the unexpected. Preparedness Videos sponsored by the Federal Emergency Management Agency (FEMA), in partnership with The Advertising Council, educate and empower Americans to prepare for and respond to all kinds of emergencies through short public service advertisements.
America's PrepareAthon! is a grassroots campaign for action to increase community preparedness and resilience. Join others around the country to practice your preparedness.
Download the FEMA App for disaster resources, weather alerts, and safety tips.
Emergency preparedness need not end on September 30. Resources are available year round to help you become better prepared for and able to respond successfully to a variety of disaster situations. To learn more, visit: Michigan State University Extension , eXtension , and EDEN. Information herein provided by the Ready Campaign.