East Michigan fruit update – April 2, 2019
Cold temperatures continue to hold the start of spring growth of fruit crops in east Michigan.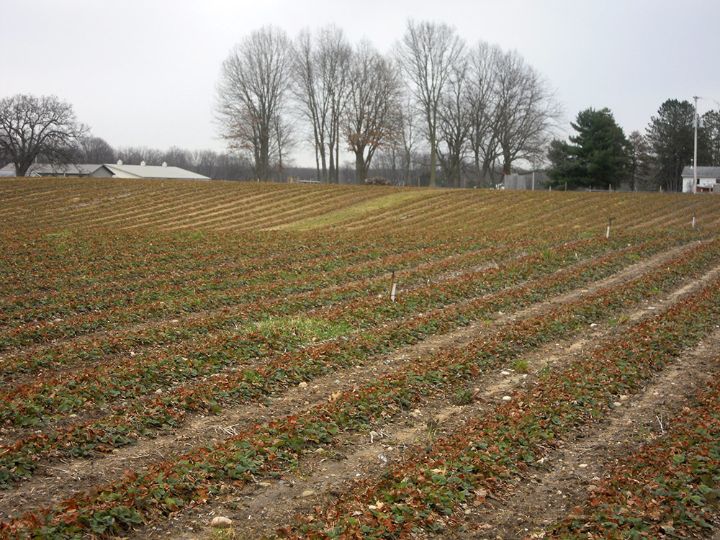 Weather
We saw cool temperatures through March and they continue into early April. These cooler temperatures have held back the beginning of growth of most of our fruit crops. The only visible signs of spring bud break I saw yesterday in my travels are some green bud scales showing through in a few blueberry varieties and a few new leaves emerging from the crown in strawberries that are still covered with straw. While this spring is cooler than last spring, these cool temperatures have resulted in a season that is roughly seven to 10 days behind normal.
We had some very cold temperatures this winter that have caused some damage to flower buds in peaches, blueberries, sweet cherries and wine grapes. Additionally, I am seeing some cinnamon colored cambium and wood in peaches that concerns me. The coldest temperature's occurred around Jan. 30 to Feb. 1. Many of our Michigan State University Enviroweather stations recorded low temperatures in the range of -13 to -17 degrees Fahrenheit. I am hearing reports from a few fruit growers that their lowest recorded temperature this winter was -20 F.
I have forced peach twigs to check for damage. The flower buds begin to swell, and then development seems to stop. From there the leaf buds begin to grow and take over. I also have forced some forsythia twigs, as I use this plant as an indicator of potential fruit flower bud injury. Here again, many of the forsythia buds swell but do not continue to normal flowering.
Most of our region has soils that are too wet to do any fieldwork, other than the continuation of pruning activities in tree fruits, blueberries and grapes. I have not heard of any tree planting yet.
East Michigan growing degree-day (GDD) totals for March 1 to April 2, 2019

Location

GDD42

GDD45

GDD50

Commerce (Oakland County)

31

19

8

Deerfield (Monroe County)

39

24

10

Emmett (St Clair County)

16

9

4

Flint (Genesee County)

40

26

11

Freeland (Saginaw County)

22

13

5

Lapeer (Lapeer County)

34

21

9

Pigeon (Huron County)

16

9

3

Romeo (Macomb County)

31

19

8
Tree fruits
Apples are mostly at dormant to a few early varieties beginning to see flower bud swell. There are some tips of leaders and scaffold branches that appear to be dehydrated in newly planted apples, most in high density plantings. These will bear watching over the next few weeks to see if they will need to be pruned back to sound tissue. It appears they did not harden off well last fall. Most growers are seeing a nice crop of flower buds. Growers are continuing to prune apples through this cold start of April. Many growers are seeing higher populations of overwintering scale populations as they have been doing pruning this winter. I have set up my apple scab spore trapping equipment for spring.
Pears are dormant.
Peaches are seeing some signs of early bud swell in a few varieties. I am encouraging peach growers to hold off the beginning of pruning until flower buds become more visible to determine possible crop loss. As was discussed in the Weather section of this report, there has been some flower bud damage in peaches this winter.
Sweet cherries are at slightly swollen bud. As was discussed in the Weather section of this report, there has been some flower bud damage in sweet cherry this winter.
Tart cherries remain at dormant.
Plums are at dormant for European varieties and swollen bud for Japanese varieties.
Small fruits
Strawberry leaves are just starting to emerge from the crown on early varieties, and just a few at that. Most strawberries are still covered with straw mulch. Straw removal may begin later this week or early next week.
Raspberries remain dormant.
Blueberries are mostly dormant, with a few varieties just starting to show the slightest bit of green bud scales.
Grapes are at dormant. With low temperatures this winter in the -15 F range, there will be extensive damage in many wine grape varieties.
Did you find this article useful?
---