East Michigan fruit update – April 30, 2019
Colder temperatures over the last week have dramatically slowed fruit growth.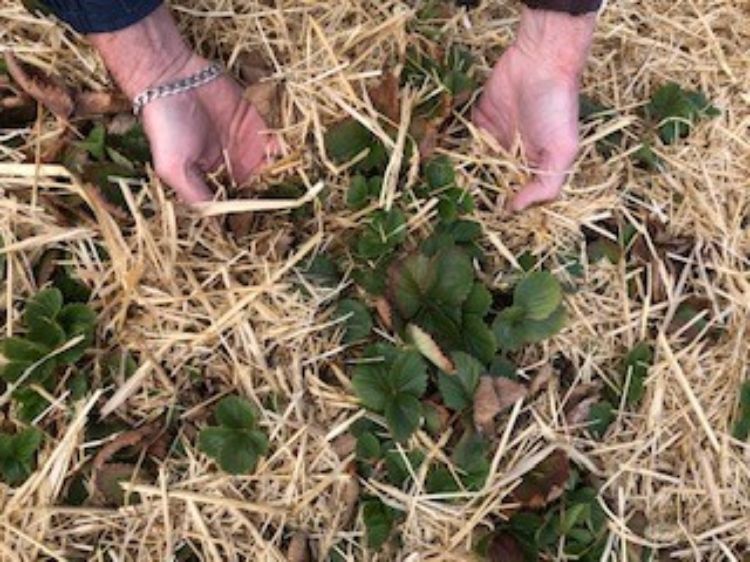 Weather
The teeter-totter weather pattern of this spring, with a few days of warm temperatures followed quickly with more cold, has continued over the last week. The mostly cold temperatures have held back the development of fruit crops over the entire east Michigan region. We did have some freezing temperatures Saturday and Sunday mornings for some isolated areas, with morning lows in the 29- to 31-degree Fahrenheit range. Fruit was not far enough along that these temperatures caused damage to flower buds, although the tips of young leaves looked tinged a bit.
We have continued to slowly build our growing degree day (GDD) totals over the last week, but most Michigan State University Enviroweather stations only added a few base 50 GDDs. With the mostly colder temperatures, our season has dropped back again to being three to four days behind normal when looking at both flowering stages and GDD totals.
The continued rain events for most of the region is the second weather-related story of the past week. Many of our MSU Enviroweather stations have once again received measurable rainfall for five or six of the last seven days. Most farms have had received another 1.2 to 1.8 inches of rain over the last week. Field conditions remain wet for most growers. When pest control was needed in the last week, it left more big ruts in the soil in orchards. There has been some limited tree planting in the last week on lighter soils, but there is much to be done yet. Growers have been applying pheromone disruption ties in the last week.
East Michigan GDD totals for March 1 to April 29, 2019

Location

GDD42

GDD45

GDD50

Commerce (Oakland County)

198

141

73

Deerfield (Monroe County)

255

184

104

Emmett (St Clair County)

163

114

57

Flint (Genesee County)

226

165

91

Freeland (Saginaw County)

186

137

75

Lapeer (Lapeer County)

204

148

80

Pigeon (Huron County)

146

102

52

Romeo (Macomb County)

204

145

76
Tree fruits
Apples have stalled growth in the last week, with most being at half-inch green. However, there is great variability of flower bud stages on the trees this season, much more variability than normal. Some buds are still at late green tip while a few are beyond tight cluster to pink. This variability might cause some challenges for fire blight control during bloom and ultimately for apple maturity at harvest. Overall, most varieties have a nice crop of flower buds this season.
I am still concerned about the lack of vigor in Honeycrisp this season, as they are notably a few days behind the growth stage of most other apple varieties this season. As I said in last week's report, they have a strange look to them, almost having the appearance of showing the early signs of some possible winter injury. Again, I hope by next week at this time they look better. Some blocks of Golden Delicious are also looking odd this season.
Redbanded leafroller trap catch has jumped again this past week, with most traps catching 15 to 40 adults per trap over the last week. Spotted tentiform leafminer trap catch was lower this week, in the range of 200 to 300 adults per trap, most likely due to colder temperatures. The only new pest to report in apples is a few very small obliquebanded leafroller larvae in apple buds. Growers with San Jose scale hotspots have been applying oil in the last week.
Apple scab spore discharge has been slow this past week due to cold temperatures. Even though most apple growers have seen three to five apple scab wetting events in the past week, only the Deerfield MSU Enviroweather station recorded enough wetting for a light infection period. None of the other weather stations in the table of this report recorded enough wetting for an infection period. With rain and warming temperatures predicted in the next few days, I would expect to see spore discharge to increase with an infection period likely.
Pears are at tight cluster. Pear psylla adult flight continues.
Peaches are mostly at red calyx to first pink. The Romeo area has a nice crop of flower buds this season, and I have been pleasantly surprised in the last week to find a few viable flower buds at several other farms I have visited over the region. The number of viable buds varies a great deal, with poorer sites and certain varieties having few viable buds. Up until finding these viable buds at farms away from the Romeo area, I had poor luck in forcing peach twigs this winter and early spring and finding good, healthy flower buds. At most farms, flower buds have swollen slightly but seem to have stopped growing. When I try to carefully cut buds to check for winter injury, they frequently fall off in my hand, indicating signs of winter injury. This flower bud damage was caused by cold temperatures in late January. Except where you are finding viable flower buds, hold off pruning peaches until flower buds become more visible to determine possible crop loss due to cold temperatures this past winter. There are also some signs of cinnamon colored bark in peaches, which is another indication of winter damage.
Sweet cherries are at first white.
Tart cherries are at tight cluster to early open cluster. Some tart cherry blocks have a good amount of deadwood, mainly from winter injury where cherry leaf spot disease pressure was heavy last season, also causing early leaf drop in the mid to late summer.
Plums are at tight cluster to first white for European varieties and are at first white for Japanese varieties.
Small fruits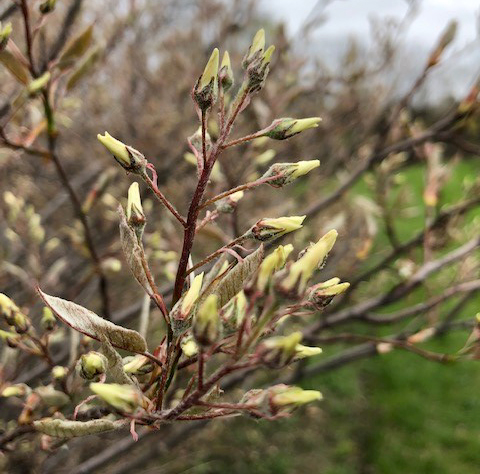 Strawberry flower trusses are just starting to emerge from the crown. Leaves continue to slowly emerge from the crown. Most growers have removed their straw. Growth has been very slow this season. A light nitrogen application is needed to help spur on more leaf growth. Irrigation pipe is being laid this week to get ready for frost protection.
Raspberry canes continue to emerge from the soil for both summer and fall raspberries; most are 2 to 4 inches in length. Summer raspberries have about 2 inches of new growth from buds growing toward the base of the cane. Some summer varieties have a good amount of tip death from winter injury. This damage needs to be pruned off in the next few weeks.
Blueberries are at tight cluster for Jersey, with Blueray and Bluecrop being at late bud break. Pruning continues.
Saskatoons are at the balloon. I expect bloom later this week.
Grapes are still at early bud swell for Concord types and wine grapes are at scale crack. With low temperatures this winter in the -15 F range at many farms, there is extensive damage in many wine grape varieties.