East Michigan fruit update – May 7, 2019
Rainfall and mostly cooler temperatures over the last week have continued to slow the growth of fruit crops over the region.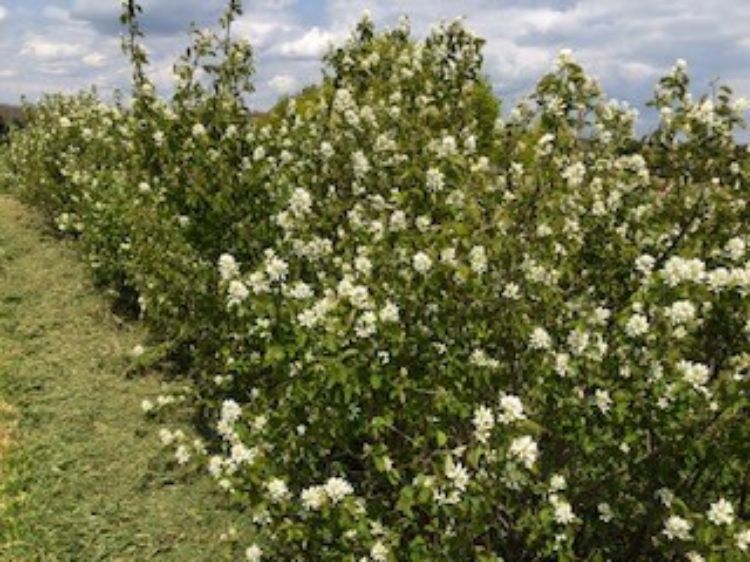 Weather
The continued rain events and the teeter-totter of cold to warm temperatures have been the weather story of the past week. Most of our Michigan State University Enviroweather stations have once again received measurable rainfall for four to six of the last seven days, with most farms receiving another 1 to 1.5 inches of rain over the last week. Many farms have received 4 to 5 inches of rain over the last three weeks. Field conditions remain wet for most growers.
Our soil temperatures remain low, thus holding back overall development of fruit crops across the region. This should begin to turn around when we receive our first warm rains.
Warmer temperatures over the weekend have finally pushed the growing degree days (GDD) base 50 totals into the triple digits, but most MSU Enviroweather stations only added a few base 50 growing degree days in the last week. With the mostly colder temperatures, our season has dropped back further for the second week in a row to now being four to seven days behind normal when looking at both flowering stages and growing degree day totals.
East Michigan GDD totals for March 1 to May 6, 2019

Location

GDD42

GDD45

GDD50

Commerce (Oakland County)

264

190

102

Deerfield (Monroe County)

341

249

140

Emmett (St Clair County)

201

141

71

Flint (Genesee County)

289

211

117

Freeland (Saginaw County)

231

168

92

Lapeer (Lapeer County)

260

190

106

Pigeon (Huron County)

174

121

62

Romeo (Macomb County)

266

191

103
Tree fruits
Apple growth has been slow over the last week, despite warmer temperatures over the weekend. Apples in the mid part of our region (Ann Arbor through Flint) are mostly at late tight cluster, with early pink on the king bloom for some early varieties like Idared. There is more variability of flower bud stages in apples this season than I have seen in a long time. This variability of flowering stage might cause some challenges for fire blight control during a possible extended bloom period, thinning with a staggered bloom and ultimately variability of apple maturity at harvest. Overall, most varieties, with the exception of some Honeycrisp blocks, have a nice crop of flower buds this season.
I have been concerned this spring about the lag in flower bud development in some Honeycrisp and Golden Delicious blocks. In the past week, many blocks are starting to look better and seem to be catching up to other varieties. This being said, most farms have a few Honeycrisp blocks that did not come back with a good return bloom this season. Perhaps these blocks were over cropped last season or had some environmental factor that didn't advance initiating buds to differentiate into flower buds last summer.
Oriental fruit moth is the only new past to report this week in apples and other tree fruits. I had my first adult trap catch over the weekend, with just a few found in traps. Yesterday, I found good numbers of obliquebanded leafroller larvae in apple buds at a few farms, but I could find a few larvae at most farms. A pink application may be needed to control them in heavily infected blocks. Redbanded leafroller trap catch has leveled off or is starting to drop back this week, I am not sure if this drop is more weather-related than an end to the first-generation flight. Spotted tentiform leafminer trap catch was high this week, in the range of 400 to 600 adults per trap, most likely due to warm temperatures over the weekend. No San Jose scale adults have been caught in traps yet. A good amount of oil has been applied in apples in the last week, some growers have more to do.
Apple scab spore discharge picked up in wetting events last Thursday and Friday, and even greater numbers again yesterday and more from rain that occurred overnight. Most apple growers had one apple scab infection in the past week (May 2 and 3), with most MSU Enviroweather stations showing an ongoing infection period as of mid-morning Tuesday, May 7. Surprisingly, despite all of the wetting events we have had this season, most apple growers saw their apple scab first infection period of the season. More rain is predicted later in the week, so I expect to see another infection period soon.
Pears are at tight cluster to open cluster. Pear psylla adult flight continues.
Peaches are mostly at first pink, with a few early varieties at first bloom. The number of viable buds varies a great deal from farm to farm, with poorer sites and certain varieties having few viable buds.
Sweet cherries are at full bloom.
Tart cherries are at first white to early popcorn for a few buds.
Plums are at first white for European varieties and Japanese varieties are at full bloom.
Small fruits
Grapes are still at late bud swell to early bud burst for most varieties.
Strawberry flower trusses continue to emerge, but mostly the trusses are still sitting at the top of the crown. Leaf growth has begun to take off, especially where a light amount of nitrogen has been applied. Overall, growth in strawberries has been very slow this season due to cooler than normal soil temperatures. Irrigation pipes are being laid to get ready for frost protection.
Raspberry canes continue to emerge from the soil for summer and fall raspberries, most at 4 to 6 inches in length. Summer raspberries have flower buds emerging from the tips branched canes. Some summer varieties have a good amount of tip death from winter injury. This damage needs to be pruned off this week.
Blueberries are at tight cluster to early pink bud for Jersey, with Blueray and Bluecrop flowering being behind Jersey this year. Some flower buds on early varieties are not developing as they do in most years. I hope we are not seeing early signs of winter injury on these early varieties.
Saskatoons are at full bloom.