East Michigan vegetable update – May 24, 2017
Great conditions for growing roots this week. Field activity may slow down in some areas of the region, depending on rain.
Weather
The next weather system may bring 0.5 – 1 inch of rain Wednesday and Thursday, May 24-25, and maybe more over the weekend.
The table below are growing degree-days (GDD) base 50 degrees Fahrenheit since March 1, rainfall (inches since April 1) accumulations and soil temperature ranges (Fahrenheit over the last week) to date from Michigan State University Enviro-weather stations in the region.
Rainfall and GDD total as of May 24, 2017

Location

GDD (+ added from last week)

GDD 5-year average

Rainfall (+ added from last week)

Rainfall 5-year average

Soil temperature ranges

285 (+ 105)

306.4

6.41 (+ 1.32)

4.00

47.7-71.3

307 (+ 101)

326.2

5.06 (+ 0.00)

4.56

47.2-61.7

369 (+ 110)

343.5

7.50 (+ 0.57)

6.05

52.3-70.8

330 (+ 106)

337.1

7.41 (+ 0.70)

4.98

49.6-64.4

312 (+ 97)

325.9

6.83 (+ 0.05)

5.08

48.2-61.2

348 (+ 108)

353.1

4.57 (+ 0.54)

5.32

51.7-72.6

265 (+ 86)

281.9

9.08 (+ 1.61)

5.70

49.9-65.3

311 (+ 103)

321.5

6.73 (+ 0.45)

4.77

47.6-66.0

318 (+ 109)

331.0

6.09 (+ 1.58)

4.64

47.5-66.4

263 (+ 98)

286.6

5.73 (+ 0.21)

4.72

45.6-66.8
Crops
Asparagus and rhubarb are showing up at market in force. The floors of on-farm refrigerator rooms are filling up.
Transplant producers have lots of great looking transplants for sale. Have trays readily available to put in individual tear-away cells so the customer doesn't have to walk around with a handful of individual plants. Additionally, hanging baskets right over walking paths and transplants on pallets on the floor can make navigation through the hoophouses difficult.
Having clear headroom, space to move two people up and down an aisle and transplants at waist height will maximize customer appeal. I visited an excellent greenhouse in North Branch, Michigan, that even had their plants arranged in alphabetical order. Talk about organized.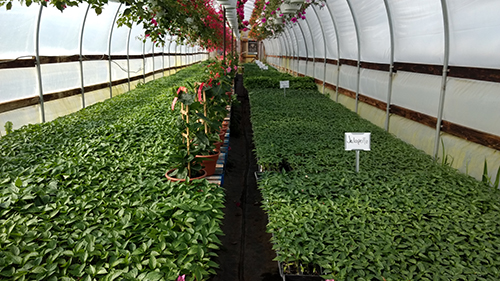 Peppers, tomatoes, watermelon, cantaloupes and slicing cucumbers are being transplanted on plastic beds. Some cucumbers have been seeded under plastic, but I have not seen any seeded in bare soil. Soil temperatures under the plastic are up to 10 degrees warmer than ambient soil temperatures and are suitable for our more sensitive warm-season crops at this time, like melons and peppers.
Sweet corn is at various stages. Corn seeded under plastic are ahead of bare-soil corn by about 3 inches.
Seeded onion and carrot fields are being sprayed to kill the barley/rye nurse crop. Growers should also be able to spray GoalTender on onions at the one leaf stage.
The first plantings of pickling cucumbers in the Saginaw Valley will be starting Friday, May 26, weather pending.
Cole crops are still going in. The oldest plantings are now about the size of a basketball, with cabbage heads just beginning to form. Cabbage maggots and imported cabbageworms are active in fields. I have not found diamondback moths.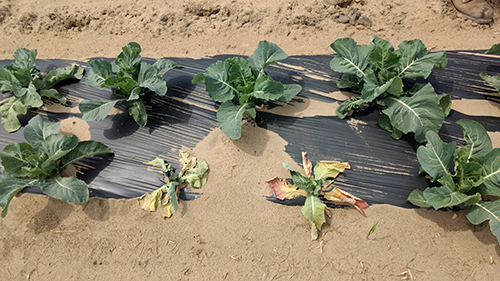 Cover crops
Growers who use cereal rye as mulch should be looking to terminate the rye cover crops soon with an herbicide. Organic growers need to carefully time mechanical termination for when the rye is dropping pollen from their flowers. I've gotten reports that rye is heading out at a short height this year, so keep an eye out for flowers even if the rye isn't as tall as you are expecting.
Other pests
Cutworms have been spotted on the ground around plants.
The first generation of swede midge should be emerging soon. I have been scouting cole crops and have not found any confirmed damage or insects.
Spotted cucumber beetle was found in southeast Michigan already. These beetles migrate up every year and usually are not a major pest until July. Striped cucumber beetles overwinter in Michigan and can cause significant damage to young seedlings. I have not seen any in our region. Seed treatments and transplant drenches do a good job against them.
Please contact me at phill406@msu.edu or 616-901-7513 to pick up any suspected disease samples from your farm, or send the diseased plant parts to MSU Diagnostic Services.