Educate and engage your community about local food and farming
Food, farming and community web resources provide materials to build greater public understanding about local food and the importance of sustainable practices.
Food, Farming and Community provides materials to build greater understanding about local food and the importance of sustainable practices.
These issues and relationships affect everyone, everyday. Our health and the environment are at stake. These resources were developed as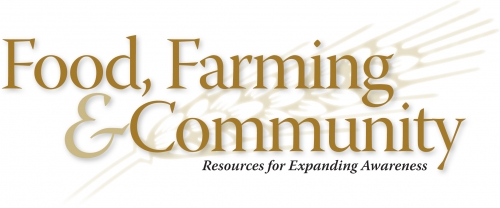 a way to increase awareness and stimulate discussion about the economic and ecological sustainability issues contemporary agriculture faces – issues that affect children, families, farmers, our communities and the land around us.
Communities and organizations are invited to use these materials in their own work: planning, training, building public awareness and inspiring change around farmers, farming and local food. Materials were vetted by small diversified and large scale farmers, state and regional sustainable, educators and organic organizations.
Materials are available free of charge:
A readers' theatre script of "What Will Be in the Fields Tomorrow?" for group reading, a shared experience and to inspire public exploration of agriculture and local food

A six-part community-oriented curriculum, Food, Farming and Community: A Curriculum for Adult Learners

Essays on how-to use readers' theatre to your community

An introduction to civic dialogue as a way to engage community discussion around these issues

Annotated book and film lists around sustainable agriculture as a starting point for discussion

Promotional and marketing materials and examples for your use
Readers' theatre is an informal group activity that can bring people together in a common experience. Both entertaining and educational, readers' theatre can be a starting point for continuing community dialogue and learning.
A six-lesson companion curriculum is aimed at adult learners. It does not require previous knowledge. Lessons link everyday personal decisions to broader concepts, such as, the local economy, global policies, personal health and the future of the environment. A facilitator guide, learner packet and PowerPoint slides are provided for each session.
Others experiences with the materials are shared in essays. Resources include links to annotated book and film lists as a basis for programming via book club or film festival format and an essay on using civic dialogue to continue the conversation.
These materials grew from the direct expertise of farmers and ranchers, an oral historian, a playwright and a museum curator. Cynthia Vagnetti documented the experiences of American farmers and ranchers through oral history research. Playwright Barbara Carlisle developed the readers' theatre piece from their real experiences. The vetting process is described along with audience survey results from six pilot audiences of sustainable and organic farmer networks and a Traverse City, Mich. community theatre audience of farmers and agriculture educators. The curriculum has been developed by Creative Change Educational Solutions, Ypsilanti, Mich. Funding from the Kellogg Foundation supported this project.