Educational packaging coming to a local pet and pond retailer near you
The RIPPLE program reminds pond and aquarium keepers to be responsible owners and never release unwanted plants or pets into waterways.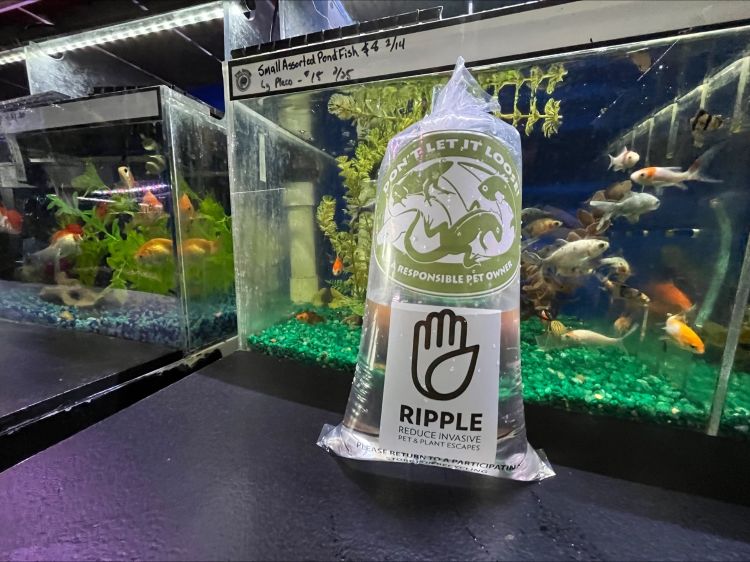 Many non-native plants and animals are available for sale at aquarium and pond retail stores. While they make great pets and décor, these non-native species can also be harmful to Michigan's waterways if they are released or accidentally introduced. Retailers have a unique platform to influence and encourage responsible care for Michigan's waterways, which is why Michigan State University Extension has fostered strong industry partnerships to reach as many aquarium and pond owners as possible with the Reduce Invasive Pet and Plant Escapes (RIPPLE) program.
Through RIPPLE, retailers are supplied free products to display in their store and handouts for customers, stressing the importance of not releasing species into the wild. This summer RIPPLE is offering retailers a new item: educational plastic bags. When customers bring home a new aquatic pet or plant, some will find them bagged with the educational message of "don't let it loose, be a responsible pet owner." Other RIPPLE products include brochures highlighting some of Michigan's regulated fish, crayfish, and plant species, rack cards which can be displayed near registers, aquarium tank clings, and hand towels.
The bags are a collaborative product between RIPPLE and another national invasive species prevention program, Don't Let It Loose, which partners with pet retailers and suppliers across the country. Both outreach programs share a similar goal of preventing the release of non-native species from the pet trade into the wild. Since RIPPLE began in 2015 over 175 Michigan retailers, nature centers, zoos, aquariums, schools, and more have partnered with the program and received educational products. All RIPPLE educational items are provided for free thanks to grant funding from the Michigan Invasive Species Grant Program.
Fish and plants sold for ponds and aquariums often grow quickly and are environmentally hardy, which are characteristics that make them great for trade but can also lead them to be invasive if they end up in lakes and rivers. These non-native species can also be expensive and time consuming to remediate and control. For example, in the fall of 2021 over 3,400 tons of invasive water lettuce and water hyacinth had to be removed from waterways in southeastern Michigan by hand. Both aquatic plants are legal to sell for water gardens. However, they are also on the Michigan aquatic invasive species watch list and therefore, when discovered in the wild, time-consuming and expensive removal and management actions are required. That's why it's so important that these ornamental species do not end up in our natural waterways.
Are you looking to share the important message of "don't let it loose?" A variety of products can be ordered on the RIPPLE website for free, while supplies last. Retailers looking to partner with RIPPLE and receive complimentary educational bags should reach out directly to Paige Filice at filicepa@msu.edu.
RIPPLE's education initiatives are coordinated by MSU Extension in partnership with the Michigan Department of Environment, Great Lakes and Energy, Michigan Department of Natural Resources and the Michigan Department of Agriculture and Rural Development.