Empowering minorities through academic and career advancement
Michigan State University is home to the founding chapter of MANRRS, an organization dedicated to increasing the minority representation in agriculture, natural resources and related sciences.
Today, Minorities and Agriculture, Natural Resources, and Related Sciences (MANNRS) is an organization with an active database of more than 2,050 student and professional members. But back in the mid-1980s, it began as a small group of Michigan State University (MSU) students who had something in common: they noticed there were not many people who looked like them in their classes.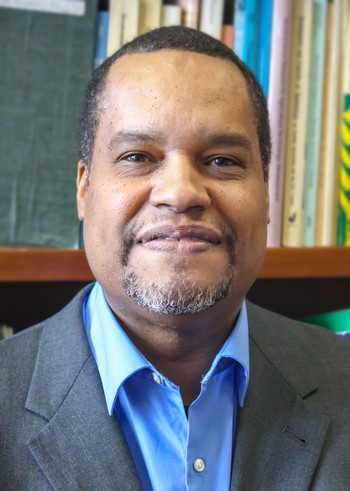 CANR alumnus Dave Weatherspoon, now a professor in MSU's Department of Agricultural, Food and Resource Economics, and associate dean for undergraduate studies for the university, recalls those early conversations.
"There were enough people in the College of Agricultural and Natural Resources (CANR) that you knew somebody, and we all had similar stories. The stories were that you were the only person that's ethnically different, in your courses. I mean, absolutely the only one," he said. "There was a need to build a community, and that's what the organization started as."
Weatherspoon, who is sometimes referred to as "The Grandfather of MANRRS" due to his role as a founding member and a student chapter president, started the organization, then called Minorities in Agriculture and Natural Resources (MANRA), with the help of his classmates in CANR, many of whom participated in MSU's Minority Apprenticeship Program (MAP, now called the Multicultural Apprenticeship Program) prior to their freshman year. The Minority Apprenticeship Program was created by James E. Jay, then assistant dean in CANR, and implemented by Don Wallace, then a graduate student in CANR.
"Outside Historically Black Colleges and Universities (HBCUs), there was nowhere that you could go and find a good healthy-sized group of people of color in the ag and natural resource type majors," Weatherspoon said.
Growth and Development
With the help of Dr. Eunice Foster, then a professor in the Department of Crop and Soil Science; Jay and Wallace, Weatherspoon and his classmates expanded the reach of their efforts to campuses across the U.S.
"We became pretty quickly sought after for all types of industry opportunities, government opportunities, as well as grad school," said Weatherspoon. "At some point, we decided, 'well, hey, are there others out there like us that have the same type of experiences?'"
In 1985, Weatherspoon, Foster and other MANRA members traveled to Penn State University (PSU) to help students in the College of Agriculture start a student organization called Minorities in Agriculture. The next year, the MSU and PSU organizations convened in East Lansing for the first national conference of what later became MANRRS. Foster estimates that 40 people from five institutions, in addition to MSU and PSU, attended that meeting, including students from Cornell University, the University of Illinois Urbana-Champaign and Fort Valley College (now Fort Valley State University), an HBCU located in Fort Valley, Ga.
"The faculty and staff from those universities committed that we would work together," said Foster, who served as the first president of the national MANRRS organization.
Attendance at conferences continued to increase: 60 people at Penn State in 1987, and 90 in 1988. Last year, approximately 1,000 people attended the annual MANRRS conference in Overland Park, Kansas.
Like the organization itself, the MANRRS conference is geared for both students (junior high through graduate students) and professionals and offers opportunities to network, connect, grow, develop leadership skills, and explore academic and/or career opportunities.
"Students can present papers on their research, give presentations, or create posters on their research," said Foster. "There are public speaking competitions. There's all kind of competitions that students can engage in that are part of leadership development."
Community
In addition to the National Conference each spring, MANRRS also hosts regional meetings as the organization's fall premiere recruiting events and a key part of its programming. Similar to the National Conference, these meetings, called Regional Clusters, are held from September through November and offer professionals, alumni members, students, and partners a chance to network and continue to develop as leaders.
"MANRRS is about leadership development and where you want to go in life, and how you want to contribute and to helping you to reach those goals. Although the main focus of MANRRS is on minority students, MANRRS welcomes and works to develop all students, all people," said Foster. "We push each other. Some of us can push you real hard, lovingly, to encourage you so that you do your best."
"If you expect the best out of someone in any effort, they do need to feel some sense of belonging. We know that for undergraduate education in particular, a lot of research has been done on the sense of belonging and the probability that a student is going to actually graduate from your institution," Weatherspoon said. "Building that in was critical to increasing the mass of available people to fill these areas, from industry and academia."
Jessica Diaz, a senior in the MSU Department of Fisheries and Wildlife, said she felt a community of support upon joining MANRRS during her sophomore year. Diaz is a first-generation student from Houston and is the vice president of the MSU MANRRS chapter.
"Through MANRRS, I've had the opportunity to be connected with people of color in the fisheries and wildlife field," she said. "I think seeing myself reflected in them, and knowing that I can get to their position if I would like to, or overcome all of these other systemic barriers that have been put in place, is really great."
Christián Henry, a Ph.D. candidate in the MSU Department of Forestry, feels the same way. An Alabama native, she came to grad school at MSU after completing her undergraduate degree at Mississippi State University, where she served as the president of its MANRRS chapter.
"MANRRS has always made me feel like no matter what, I'm welcome," said Henry, who currently serves as MANRRS' Region V and VI graduate student vice president. "My biggest takeaway from my involvement in MANRRS is the 'home-away-from-home' feeling. My real family is like 1,000 miles away and I've never really felt like I don't have any family here. The biggest impact is always having someone to talk to, and people being supportive."
Mentorship
Mentorship is an important component of MANRRS, dating back to its founding, when Foster took Weatherspoon under her wing.
"Dr. Foster was heavily involved in getting us organized and helping with outreach efforts when we were first starting MANRRS," Weatherspoon said.
Foster and Weatherspoon speak at MSU MANRRS meetings and national MANRRS events. Foster is also involved with Jr. MANRRS, which is geared toward fostering interest in agriculture and natural resources for minority middle and high school students.
"You want to make sure that opportunities are available for all students, no matter where they come from," he said. "MANRRS is open to all students, all colors from basically, junior high up, so it's really an open organization. It doesn't matter where you are, if you need some type of assistance, then you should be able to come here and get it."
MANRRS also has a mentorship program for national officers, something Henry said was helpful when she was preparing for comprehensive exams, a series of tests a Ph.D. student must pass to officially become a Ph.D. candidate.
"I had my comprehensive exams in April (2020), during the middle of a pandemic, so it was already crazy, but just having the National President, Mia Farrell, reach out to me asking 'hey, how's everything going?' checking in with me, and encouraging me through it, was nice," Henry said. "Having so many great leaders who've been where you're trying to go has really helped me in everything."
Advancing agriculture and natural resources
Although progress has been made in advancing minorities in agriculture, natural resources and related sciences, there's still work to be done.
"What resonated back then, unfortunately, still resonates. I say unfortunately because the goal was not for this organization to last forever. The goal was to solve a problem and move on," Weatherspoon said.
"We now see that this is still something that individuals volunteer their time and effort at all levels, from professional all the way down through junior high students, to convene around these issues that are still gnarly in our industry and our profession. That's the bad part about it, but it's also the good part about it -- because without MANRRS, where would we be?"
MANRRS is focused on advancing minorities, however, all students and professionals are welcome, no matter their race or ethnicity.
"The biggest goal for me is not only making students feel welcome, but giving them the opportunities and tools to succeed; specifically, advice, training, and networking skills," said Henry. "Just having that specific community of support along with allies is really important."
"We need all of our talent to help our world," Foster said. "And that's what MANRRS is about: How do we recruit, nurture, develop talent and help that talent to be successful, whether they want to go into industry, academia, graduate school, government, non-profits?"
Phillip Seaborn, co-advisor to MSU's MANRRS Chapter, echoed the need for diverse voices in agriculture, natural resources and related sciences.
"As we try to solve these huge world problems involving food, energy and the environment, it is important that we have diverse perspectives and skill sets represented. That helps us make sure that we're coming up with the best and most viable solution to whatever the problem is that we're trying to solve," he said.
Creating Change
Diaz said she can feel attitudes shifting, thanks in part to an increased focused on diversity, equity and inclusion on college campuses, and movements like Black Lives Matter.
"Especially now, there's been more moves toward supporting these populations, like people like myself and other students who haven't had those opportunities growing up that other people in more privileged positions would," she said. "I think MANRRS has been really great for providing those opportunities, empowering those students and also providing connections."
Weatherspoon said the youth voices that drive these movements are vital to the growth of minorities studying and/or working in agriculture and natural resource fields — much like when he as a student at MSU.
"Sometimes adults can't get it done, right? Because they've got too many constraints. Sometimes, it's the youth that can go all-out and risk it all and come out with something that's really a jewel," he said. "It doesn't always happen this way. There's a lot of failures, and if we fail, we will learn from that. But I think it's more about how I perceive encouraging others to do things, above what they think they can do."
Related Article
This article was published in In the Field, a yearly magazine produced by the College of Agriculture and Natural Resources at Michigan State University. To view past issues of In the Field, visit www.canr.msu.edu/inthefield. For more information, email Holly Whetstone, editor, at whetst11@msu.edu or call 517-355-0123.