Engaging youth at farmers markets
Two Michigan farmers markets are using a national youth program to develop healthy eating and purchasing habits.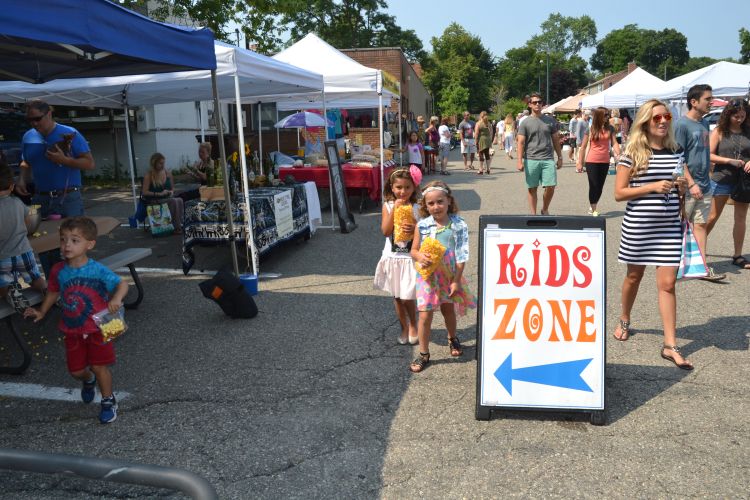 Michigan is fortunate to have over 300 seasonal and year-round farmers markets. For evidence, check out Michigan Farmers Market Association's "Find a Market" map. With greater access to fresh, local food throughout the state, more Michigan residents are able to benefit from healthy choices while supporting local farmers and food businesses that sell at these markets. Shopping at farmers markets has become - and is becoming - a lifestyle choice for many Michigan residents and families.
Markets are a fun, vibrant scene. Beautiful displays of colorful produce and food products abound. If prepared food is available, there are often good scents available for free. There are many opportunities to engage in conversation with food producers, community members and fellow shoppers. Markets have all of these things, and more, to offer. But how do young people interact with markets? More importantly, how can farmers markets offer activities and ways to engage with all of these different aspects of a market?
Like the picture painted of a market above, markets already have a lot to offer to young people, as they are inherently sensory and community based. Some markets go above and beyond these items to intentionally offer programs, workshops and interactive opportunities for youth.
For the second year, the Grand Rapids Downtown Market is offering Simmer Camp, a three day camp designed to expose young people to food related topics. The camps are for kids, ages 6-11, or teens, ages 12 -15. Each week explores a different theme, including urban farming, active chefs and flavors from around the world. Visit the website for more information and registration. All camps are scholarship eligible.
At least two Michigan markets are using a national model of a youth program to empower kids to make healthy food choices and learn more about where their food comes from. This program is called the Power of Produce (POP) Club, and was founded at the Oregon City Farmers Market in 2011. The Muskegon Farmers Market introduced this program in 2014, and is continuing it in the 2015 season. The Dearborn Farmers and Artisans Market is piloting the POP Club for the 2015 season. The POP Club allows young people ages 5-12 to sign up, receive a button, reusable shopping bag, and $2 in tokens for every visit to the market after signing up. The tokens may only be redeemed at the market for unprocessed vegetables or fruits.
The intention is that young people will gain experience making healthy food choices, have the opportunity to try something new, and be introduced to shopping at farmers markets.
In addition to the shopping experience, both the Muskegon and Dearborn markets offer a number of other experiential activities for young people at the market, in partnership with Michigan State University Extension, businesses and other community organizations. There is a weekly sampling of a vegetable or fruit available at the POP Club tent, to encourage trying new, healthy foods. Other workshops have included math at the market, planting a seed, sensory gardens, kid's yoga, and a traveling petting zoo. For a complete list of activities, more details on how the program works, and market times, visit the Muskegon POP Club page or the Dearborn POP Club page.
Michigan State University Extension promotes the consumption of healthy and local food for all ages. For more information on local food systems and young people, consider subscribing for news on community food systems and farm & farmer's markets.
You Might Also Be Interested In