Extension Master Gardeners welcome Michigan's state coordinator to the Upper Peninsula
Volunteering over 3,200 hours of gardening education valued at over $81,000 annually, Michigan's Upper Peninsula Extension Master Gardeners highlight projects for MSU's state coordinator visit.
Amid the sunshine and beautifully growing vegetable and flower gardens, Michigan State University Extension Master Gardener state coordinator Mary Wilson was recently welcomed to the Upper Peninsula by some of the Extension Master Gardeners and consumer horticulture staff. Meeting with Extension Master Gardeners and visiting the different volunteer projects coordinated by Extension Master Gardeners was the overall goal of Wilson's trip.
Trip highlights included projects in the counties of Delta, Dickinson, Houghton, Marquette and Chippewa. Tours consisted of the Escanaba Community Garden, Serenity Garden at the OSF St. Francis Hospital and Medical Group, Smart Gardening outreach, Kingsford Woodland Childcare School Garden, Hancock and Chassell downtown beautification efforts, gardening education through creative puppetry, Saints Peter & Paul Lutheran Church childcare garden program, Peter White Library gardens and Marquette Federation of Women's Club gardens.
Advanced Extension Master Gardener Rosemary Charles helps coordinate the Escanaba Community Garden where over 35 people grow their own produce. Charles volunteers her time throughout the week at the garden, offering garden assistance and advice. Charles' volunteer efforts at the community garden also include being part of the pilot MSU Extension Growing Together Program, a collaboration between Extension Master Gardeners and MSU Extension nutrition staff. Charles helps raise fresh produce for the local St. Vincent de Paul's food pantry. Then, MSU Extension nutrition staff provide nutritious recipes and safe food preparation education.
Next, we traveled to the Serenity Garden at OSF St. Francis Hospital and Medical Group. Open 24/7, this garden is a respite for anyone seeking a garden's beauty, solace and soothing sound of water. Created in 2002 by Advanced Extension Master Gardener Sue Wanic, this is a real eye-catcher. Advanced Extension Master Gardener Karen Moore designed the garden. From intricate hardscapes to stunning plant selections, this garden is a site to experience. Additional Extension Master Gardeners assisting with this project include Sue Shepich and Greta Arntzen. Many continue to support and sustain this magnificent addition. They provide public education via plant signs, plant sales and hosting a garden walk with Smart Gardening outreach educational materials.
Another ongoing Extension Master Gardener project involves Delta County Extension Master Gardeners dedicating their time hosting the annual Bay de Noc Gardening Conference. Held in April with at least 20 educational sessions and over 100 participants, conference-goers enjoy a wide range of gardening topics. Revenue earned supports downtown Escanaba beautification efforts, which include hanging baskets, roundabout plantings and lakeshore beds.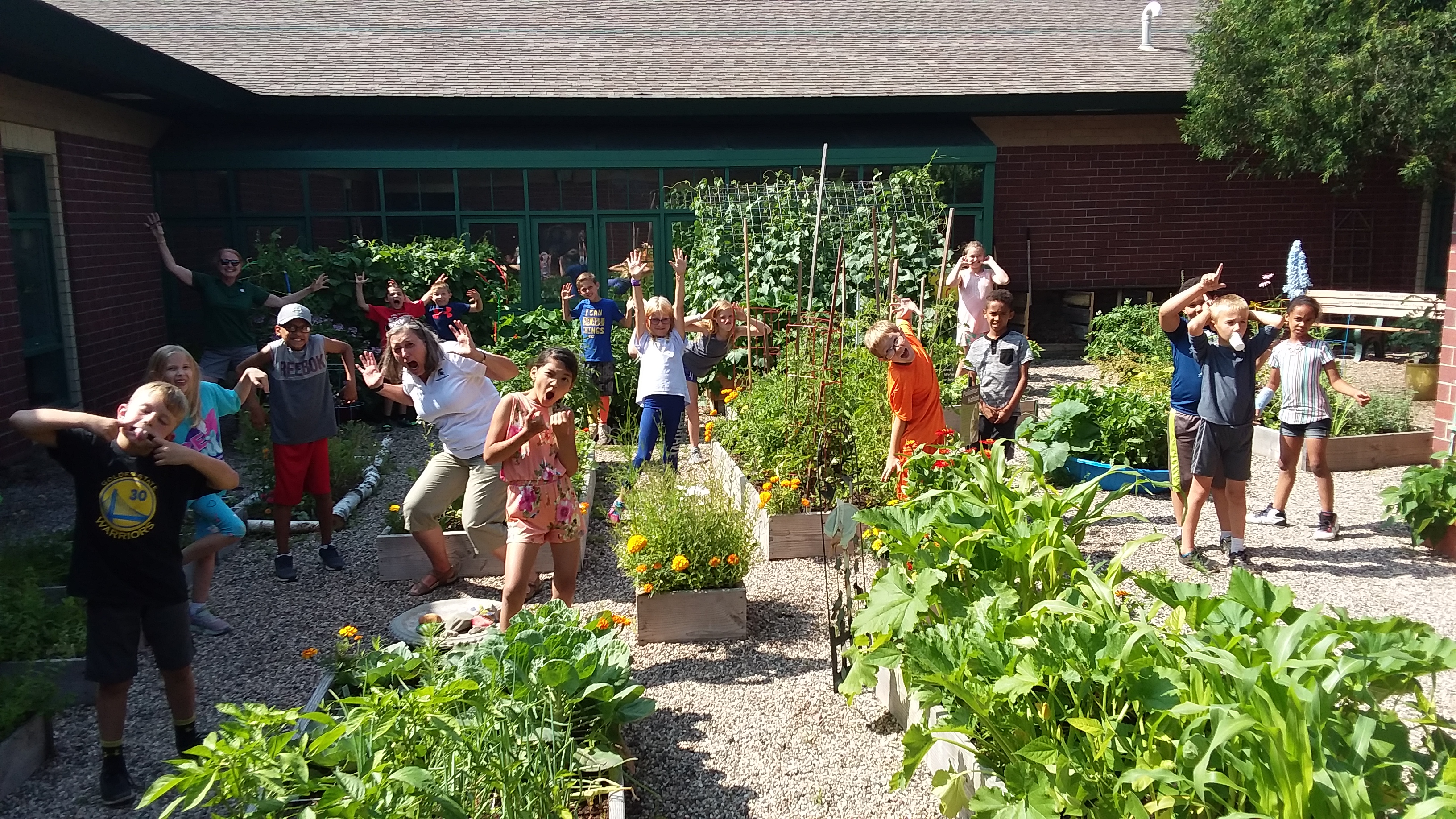 Traveling next to the Woodland Childcare Center were Advanced Extension Master Gardener Elizabeth Slajus and 15 fourth graders who were excited to be going out into the children's garden. From a towering cucumber tunnel, a fun, plant-filled meandering caterpillar to a pollinator patch, children assisted in picking fresh herbs, peppers and cucumbers. Next, Slajus showed them the proper way to prepare the fresh vegetables to eat with a yogurt/herb dip.
Added flowers along the streets of Hancock, Michigan, are helping pollinators, all thanks to a number of Extension Master Gardeners who have volunteered their time to beautify, plant for pollinators and teach others about gardening. Extension Master Gardeners in the tour included Jeannie DeClerck, Susan Miko and Kathryn Salmi.
Another volunteer project involves Jackie Manchester-Kempke, who created her own puppet, skit and song to show children the importance of pollinators. Two other Extension Master Gardeners doing great work with children include Lisa Gregg and Gene Kuiper. Working with children at Saints Peter & Paul Lutheran Church daycare, they are helping youth learn how to grow their own food. Youth are involved in planting seeds, caring for plants and enjoy harvesting and eating the vegetables.
Travelling through Chassell, Michigan, we stopped and met Phyllis Johnson, Extension Master Gardener, who helps coordinate the beautification of over 40 different flowerbeds. Johnson secures the help of community volunteers and involves school groups teaching them about "right plant, right place" and other smart gardening practices.
Next, we visited the Peter White Library and its gardens. Begun as an Extension Master Gardener volunteer project by Carol Fitzgerald in 2007, the gardens have expanded to include a children's garden area. Cascading beds along the east side steps are also present following the library's renovation. Coordinated now by Extension Master Gardeners Marci Niemi and Kris Martin, this volunteer project is a gem to visit.
Located right across the street, the Marquette Federation of Women is another Extension Master Gardener volunteer project. Beautifully designed and landscaped with a myriad of perennials, shrubs and trees, this garden is truly inviting. Marquette Federation of Women's Club director Judy Ashby was on hand to welcome us and give an introduction and history of the building and club, while Extension Master Gardeners Linda Roncaglione and Brenda Hershey provided the tour of the grounds. Advanced Extension Master Gardener Ron Rossway has also been instrumental in helping with this project.
Many other Extension Master Gardeners throughout Marquette County contribute tirelessly to the Extension Master Gardener program and their communities. We just could not tour them all! From additional beautification efforts in towns and cemeteries, leading youth or community gardening projects, to coordinating community educational gardening events, Extension Master Gardeners are expanding MSU's capacity to reach the public with Smart Gardening and research-based gardening practices.
Steve and Vicky Gordon are Extension Master Gardener volunteers who provide Smart Gardening educational materials to the public. They volunteer at two to three eastern Upper Peninsula farmers markets to educate the public about smart choices that are environmentally friendly and save time and money. Free, colored Smart Gardening tip sheets are available on site or online. The Gordons also promote other easy-to-access MSU Extension gardening resources, such as the toll-free Lawn And Garden Hotline (1-888-678-3464) and Ask an Expert at the Gardening in Michigan website.
The Gordons are part of a group of 30 Upper Peninsula Extension Master Gardeners specially trained in Smart Gardening practices. Through their outreach efforts in 2018, 86% more people were reached than in 2017. This expanded outreach positively impacts gardening behaviors that enhance and protect our environment. As an example, reducing pesticide use and/or keeping lawn cuttings on the lawn, which reduces the amount of lawn fertilizer needed and applied is a key Smart Gardening message.
Wilson thoroughly enjoyed her tour, saying, "The Extension Master Gardeners I visited with are an amazing group of passionate people. They are passionate about making a difference in their communities and in the lives of individuals, all through the medium of plants. Whether they are working with children, helping increase food access, providing a calming, beautiful pace of respite, improving community through beautification or helping gardeners be better stewards of our environment, they are making a difference! They are an outstanding group of MSU volunteers."
You too can become involved in the Extension Master Gardener program and make a difference in your community! From beginning to more advanced gardeners, this volunteer training program is open to anyone ages 18 and older who likes to garden and share research-based gardening information with others. For more information, visit the MSU Extension Master Gardener program website.