Faculty Voice James Kelly
James Kelly is a University Distinguished Professor in the Department of Plant, Soil and Microbial Sciences in the College of Agriculture and Natural Resources. He is an expert in dry bean breeding and genetics.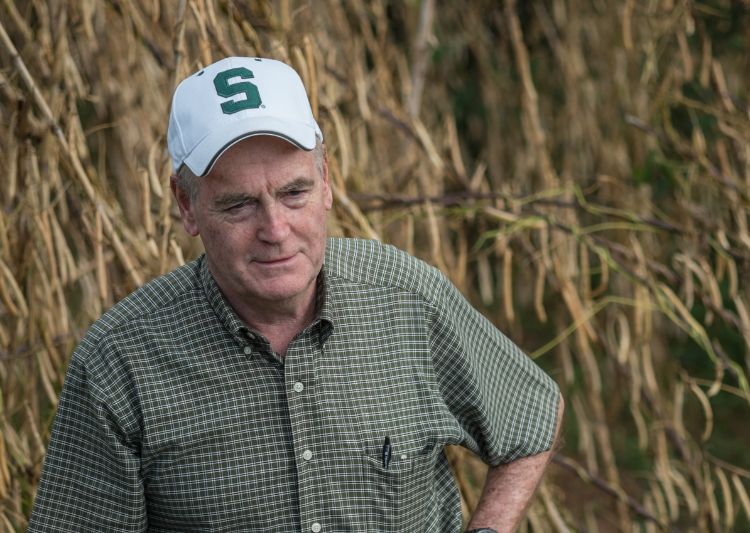 I have been breeding new varieties of beans for more than 30 years. During a trip to Rwanda 10 years ago with MSU graduate student Gerardine Mukeshimana—a native of the country—I saw a way I could help farmers there.

I felt that the research that I conduct both in Michigan and elsewhere would be applicable to Rwanda's farmers. I knew that if a funding opportunity arose, I would seek support to conduct research to improve beans in Rwanda and train future plant breeders.

Now I'm back in Rwanda with Mukeshimana—now a doctoral student—working with local farmers to improve their bean crops.

Rwanda has the highest per capita bean consumption in the world, but the country's bean varieties aren't drought tolerant or disease resistant. The region needed new varieties with these attributes to help keep production and yield high enough to meet demand and provide economic stability to bean farmers, many of whom are widows from the genocide in Rwanda who are caring for families.

Beans are an important part of the agriculture of the country, particularly for women and their families. Productivity and quality need to be improved in the changing environment. This project addresses these needs by developing and testing new bean varieties that farmers want to grow and consume.

Introducing climbing beans to Rwanda improved yields from a quarter ton per acre to four tons per acre in this country of steep, hilly terrain. In 2012, we released new climbing bean varieties—white, red, and red mottled—suited to high-altitude zones in Rwanda. We also helped produce educational materials to inform farmers about the new varieties and methods for growing the climbing beans.

The bean variety program is funded by the United States Agency for International Development and involves collaboration with colleagues from the Rwanda Agriculture Board. I'm also working on a bean-breeding program in Ecuador. Because Ecuador's terrain and environment are similar to Rwanda, I'm able to adapt much of that knowledge.

The ultimate goal of this project is to be able to leave a trained cadre of scientists who will have the ability and interest to continue research to sustain agricultural productivity in Rwanda under changing climatic conditions. For me, I want to be able to extend the land-grant mission beyond the borders of Michigan and MSU.