Farm visit series: MSU Sheep Teaching and Research Center
Learn more about the activities happening at the MSU Sheep Teaching and Research Center.
This is the newest article in a series focusing on the beautiful and active animal farms at Michigan State University! This article will focus on the MSU Sheep Teaching and Research Center (STRC). I recently sat down with Al Culham, manager of MSU STRC, to discuss both his role and the facility's role in the MSU Animal Science Department.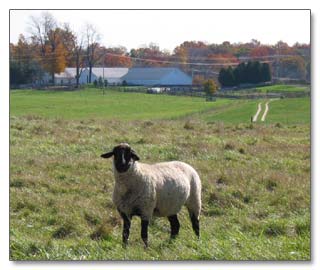 Taylor: Please briefly describe your position and how long you've held it.
Al: I am the manager of MSU's Sheep Teaching and Research Center. I started in this position in August of 2006. My duties include the daily management of the sheep flocks here at MSU. I oversee compliance with University regulations regarding animal care and use as well as environmental concerns. Additionally, I supervise and train student workers in animal care and sheep husbandry. Currently I am teaching the Sheep Management class and in the past have taught Live Animal and Carcass Evaluation as well as coached the Livestock and Evaluation teams. I also teach sheep labs and lectures in addition to live evaluation labs for the Introductory Animal Science Class. The farm is home to research projects, so I also assist with those as needed. Finally, I assist with MSU Block & Bridle as well as 4-H and FFA events using MSU sheep.
Taylor: What is the best part of your job?
Al: The best part of my job by far is working with students. I work with students both as employees on the farm and in my classes. Working with them is definitely my favorite part.
Taylor: Could you tell us a little of the farm's history?
Al: The first sheep barn was built at MSU in 1865. The current sheep barn was built at the South Campus Farms in 1960. MSU STRC has long been noted for high quality purebred flocks with many national champions shown over the years. MSU STRC is currently noted as the source of the world's fastest growing sheep as MSU Suffolk rams dominate the National Sheep Improvement Sire Summaries for growth. Twelve of the top 13 sires are MSU rams or sons of MSU rams. Recently, we have expanded the number or commercial ewes by 500 percent to facilitate applied research done by undergraduate and MSU Extension personnel.

Taylor: What type of activities take place on the farm (outside the usual farm duties)?
Al: With the increasing number of animal science majors with limited livestock backgrounds, the sheep center has become an important source of providing hands-on animal experience for students. This is accomplished by the use of sheep in labs of many animal science courses as well as students who work at the center. Also MSU Block & Bridle uses sheep for many of their activities including the Little International, 4-H Judging Contest and the Academic Quadrathalon. The number of applied undergraduate and extension research projects have greatly increased in number.

Taylor: Is the public able to visit the farm?
Al: The farm is open to the public for self-guided tours daily 8 a.m.-5p.m.
A big thank you to Al for sharing time away from his busy schedule with MSU Extension! Interested in learning even more about the MSU Sheep Teaching and Research Center? Visit their Facebook page, at MSU Sheep Teaching & Research Farm.