Farmers market tools for Southeast Michigan beginning farmers
New Resources help farmers-market-oriented producers make the best decisions for their businesses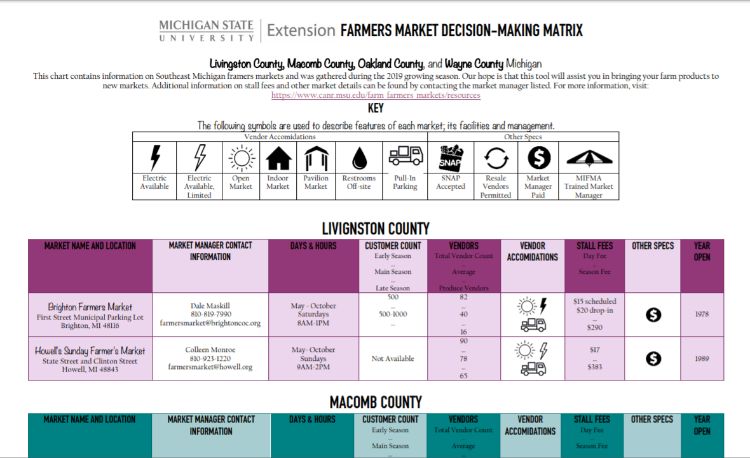 Metro-Detroit is home to over 4 million residents, making it the most populated region in Michigan. The historically rich agricultural heritage of the region supports a large number of weekly farmers markets in communities across Metro-Detroit. Within the last decade, Southeast Michigan has experienced an increased number of beginning farmers looking to create profitable businesses through farmers market sales. For a farmer, finding the time to research the various markets can be a taxing and overwhelming task. To fill this need, MSU Extension has developed a guide for beginning farmers to assess farmers markets in the Metro-Detroit area to best identify ones that work for their business needs.
The Metro-Detroit Farmer's Market Decision Making Matrix was developed by MSU Extension Summer Intern Amelia Paliewicz under the direction of MSU Extension's Washtenaw County Local Foods Coordinator Jae Gerhart. The chart contains information on 41 individual farmers markets spanning Livingston, Oakland, Macomb, and Wayne Counties. Farmers can easily view and compare details across markets, such as customer and vendor counts, hours and seasonality, and vendor accommodations. The chart also includes the market manager contact information for any further questions.
In addition to finding appropriate markets, setting market prices can be a nebulous task for beginning farmers. Most farmers tend to set prices based on their neighboring farmer's price points.
The Southeast Michigan Farmers Market Prices – July 2019 lists the average price of commonly sold products at Southeast Michigan farmers markets during the month of July in 2019. This guide helps farmers get a sense of the "going rate" for items they grow. Price information was collected from the following markets: Detroit Eastern Market (non-resale vendors), Dodge Park Farmers Market Henry's Market on Main, Mt. Clements Farmers Market, Oak Park Farmers Market, Oakland County Farmers Market, and Walled Lake Farmers Market. Very few of the farms assessed were certified Organic, so average prices may be higher for certified Organic produce.
The information for the pricing guide was collected into an Excel spreadsheet that utilizes pivot tables to determine the mean (average) price per item. For those interested, the raw data can be viewed here. Instructions For Viewing the Raw Data is helpful in understanding how to use the pivot tables.
MSU Extension is committed to assisting farms and farm markets by helping recruit new vendors and providing education and training for beginning farmers.