Fatemeh Saeidi-Rizi joins the School of Planning, Design and Construction as an Assistant Professor of Landscape Architecture
Dr. Saeidi-Rizi is an expert on landscape and health, environment and cognitive behavior, environmental psychology and green infrastructure.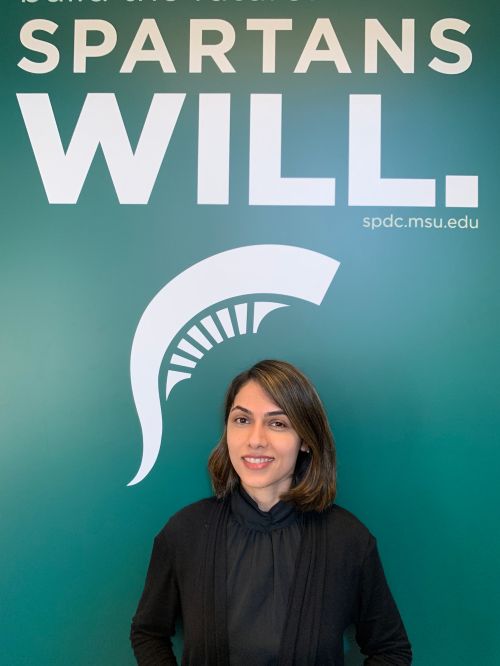 Fatemeh Saeidi-Rizi earned a Ph.D. in Landscape Architecture from the University of Illinois at Urbana-Champaign and a Master of Landscape Architecture from Virginia Tech. She worked as an intern at Intel in New Mexico and as a designer at CDAC at Blacksburg, Virginia, and was also awarded with the American Society of Landscape Architects (ASLA) Honor Award in 2016.
Saeidi-Rizi's research stands at the intersection of landscape architecture, cognitive psychology, urban design, and health. She takes both empirical and theoretical approaches to examine the relationship between the built environment and humans' health and well-being.
"I am delighted to start working as an assistant professor in the landscape architecture program at Michigan State University. I see an excellent atmosphere and opportunity for research and collaboration in the school and among the faculty. I am thrilled to be part of this community," said Saeidi-Rizi.
She quantifies the psychological and neurological impacts of exposure to different types of landscapes on human health, which helps to understand features of the environment that support human functioning and promote human well-being. In her research, she uses cutting-edge technology, including functional MRI (fMRI) imaging systems, image-based analysis, data-driven modeling, and statistical analysis. For her research, she relies on both in-house programs (using Python and JavaScript) and custom-built software toolkits, including Matlab, and Google Earth Engine. As a designer, she applies her research findings to support an interdisciplinary, evidence-based design process that addresses pressing issues, such as environmental health and sustainability and design optimization based on scientific-based data.
"I found Dr. Saeidi-Rizi's expertise in the intersection between design, cognitive psychology and health very impressive. Her background and international project experience diversifies the intellectuality of the School. We are excited about her joining the school and looking forward to her contributions," said Ming-Han Li, Director of the School of Planning, Design and Construction.
Please join us in welcoming Dr. Saeidi-Rizi to SPDC!