FCWG 2018-19 Learning Exchange Series Session: NIACS
Speaker includes Todd Ontl, USDA Climate Hub Fellow at the Northern Institute of Applied Climate Science (NIACS).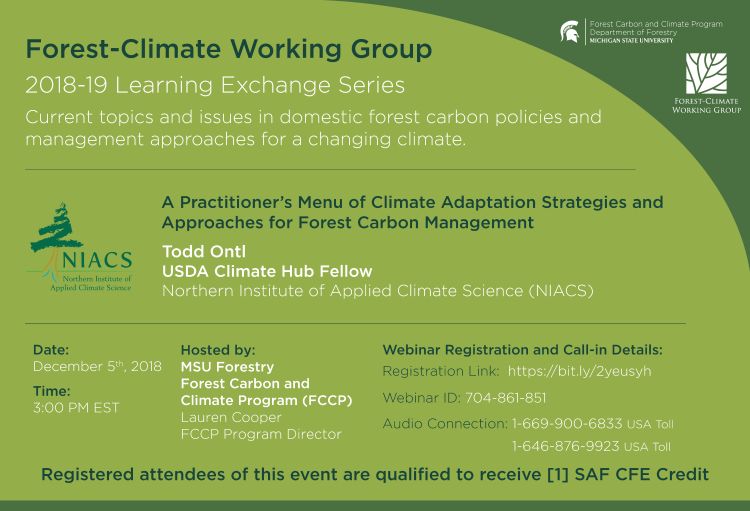 Title
A Practitioner's Menu of Climate Adaptation Strategies and Approaches for Forest Carbon Management
Speaker
Todd Ontl, USDA Climate Hub Fellow, Northern Institute of Applied Climate Science (NIACS)
Description
To support land managers interested in maintaining or enhancing forest carbon stocks and the capacity to sequester additional carbon into the future, decision makers need tools and resources to assist in translating broad concepts of carbon management into specific, tangible actions. This menu of adaptation strategies and approaches for carbon management provides options for actions to support integrating climate change considerations into carbon management activities. The strategies and approaches are derived from a wide range of reports and peer-reviewed publications on climate change adaptation and carbon management and serve as intermediate "stepping stones" for translating broad concepts into targeted and prescriptive tactics for implementation. This presentation will discuss anticipated climate impacts to forest carbon stocks, introduce the carbon management menu and describe the Adaptation Workbook process intended to utilize the menu, and outline several real-world forest management case studies developed using them.
Supplementary Materials
Recording
About the FCWG 2018-19 Learning Exchange Series
The Forest-Climate Working Group (FCWG) 2018-19 Learning Exchange Series covers current topics and issues in domestic forest carbon policies and management approaches for a changing climate. The FCWG represents a diverse group of forest interests including landowners, industry, conservationists, academia, and those active in carbon markets. The group has worked together for more than 8 years to advocate for state and federal policies that work to ensure sustainable forest use and prevention of land use change. We have currently been in the process of reinvigorating our focus and activities and welcome inquiries into our work. Please reach out if you have questions or think your organization may be interested in joining.