FCWG Learning Exchange Series: NWL Regional Learning Labs
Speakers Taryn Finnessey, Kristen Schmitt, and Rebecca Turner will present "Outcomes: NWL Regional Learning Labs ".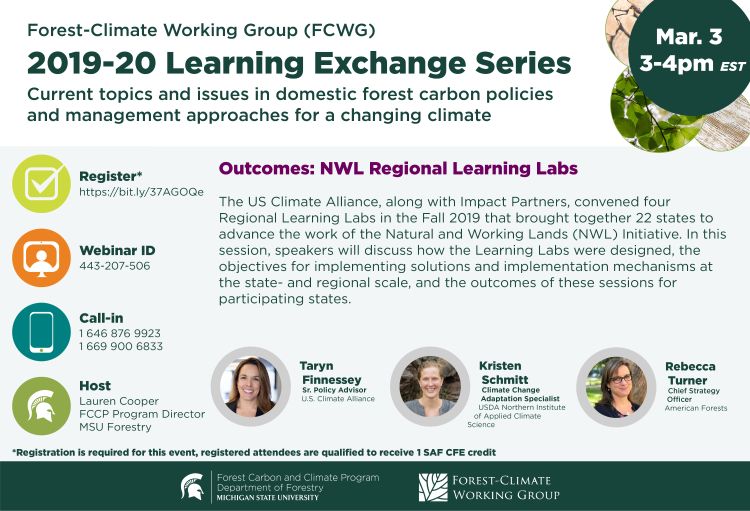 Title
Outcomes: NWL Regional Learning Labs
Description
The US Climate Alliance, along with Impact Partners convened four Regional Learning Labs in the fall of 2019, that brought together 22 states to advance the work of the Natural and Working Lands Initiative. These labs were designed to identify state and regional solutions and implementation mechanisms for integrating land-based carbon sequestration programs and policies with broader statewide GHG mitigation efforts; identify technical needs or gaps and build on and share best practices already underway. States emerged from the labs with specific policy objectives for their own teams, a better understanding of regional and national opportunities for collaboration and how Impact Partners and the Alliance can help them achieve their goals for 2020 and beyond.
Next months session is titled "Tribal Forests and Forest Carbon: Activity and Interest in North America".
Speakers
Taryn Finnessey is a Senior Policy Advisor with the U.S. Climate Alliance, where she supports Alliance states in the development and implementation of policies to: substantially reduce emissions of short-lived climate pollutants, sequester carbon through natural and working lands and improve resilience. Prior to this role, Ms. Finnessey most recently served as the Senior Climate Change Specialist for the State of Colorado, in this role she was responsible for coordinating Colorado's climate change efforts across state agencies to integrate scientific and policy innovations that increase Colorado's ability to reduce emissions and address climate change impacts, including establishing Colorado as a national and international leader on drought resilience.
Kristen Schmitt works in support of the Northern Institute of Applied Climate Science and the USDA Northern Forests Climate Hub (NFCH) to help natural resource professionals integrate climate change considerations into planning. She works with partners from within and outside of the NFCH footprint to help them apply climate adaptation tools to their work, and helps create new tools to meet partner needs.
Rebecca Turner has been with American Forests since September of 2010. She began her tenure leading the organization's policy and advocacy work. She now oversees the implementation of the strategic vision for the organization, provides insights on its range of programs, and offers select legal guidance. Becky directed the organization and execution of the U.S. Climate Alliance Learning Labs.
Supplementary Materials
Recording