FCWG 2019-20 Learning Exchange Series Session: Policy II - State Policy Advancing Forest Carbon in a Changing Climate
Speakers include David Ford, L&C Carbon, Stephen Long, The Nature Conservancy (TNC), and John Bartow, Empire State Forest Products Association.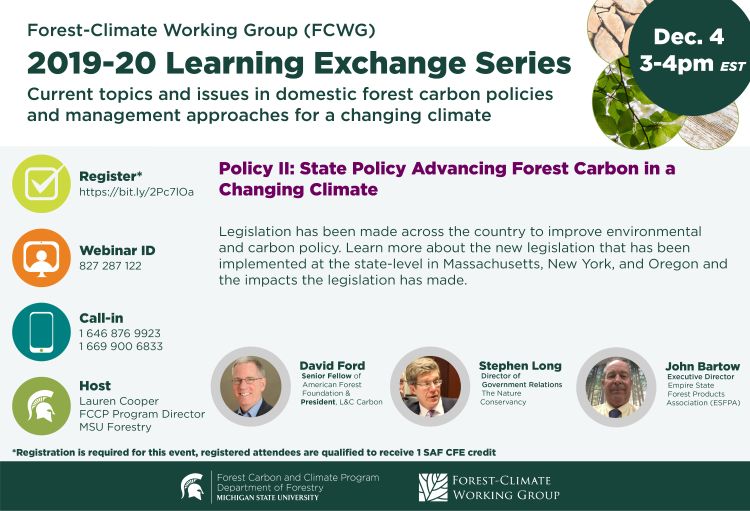 Title
Policy II: State Policy Advancing Forest Carbon in a Changing Climate
Speakers
David Ford is a professional forestry spanning a 42-year career and the president of L&C Carbon, a firm founded in 2010. L&C Carbon assists private forestland owners with accessing the voluntary and regulated forest carbon markets. In 2018, David was named a Senior Fellow for the American Forest Foundation, where he focuses on forest carbon policy and, in partnership with TNC, developing the Family Forest Carbon Program – a practice-based approach to incentivize small family forestland owners to implement carbon-friendly forest management practices.
Steve Long is the Director of Government Relations for the Nature Conservancy in Massachusetts. He advocates for public policy and funding on: climate change adaptation and resiliency, clean energy, water quality, land conservation and wildlife. He builds collaborative coalitions with diverse stakeholders to help develop policy solutions for people and nature. Before joining TNC in 2007, Steve worked for: the Massachusetts Department of Environmental Protection as the director of recycling market development; a Massachusetts state senator as legislative director; and, the U.S. Environmental Protection Agency's Superfund Program as a public engagement specialist. Steve has been teaching environmental policy at Suffolk and Tufts Universities since 2012. He received his B.A. in Political Science from Ithaca College and his M.A. in Political Science/Public Policy from Rutgers University. Steve lives in Acton with his wife and they have three grown children.
John Bartow

was appointed Executive Director of the Empire State Forest Products Association on July 18, 2015. John is the Association's fifth Executive Director. The Empire State Forest Products Association (ESFPA), a non-profit organization for businesses and individuals, whose mission is to improve public awareness and promote public policy in support of productive and healthy New York forests and the forest products economy to meet the needs of society today and for future generations. Prior to his work at ESFPA John served 33 years with the State of New York. His most recent work with the State was as Executive Director of the New York State Tug Hill Commission where he served from 2004-2015. Prior to the Tug Hill Commission John was at the NYS Department of State where he served as the Director of the Division of Local Government for 9 years and as a Program Manager with the Division of Coastal Resources for 9 years. John also served at the NYS Senate as a Research Analyst on environmental and energy issues and with the NYS St. Lawrence-Eastern Ontario Commission as a natural resources planner.
Description
Legislation has been made across the country to improve environmental and carbon policy. Learn more about the new legislation that has been implemented at the state-level in Massachusetts, New York, and Oregon and
the impacts the legislation has made.
This webinar is the second in a series of two FCWG Learning Exchange Series sessions focused on forest carbon policy. November's session covered federal-level policy.
Supplementary Materials
Recording
About the FCWG Learning Exchange Series
The Forest-Climate Working Group (FCWG) Learning Exchange Series covers current topics and issues in domestic forest carbon policies and management approaches for a changing climate. The FCWG represents a diverse group of forest interests including landowners, industry, conservationists, academia, and those active in carbon markets. The group has worked together for more than 8 years to advocate for state and federal policies that work to ensure sustainable forest use and prevention of land use change. We have currently been in the process of reinvigorating our focus and activities and welcome inquiries into our work. Please reach out if you have questions or think your organization may be interested in joining.