FCWG 2019-20 Learning Exchange Series Session: Opportunity Assessments for Natural Climate Solutions
In this webinar, speaker Joe Fargione of The Nature Conservancy (TNC) will present "Opportunity Assessments for Natural Climate Solutions."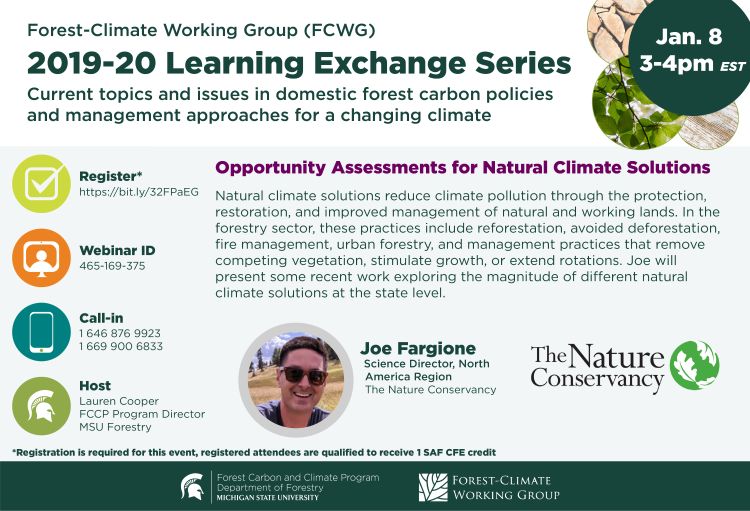 Title
Opportunity Assessments for Natural Climate Solutions
Speaker
Joe Fargione is Science Director for The Nature Conservancy's North America Region. Joe's research reveals nature's hidden benefits to people, including how nature can help mitigate climate change. Prior to joining The Nature Conservancy, Joe received a bachelor's degree from Hampshire College, a PhD in Ecology from the University of Minnesota and held faculty positions at the University of New Mexico and Purdue University. Joe's dozens of scientific publications have been cited over fifteen thousand times and have generated national media coverage, including by NBC Nightly News, Time Magazine, The New York Times, and The Onion, among others. Joe is a native of Minneapolis, MN where he resides with his wife and children.
Description
Natural climate solutions reduce climate pollution through the protection, restoration, and improved management of natural and working lands. In the forestry sector, these practices include reforestation, avoided deforestation, fire management, urban forestry, and management practices that remove competing vegetation, stimulate growth, or extend rotations. Joe will present some recent work exploring the magnitude of different natural climate solutions at the state level.
Next month's session will focus on federal planning.
Supplementary Materials
Recording
About the FCWG Learning Exchange Series
The Forest-Climate Working Group (FCWG) Learning Exchange Series covers current topics and issues in domestic forest carbon policies and management approaches for a changing climate. The FCWG represents a diverse group of forest interests including landowners, industry, conservationists, academia, and those active in carbon markets. The group has worked together for more than 8 years to advocate for state and federal policies that work to ensure sustainable forest use and prevention of land use change. We have currently been in the process of reinvigorating our focus and activities and welcome inquiries into our work. Please reach out if you have questions or think your organization may be interested in joining.