Field Crops Webinar Series addresses grain price outlook and novel marketing strategies
The last presentation of the Field Crops Webinar Series on March 22, 2021, will feature MSU agricultural economist Matt Gammans.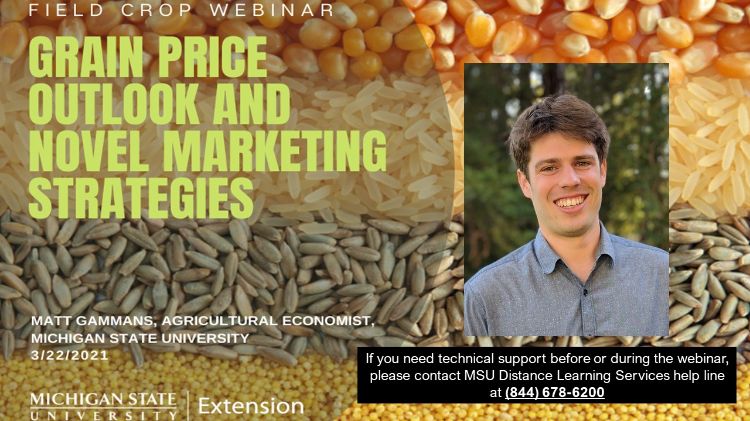 Over 150 field crop producers, consultants and agribusiness professionals had the chance to participate each week in the Field Crops Webinar Series 2021, a series of six online programs addressing field crop production and pest management offered by Michigan State University Extension. The theme for this year's series is Management Decisions that Pay. Each session focuses on the economics of various crop, pest and marketing management strategies.
In the last session series on March 22 from 7-8 p.m., MSU agricultural economist Matthew Gammans will focus on addressing grain price outlook and novel marketing strategies. The presentation will first go through the recent March USDA World Agricultural Supply and Demand Estimates report, identifying the current supply and demand pressures driving global commodity markets. This discussion will provide growers with insight into what general types of price movements are likely to be observed in 2021.
Next, the presentation will discuss novel and less conventional marketing approaches. These include organic, transitional, non-GMO and environmental certification programs, as well as custom contracts with food processors looking to procure grain grown using a specific set of practices. The webinar will provide a brief description of what each program is, what type of premiums are typically available and where one might go to learn more.
Additionally, the talk will discuss some of the buzz around carbon sequestration and carbon credits and what these might look like going forward. When considering any of these marketing opportunities, producers should identify a market before making costly changes to production practices. Securing a premium requires meeting a demand: listening to consumers and developing relationships with buyers is essential.
To register for one or more webinar programs in the series, visit the Field Crops Webinar Series 2021 registration site. Before each webinar, registrants will receive an email containing a link to connect to the webinar. The webinars may be accessed on a mobile device or a computer with a stable internet connection—no other equipment is necessary. Participants may choose to register for the entire series at $20 per person or individual sessions at $5 per person per session.
Those who register for and attend the live webinars will be eligible to earn one MDARD pesticide recertification (RUP) credit per session for application to one of the following categories: Private Core, Commercial Core, or Field Crops. One continuing education unit (CEU) for certified crop advisers will also be available for each session. Each webinar will be recorded and archived, and participants may choose to view the recordings at a later date (credits available only for participants in the live sessions).
For additional information or assistance, contact Eric Anderson at 269-359-0565 or eander32@msu.edu.