Beef Welfare Symposium fifth session to focus on practical management in sorting to euthanasia in beef cattle welfare
The Sixth International Symposium on Beef Cattle Welfare fifth session to focus on practical management in sorting to euthanasia in beef cattle welfare on June 22 at 2 p.m. ET.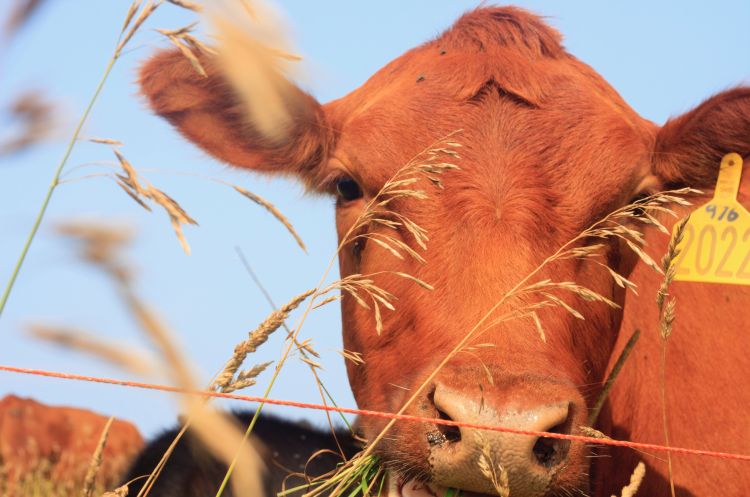 The Sixth International Symposium on Beef Cattle Welfare fifth webinar session features demonstration videos in cattle handling, Emergency Response to Accidents Involving Livestock, and on farm euthanasia in beef cattle on June 22 at 2 p.m. E.T. This is the final symposium webinar of the five-part series which began in February.
Attendees will hear from experts in proper cattle handling, best practices for on farm euthanasia and how to handle an emergency response to roll-over accidents during livestock transport including the renowned Dr. Temple Grandin, professor in Animal Science at Colorado State University.
"This last session focuses on the practical applications and strategies attendees can use to improve their skills, to improve management practices for their operations or train employees" said Dr. Janice Swanson, Department of Animal Science and Large Animal Clinical Sciences at Michigan State University. "We hope these instructional videos can be used to implement best practices on cattle operations, and by livestock transporters and emergency responders throughout the world to improve these processes for humans and livestock."
The June 22, 2022 Session Features:
Techniques in Cattle Handling and Chute Management
Learn critical control points to use in benchmarking how your operation is doing regarding handling and chute management. Hear from Dr. Grandin, about behavioral principles of cattle handling. Analyze handling and chute management videos to assess prod use, mis-catches, vocalizations before procedure, slips, falls, jumps and run on exits to develop proper protocols for your operation. In addition, experts Derek Haley, Associate Professor in the Ontario Veterinary College at the University of Guelph and Dr. Karen Schwarzkopf-Genswein, Principle Scientist, Agriculture and Agri-Food Canada in Lethbridge, AB; will share why and how to avoid various handling issues, how to score these issues on operations, and how to determine tolerable thresholds for handling programs.
Proper Euthanasia
Euthanizing beef cattle at the farm when necessary is an important animal management action but can be an emotionally and physically challenging event for animal caregivers. This session will cover approved euthanasia methods, human safety, humane animal handling of compromised animals, and timing. Brain location and skull anatomy will be used to develop considerations for firearm and captive bolt use according to AVMA approved methods of euthanasia. Participants will learn how to confirm insensibility and death. Scenarios with considerations for euthanasia for various segments of the beef industry will be shared.
Emergency Response to Accidents Involving Livestock (ERAIL)
Transport of beef cattle has major implications on animal welfare, such as crowding, weather related situations and handling of animals, notwithstanding the accidents that could occur during transport. When accidents involving cattle occur the risk of injury to the animals is present, including post-accident situations where when animals are not contained properly, pose a risk to themselves, first responders and the public. In order to address animal welfare during these situations, the response to accidents involving livestock should be focused on timeliness and quality of attention to the injured animals. These unfortunate events can also create chaotic situations that allow scrutiny from the public when they are not managed properly. Attendees of this session will learn how proper planning, accesses to resources and training programs can help lower the risks of these events. They will also learn how effective and efficient accident responses can positively affect the welfare of the animals involved in the accident and decrease the opportunity for negative public perspectives to be gained. The information shared during this session is applicable to all areas of animal agriculture and can be applied broadly to transportation situations.
"We are excited to wrap up this virtual symposium webinar series by offering proper protocols and lasting resources for often challenging situations on operations. We will make this session recording as well as the other four available via our website" said Dr. Swanson. Throughout its five webinars, the symposium brings together renowned beef experts to discuss their latest research findings and emerging animal welfare issues that face the beef cattle industry. The symposium features topics of interest for anyone connected to the beef industry from academia and government to beef producers and allied industries. Participants will be encouraged to ask questions and provide input to the conversation.
The webinar series is free, thanks to the generous grant support of the United States Department of Agriculture, National Institute of Food and Agriculture. Those interested in attending may register at https://events.anr.msu.edu/isbcwmca/.
For more information about the program visit: https://www.canr.msu.edu/beefwelfare2022/.
This article was published by Michigan State University Extension. For more information, visit https://extension.msu.edu. To have a digest of information delivered straight to your email inbox, visit https://extension.msu.edu/newsletters. To contact an expert in your area, visit https://extension.msu.edu/experts, or call 888-MSUE4MI (888-678-3464).