Fire blight survey—your feedback is needed
Take a short survey about fire blight on your farm to help researchers address and improve fire blight disease management.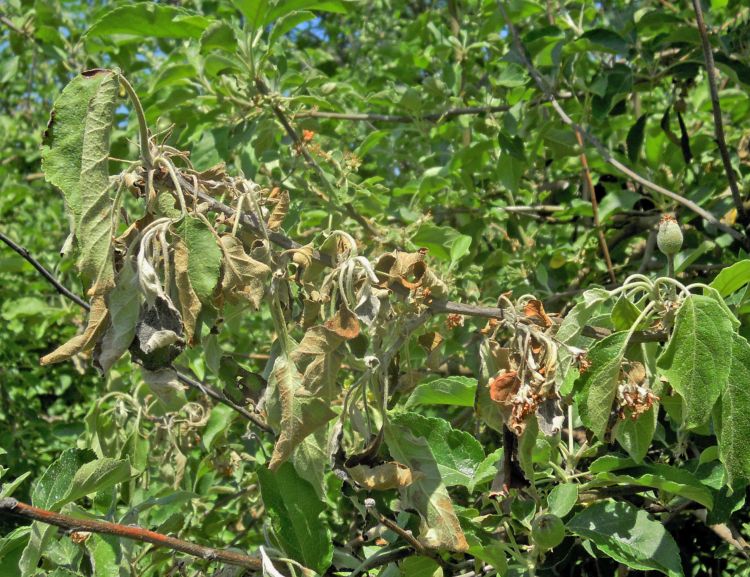 The Michigan State University Extension fruit team is busy planning for future educational events and research projects and we value your feedback always. We are happy for all your ideas and surveys are one way to get them. Please consider giving a few minutes of your time to respond to a survey regarding fire blight.
A U.S. research team including plant pathologists, horticulturists and economists has been formed to address and improve fire blight disease management. We wish to apply for a USDA Specialty Crops Research Initiative proposal tackling stakeholder-driven applied objectives to develop region-specific optimal and sustainable best management options for blossom blight and shoot blight. We also wish to understand the economic impacts of these practices, and to deliver new information to growers in a timely manner.
We need your help by taking a short survey asking for information about fire blight on your farm and your current management practices. The survey is anonymous and can be accessed at: https://cornell.qualtrics.com/jfe/form/SV_dp385clFPItcT6R.
The U.S. research team consists of:
George Sundin, Michigan State University
Jim Adaskaveg, University of California-Riverside
Tianna Dupont, Washington State University Extension
Awais Khan, Cornell University
Karina Gallardo, Washington State University
Frank Zhao, University of Illinois
Kerik Cox, Cornell University
Tom Kon, North Carolina State University
Sara Villani, North Carolina State University