First 2015 Breakfast on the Farm event scheduled for July 11 in Mason County
Want to enjoy a free family breakfast on a farm near you? Visit Stakenas Farms for an unforgettable learning experience.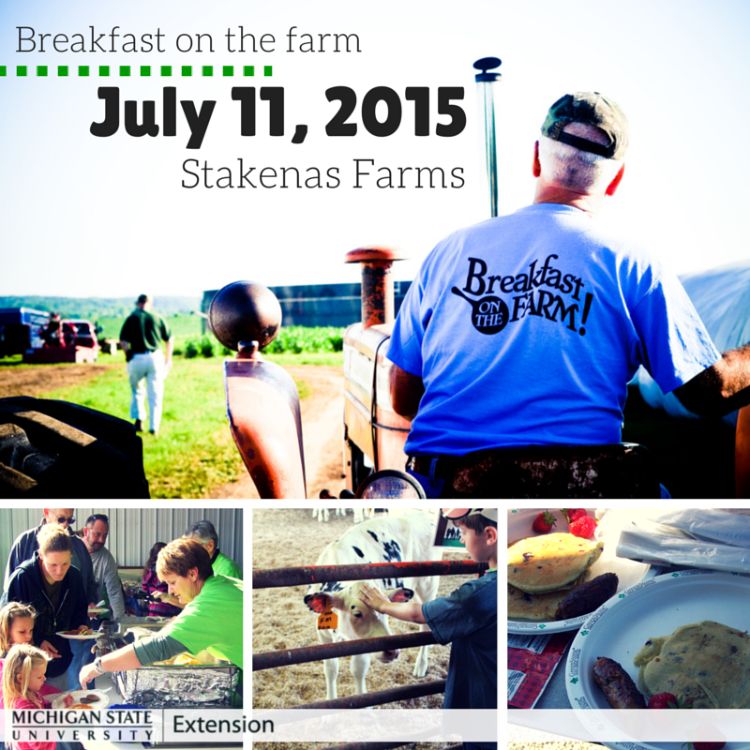 The first Breakfast on the Farm (BOTF) of 2015 is scheduled for July 11, hosted by Stakenas Farms, a family-owned dairy operation in Mason County. Stakenas Farms is located at 6716 N. US 31 in Free Soil. The event will take place from 9 a.m. until 1 p.m. with breakfast being served from 9 a.m. until noon.
BOTF is a statewide Michigan State University Extension program and a great opportunity for consumers to get closer to the producers of their food and to learn about modern-day food production.
Stakenas Farms is MAEAP-verified and has been family-owned for four generations. It is now co-owned and operated by brothers Bill and Carl Stakenas and their wives, Terry and Kay.
The Stakenas farm was recently expanded to make room for future generations to join the operation. The farm is home to 500 milking cows and produces 1,500 acres of corn and alfalfa.
"People have lost touch with the farm -- even people that grew up around farms have moved away," Bill Stakenas said. "I want people to realize that their food doesn't come from the store, it comes from a farm."
Attendees at this BOTF event will be able to enjoy a breakfast featuring Michigan-grown and Michigan-produced products before they go on a self-guided tour of the farm. On the tour, consumers will get a chance to see a milking parlor, cow housing, young calves and many other aspects of dairy farming, along with the equipment used to grow corn and alfalfa. Volunteers from the community will be stationed around the farm to answer visitors' questions about modern-day farming practices.
"I want visitors to leave with a good impression of agriculture, and I think that our farm is a good example of today's dairy industry," Bill Stakenas said. "Agriculture is now sophisticated, and these cattle are clean, healthy and getting safe food every day -- they are in good hands"
Stakenas Farms received the 2014 Conservation of the Year Quality Award from the local conservation district.
"The environment is very important to me because I use the same resources the rest of the community uses," Bill Stakenas said. "I don't want to be the problem when it comes to environmental issues -- I want to be the solution."
Stakenas Farms has a very innovative manure system that they are excited to teach the public about. Their system filters out the sand from the manure, all by water. This allows them to use the manure as fertilizer, reuse the sand as bedding and use water, not from a well, to flush the manure many times. This helps conserve water and other resources used on the farm and the surrounding community.
Breakfast on the Farm is free, but tickets are required to eat breakfast. Tickets are available from the following businesses after June 11:
Baldwin: Blarney Castle EZ Mart; Blarney Castle Marathon; MSU Extension
Custer: Sanders Meats
Free Soil: Ertes EZ Mart
Fremont: MSU Extension
Hart: Blarney Castle BP Gas; Blarney Castle Mobil EZ Mart- Expressway; MSU Extension; West Shore Bank
Irons: Blarney Castle
Ludington: Shell Gas- Airport; Blarney Castle EZ Mart- Hospital; Briggs Hardware; Larson Energy; Mason County District Library; Smith & Eddy Insurance; Snyder's Shoes; West Shore Bank Downtown; West Shore Bank East
Manistee: Ace Hardware; Blarney Castle Gas- Cypress; Blarney Castle Gas- Filer; MSU Extension; Smith & Eddy Insurance; Snyder's Shoes; West Shore Bank North; West Shore Bank South
Muskegon: MSU Extension
Pentwater: Snug Harbor Marina
Scottville: Blarney Castle BP Gas; Blarney Castle Propane; Mason/Lake Conservation District; Mason County District Library; MSU Extension; Shell Gas; Smith & Eddy Insurance; West Shore Bank
In addition to the Mason County BOTF, four other events will be held this summer:
July 25: Sanilac County — Roto-Z Dairy Farm, Snover, Michigan.
Aug. 8: Van Buren County — Hood Farms Family Dairy, Paw Paw, Michigan.

Aug. 15: Gratiot County — Wheeler Dairy, Breckenridge, Michigan.

Aug. 29: Hillsdale County — Pleasant View Dairy, Jonesville, Michigan.
The statewide sponsors for the 2015 BOTF events are the Corn Marketing Program of Michigan, Dairy Farmers of America, Dairyland Seed, GreenStone Farm Credit Services, Kroger, McDonald's, Michigan Ag Council, Michigan Farm Bureau, Michigan Farm Bureau Insurance, Michigan Milk Producers Association, Michigan Soybean Promotion Committee, Michigan Wheat Program, Northrop Trucking and United Dairy Industry of Michigan.
For more information about the Mason County Breakfast on the Farm or other BOTF events, visit www.breakfastonthefarm.com, or contact Ashley Kuschel at kuschela@anr.msu.edu or Mary Dunckel at dunckelm@anr.msu.edu.