Fish and a changing climate: Researchers compile database to support management of freshwater fisheries under climate change
Understanding how fish are affected by climate changes is a critical component of informing freshwater fisheries management.
While fish are economically and culturally important for coastal communities, they are also an important indicator of ecosystem health. However, freshwater resources such as rivers and lakes are increasingly challenged by overfishing, habitat degradation, and long-term environmental change. Understanding how fish are affected by the ever-changing conditions of their aquatic environment is a critical component of informing freshwater fisheries management.
Gaining insight
While changing water temperatures and altered habitats are known to affect fish populations around the world, there has never been a resource that compiles information that is specific to a country, thermal guild (e.g., warm, cool, cold) or habitat type (e.g., stream, lake, wetland) in an easy-to-access platform.
To fill this gap, researchers from the National Climate Adaptation Science Centers (CASC), U.S. Geological Survey's Cooperative Research Units and others have created a publicly available database that gathers research studies from all over the world that address the impact of climate change on fisheries.
This online Fish and Climate Change Database (FiCli, pronounced "fick-lee") provides the user with a "roadmap" of how to use the system. The database can be searched for articles by features such as country, habitat type (i.e. stream, lake, wetland), climate change variable (i.e. temperature, ice cover), etc. There is a category that allows the user to filter their results by "Management Action," some of which include: modify fishing regulations, alter stocking practices, conduct research and monitoring, etc. The provided data not only documents current impacts of a changing climate on inland fishes, but also broadens scientists' understanding of the possible perils for these critical fisheries under various scenarios of environmental change.
A helpful tool for users when attempting to understand their search results is the "Summary of Filtered Datatable." Once a filter is applied, FiCli compiles the corresponding number of unique papers found within the database and breaks them into categories based on whether climate change would have a positive, negative, mixed, or unknown impact on the species or population of interest. Further, within each category, the user may find studies to inform management decisions of varying type. For example, the figure below provides an example of a "tree" that was generated when the database was filtered by studies of Salmonids conducted within the United States.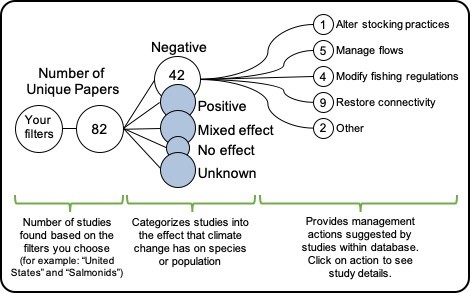 Create your own 'tree'
To create a "tree" of your own search, simply navigate to the database information page. This page will provide an overview of the database and instructions on how to best navigate the data provided. When you are ready to explore, click "Database" on the top left of the page. On the left side of the page, you will be able to filter data by any variable that interests you. You may select multiple at the same time, i.e. habitat type as "lake" AND climate change variable as "ice cover". Once you have selected your desired filters, scroll to the top of the column and hit "Filter." The database will automatically create a "Filtered Datatable" that provides detailed information on the studies that contain information about your desired filters. To create a "tree" that summarizes your information, click the tab at the top of the page that reads "Summary of Filtered Datatable." Click on the blue nodes to begin exploring your results.
The FiCli is a "living" database in that it is continuously updated with new studies, and users have the ability to alert the researchers to new peer-reviewed studies using the "Suggest a New Publication" feature. This database may be ultimately used to gauge the vulnerability of a particular species related to climate change based on their specific traits and to further identify management actions that are recommended by scientific data.
Michigan Sea Grant helps to foster economic growth and protect Michigan's coastal, Great Lakes resources through education, research and outreach. A collaborative effort of the University of Michigan and Michigan State University and its MSU Extension, Michigan Sea Grant is part of the NOAA-National Sea Grant network of 34 university-based programs.
(Editor's note: Author Martha Gerig no longer works for Michigan Sea Grant. If you have questions about this article please contact Michigan Sea Grant Extension educator Brandon Schroeder, schroe45@msu.edu.)

This article was prepared by Michigan Sea Grant under award NA14OAR4170070 from the National Oceanic and Atmospheric Administration, U.S. Department of Commerce through the Regents of the University of Michigan. The statements, findings, conclusions, and recommendations are those of the author(s) and do not necessarily reflect the views of the National Oceanic and Atmospheric Administration, the Department of Commerce, or the Regents of the University of Michigan.