Flint, Michigan, area urban agriculture update — Aug. 2, 2017
Updates about urban and semi-rural small scale diversified vegetable farm and market gardens in the Flint area and a recap of the ninth annual Flint Food Garden Tour.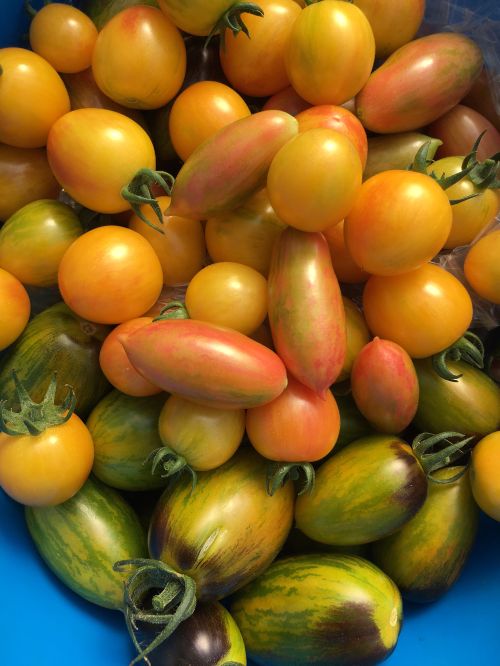 Weather
According to the Michigan State University Flint Enviro-weather station, temperatures for the past week ranged from a low of 52.1 degrees Fahrenheit to a high of 87.1 F. We are at 1,772 growing degree-days (GDD) base 50; our season is still slightly ahead in terms of the five-year averages. The Flint, Michigan, area has received only 0.33 inch of rain spread over the past two weeks, which has been quite variable depending on the location. Supplemental irrigation of vegetable crops has been a necessity.
Crop reports
According to research done in the MSU hoophouses at the Student Organic Farm and MSU Extension educator observations from the field, growers are planting their fall crops in the hoops, including beets and carrots.
Pests being seen in hoophouses include Japanese beetles on basil and peppers, the first small hornworms on tomatoes and cucumber beetles. Diseases include leaf spots on tomatoes and cucumbers, particularly on the older leaves.
Squash bugs have appeared on squash and pumpkin plants in the field, as well as potato beetles on potatoes.
Going to area farmer's markets now
According to a MSU Extension food systems educator, area growers are harvesting cherry tomatoes, slicing tomatoes, green and colored peppers, basil, cucumber and eggplant from hoophouses. In the field, red onions, red-skin potatoes, sweet corn, zucchini, salad mix, sweet and hot peppers, kohlrabi, Bok choy, green beans, kale and Swiss chard are being harvested.
Last week's Food Garden Tour celebrated urban agriculture in Flint
The 2017 edible flint Food Garden Tour on July 26, 2017, showcased 15 of the area's urban farms and gardens, featuring a broad array of organizational partners. The event kicked off at the Flint Farmer's Market and 175 participants traveled by bus or bike route to celebrate these innovative and inspiring food gardens and farms in the city.
Three area churches, two Flint public schools (supported by the FoodCorps Michigan AmeriCorps service program), two urban farms, several community gardens, a city park and a veteran's park, a residential housing unit and the Flint's Children's museum participated.
Immediately following the tour, participants returned to the market for music, conversation and a light meal prepared by local vendors. This year, our meal was a Certified Local Food Event by Taste the Local Difference.
The edible flint Food Garden Tour is supported by local area businesses, foundations and individual donors. Check out the MSU Road Trip bike tour video.