FoodCorps Farm to School Program has impact in Michigan
The FoodCorps National Service program in Michigan had a great year supporting student's hands-on learning in classrooms and school gardens, promoting healthy school meals and a making an impact on the schoolwide culture of health in their communities.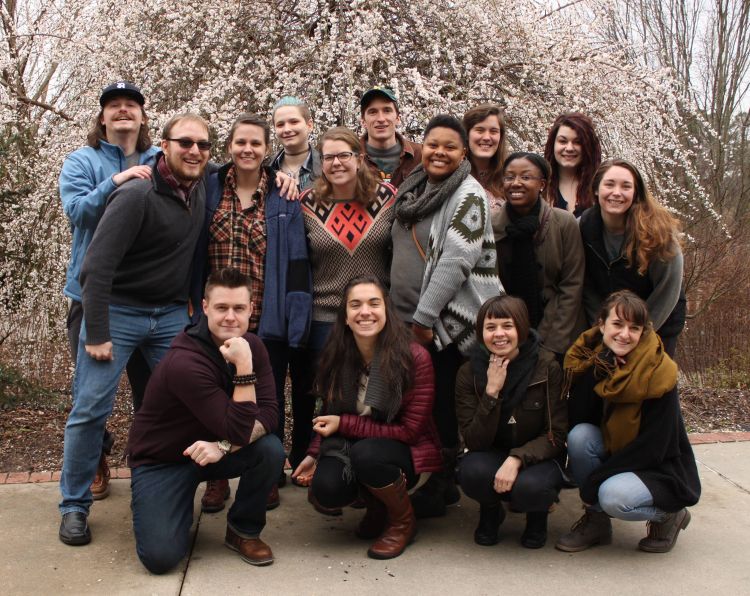 The FoodCorps National Service farm to school program has just completed another successful year of programming in Michigan, the seventh since the program began in 2010. In Michigan, the FoodCorps program is administered by the Michigan State University Extension Community Food Systems team. We are a statewide network of Extension professionals whose farm to institution work is closely aligned with FoodCorps goals' for healthy food consumption in schools and communities through changing institutional food environments and increasing the amount of local food purchased and served.
Six FoodCorps service sites across the state from Detroit to Petoskey form the backbone of the program and represent school districts, non-profit organizations and institutions of higher learning. At these sites, 14 FoodCorps AmeriCorps service members provided more than 6,000 students hands-on learning in classrooms and school gardens, through cooking and tasting lessons and the purchase and service of nourishing, locally produced foods in cafeterias in the 2016-17 school year.
Our 14 FoodCorps Michigan service members contributed the following impacts in the 2016-17 School Year:
6,093 students reached
44 school and community gardens supported
1,723 pounds of produce harvested
11 new foods introduced
38 in-cafeteria activities held
255 community volunteers engaged (serving 956 volunteer hours)
1,912 lessons delivered
We were fortunate to have had a new partnership with the Fair Food Network in Detroit through a specific FoodCorps/Double Up Food Bucks Healthy Food Connect program, funded in 2016-17 to work with students' families to increase healthy food access in Detroit. We also had four additional service members deployed in Flint's Public Schools through 2019, in response to the lead crisis, to support student's healthy development and nutrition.
Through our service site at the Groundwork Center for Resilient Communities in Traverse City, we reached the Petoskey area this past year. This coming year, we will be serving a school in Kalkaska County via our service site at MSU Extension Grand Traverse. Both the Petoskey and Kalkaska communities are new areas being reached by the FoodCorps Michigan program. New this year, we have formalized a site partnership with Ferndale Public Schools after piloting the FoodCorps program at Ferndale Lower Elementary last year, through a national partnership between FoodCorps and the Campbell Healthy Communities program out of Camden, New Jersey.
Building partnerships, hosting family dinner cook outs, supporting school field days, building school gardens and compost bins, taste testing, food foraging, youth farm stands and crockpot family cooking nights – these innovative activities are a sample of the many ways that our FoodCorps Michigan service members build capacity in schools to provide food-focused learning in high-needs classrooms.