FoodCorps in Michigan helping children live healthier lives
Through its network of professional and volunteers, FoodCorps in Michigan is serving thousands of kids increasing their knowledge of and access to healthier foods.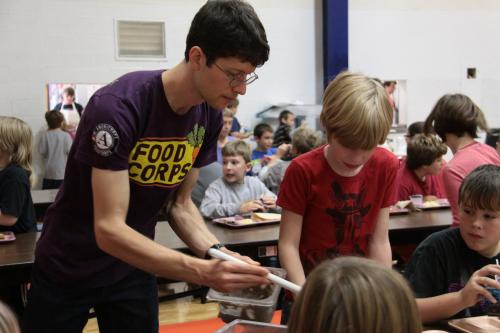 FoodCorps is a nationwide team of leaders that connects kids to real food and helps them grow up leading healthier lives. Motivated leaders are placed in limited-resource communities for a year of paid public service. Working under the direction of local partner organizations, they implement a three-pillar approach to increasing the number of healthy kids.
The three program pillars of FoodCorps:
Knowledge: Nutrition education that teaches kids what healthy food is
Engagement: School gardens that engage kids and community volunteers
Access: Farm-to-cafeteria programs that put local food in school lunch
Through the hands and minds of young leaders, FoodCorps strives to give all youth an enduring relationship to healthy food. FoodCorps is part of the AmeriCorps Service Network and receives a portion of their funding from them, much like Habitat for Humanity, City Year and Teach for America. In the past 30 years, the percentage of overweight or obese children in the United States has tripled, and this challenge is addressed through the FoodCorps program.
FoodCorps terms:
Host site: State-level partners who direct the program across the state through a network of service sites.
Service site: Community-level partners who direct the work of FoodCorps service members in a specific community or school.
Service member: Motivated leaders (at least 18 years old) who are passionate about healthy food, farms and kids are placed with one service site for their year-long term.
Fellow: One individual in each state that supports, guides and mentors the service members, and undertakes a year-long fellow project related to nutrition education for kids, school garden engagement, or access to healthy food.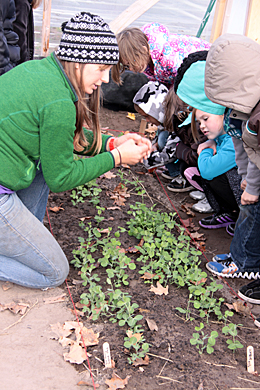 Eighty FoodCorps service members and 12 FoodCorps fellows are out making a difference at 61 sites across 12 states in 2013.
The 2011-12 FoodCorps program began in Michigan at the Michigan State University Center for Regional Food Systems, and in 2013 is transitioning to Michigan State University Extension under the leadership of its educators in community food systems – a statewide network of experts whose work is closely aligned with the FoodCorps pillars of service. The Michigan FoodCorps fellow is located in Extension's Genesee office. Several other states offer the FoodCorps program through their Extension service including Maine, Connecticut and North Carolina. Host sites are high-capacity nonprofit organizations, agencies or institutions.
Service sites (and six service members) are currently located around Michigan in the following locations:
Last year was a success, with service members connecting farmers and food service directors to source local carrots, squash, apples, and Swiss chard, working with community partners to lead farm-to-school collaboratives, and using food as a tool to teach standard school curricula and get kids excited about eating healthy food.
Michigan statistics since August 15, 2011: 7,728 children served; 21 garden projects; 204 pounds of produce donated; 157 new community volunteers.
In Flint, FoodCorps established four functioning school gardens, assisted in the maintenance of one pre-existing garden and is in the process of constructing another. FoodCorps activities in Flint have included: cafeteria and classroom taste tests, school garden education and curriculum integration, local sourcing with school food service, school composting initiatives and much more.
Total number of kids served in Flint: 2,416; total number new volunteers: 34; gardens revitalized/built: 1,566 square feet; produce donated (not total harvested- total does not include pounds used in classroom): 65 pounds.
Photos courtesy of FoodCorps Michigan Fellow Robyn Wardell.