Former Michigan 4-H state leader inducted into National 4-H Hall of Fame
Clinton County's Sandra Clarkson Stuckman receives prestigious honor for lifetime of 4-H involvement.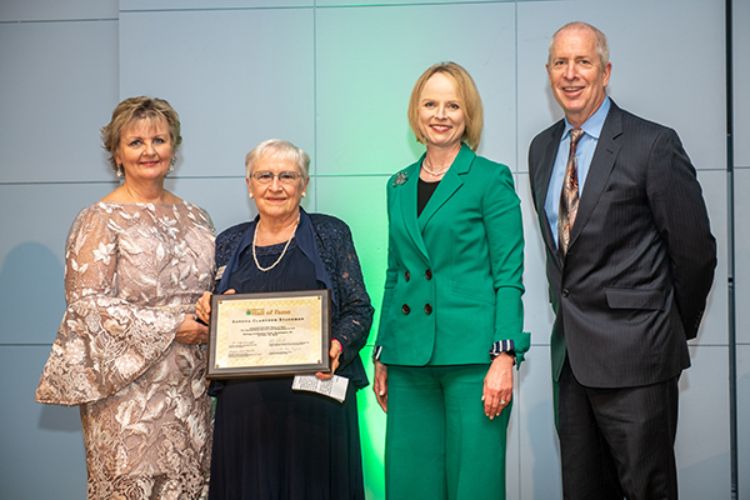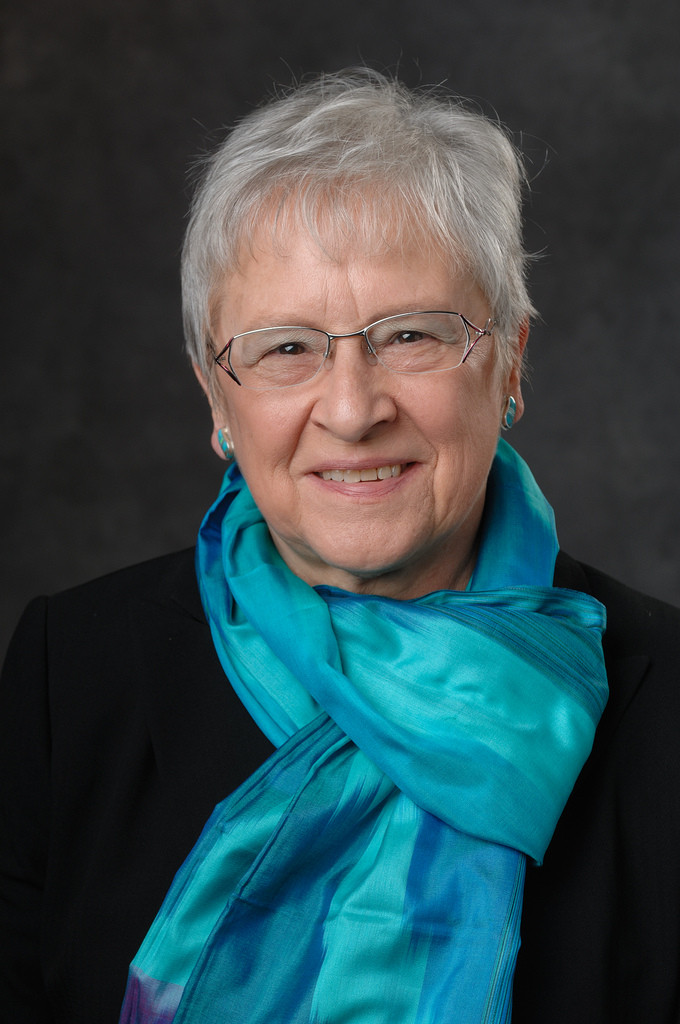 Sandra (Sandy) Clarkson Stuckman, of DeWitt, Mich. was inducted into the National 4-H Hall of Fame on October 12 for her lifetime achievements and contributions to 4-H, including Michigan State University (MSU) Extension's 4-H program. One of the highest honors bestowed on members of the 4-H community, Stuckman received the recognition as a former 4-H member, professional, administrator and current volunteer, supporter and advocate who has been serving her club, community, country and world for more than six decades.
"Sandra Clarkson Stuckman is among MSU Extension's strongest 4-H supporters and we are fortunate to have her as a member of our 4-H community," said Jake DeDecker, state leader for Michigan 4-H. "Sandy's commitment to 4-H has been a lifelong journey. Starting as a 4-H member herself as a youth, growing into a 4-H professional and administrator, and now as one of Michigan 4-H's most significant donors and advocates, Sandy has forever left her imprint on 4-H."
An Indiana 4-H alumna, Sandy earned her bachelor's degree from Purdue University. She came to MSU for her master's degree after working for Cornell Cooperative Extension for six years. She began her MSU career as an MSU Extension home economics agent, later serving as a regional MSU Extension director and then state 4-H leader of Michigan 4-H Youth Development from 1991 to 1998. Under her leadership, the Michigan 4-H China Project and the 4-H Chinese Art Exchange were established. In 1993, she oversaw the official opening of the Michigan 4-H Children's Garden, the first garden of its nature in the nation on a university campus.
During her tenure as state 4-H leader, Sandy also served as trustee and secretary of the Michigan 4-H Foundation Board of Trustees, a role she embraced and enjoyed. Sandy became a loyal 4-H donor with major gifts for both the Michigan 4-H Children's Garden and the Vision 2021 Campaign for Kettunen Center, a capitol project to enhance Michigan's 4-H youth development conference center. She became a strong partner for this campaign, helping to advocate support from Michigan Farm Bureau (MFB) and its members toward this campaign.
In 1998, Sandy assumed the role of MSU Extension director of diversity. Diversity, equity and inclusion (DEI) have always been key to Sandy. As such, Sandy helped build MSU Extension and 4-H's DEI efforts and staff training to help develop an understanding and appreciation for diversity and multiculturalism. After retiring in 2002, Sandy continued as an MSU Extension diversity facilitator and remained a dedicated 4-H supporter. In 2014, Sandy was elected Michigan 4-H Foundation honorary trustee for her continued advocacy and support for 4-H.
In 1998, Sandy created a named 4-H endowment with gifts made in her honor. She has continued to grow this perpetual fund over the past 20+ years, which supports 4-H leadership training scholarships. Since then, Sandy and her husband, Noel, have remained committed to 4-H as leadership donors and campaign volunteers through the Michigan 4-H Foundation. From 2014-2018, Sandy and Noel were members of the 4-H Leadership 10 – a group of 10 couples who provided leadership for the Campaign for Michigan 4-H's Future. This campaign raised $13.3 million for Michigan 4-H, including more than $2.1 million to grow and build county 4-H endowments. Sandy co-hosted a 4-H retiree fundraising event, engaging 4-H retirees in contributing more than $200,000 towards a match pool for county 4-H endowments, becoming lead donors themselves. Sandy provided leadership to the local 4-H endowment campaign in Clinton County, hosting a kickoff event that led to a successful $50,000 local campaign. Most recently, the Stuckmans documented an estate gift to grow their 4-H endowment, as well as to support several additional endowments at MSU. With a majority of their support through endowed funds, their generosity will continue to serve 4-H youth and students for generations to come.
Throughout her retirement, Sandy has been well-known to volunteer her time to 4-H. She helps to plan and organize the Clinton County Friends of 4-H Silent Auction, where she also is known to annually donate and purchase items to directly support the local 4-H program. She also served several terms on the planning committee for the Michigan 4-H Retiree Reunion, a biannual event to keep former Michigan 4-H staff connected to and advocates of the Michigan 4-H program.
Sandy and Noel also provide leadership and support for the East Lansing Agriculture Club, the Barn Preservation Network, the YMCA, and are active MFB members. They served as leadership donors, campaign volunteers and student mentors for the FarmHouse Fraternity and are donors and advocates for Purdue University. They were honored for their service to and support with the MSU College of Agriculture and Natural Resources Distinguished Service Award in 2018 and the Michigan 4-H Citation Award in 2016. They were also honored with the Ruby C. McSwain Outstanding Philanthropist Award from the National Agricultural Alumni and Development Association in June 2020.
For her lifetime commitment to 4-H, Sandy joins the ranks of other notable members of the 4-H community in the National 4-H Hall of Fame, which recognizes and celebrates 4-H volunteers, faculty and staff, pioneers, donors and others who have made a significant impact on 4-H at the local, state and/or national levels.
"We are overjoyed for Sandy to be recognized at the national level for all she has done for 4-H, both in Michigan and Indiana," remarked DeDecker. "It's a well-deserved honor."
Nominated by MSU Extension Michigan 4-H Youth Development and the Michigan 4-H Foundation, Stuckman was one of 20 people inducted during the ceremony held at the Kellogg Conference Hotel at Gallaudet University in Washington, D.C.
Honorees were presented with a National 4-H Hall of Fame medallion, plaque and memory book during the ceremony. The National 4-H Hall of Fame was established in 2002 as part of the Centennial Project of National Association of Extension 4-H Agents in partnership with National 4-H Council and National 4-H Headquarters at the United State Department of Agriculture.
"We are proud to recognize the 2021 National 4-H Hall of Fame honorees for the passion, dedication, vision and leadership they have shown toward young people during their many years of service to 4-H," said Jeannette Rea Keywood, National 4-H Hall of Fame Committee Chair.
Visit the National 4-H Hall of Fame website for more information about previous inductees. To learn more about Michigan 4-H, visit the Michigan 4-H website.