Fostering community, encouraging healthy lifestyles and strengthening food security in northwest Detroit
The Detroit Partnership for Food, Learning and Innovation celebrates new growth and capacity building in 2022.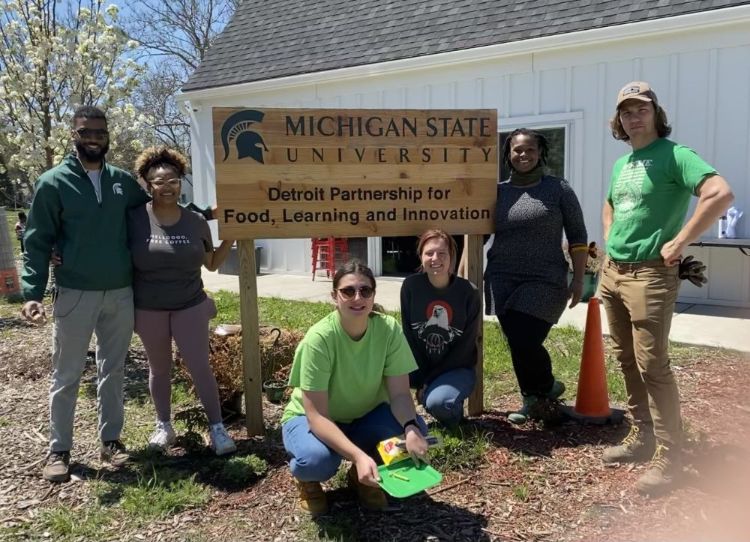 Stemming from years of conversations among Detroit leaders, residents and Michigan State University (MSU) Extension, the Detroit Partnership for Food, Learning and Innovation (DPFLI) was launched on nearly 3.5 acres in northwest Detroit's Riverdale neighborhood in 2017. As the first MSU urban food research center, the DPFLI facility and partnership seeks to develop creative solutions to urban economic and nutritional challenges faced by Detroit's residents through community engagement and MSU Extension programming.
Sitting on the site of a former elementary school, DPFLI has grown into a flourishing, edible landscape with native trees, fruit bushes, vegetable crops, native grasses and more. The first building on the DPFLI site was completed in February 2020, just a few short weeks prior to when COVID-19 was identified in Michigan. Now furnished, it serves as a learning center for DPFLI programming that also provides a shared space for community groups to access and utilize.
Despite challenges posed by the pandemic, DPFLI staff and volunteers have diligently continued establishing and growing the site. In 2021, deer fencing was added to protect production and research plots, followed by the completion of a storage shed in June 2022. Other developments have included the addition of a wind turbine to power lighting for the parking lot, repainted lines for parking spaces, additional raised garden beds and a pizza oven. A rain garden has also been added to catch stormwater and reduce runoff from the outdoor space. In 2022, the DPFLI staff grew to its largest yet, with three apprentices, two interns, and a full-time site manager and program coordinator joining director Naim Edwards.
As the Detroit Partnership for Food, Learning and Innovation continues to develop, it has already demonstrated its success in transforming how neighbors in Riverdale and greater Detroit interact with their food system. With the goal of creating healthy, sustainable environments as well as access to food without a dependence on income or grocery stores, DPFLI has blossomed into a unique place centered around community engagement and learning opportunities for Detroit residents of all ages.