Global manufacturer builds new facility in northern Michigan
Global manufacturer invests millions as it opens a new facility in Northwest Michigan and creates local jobs.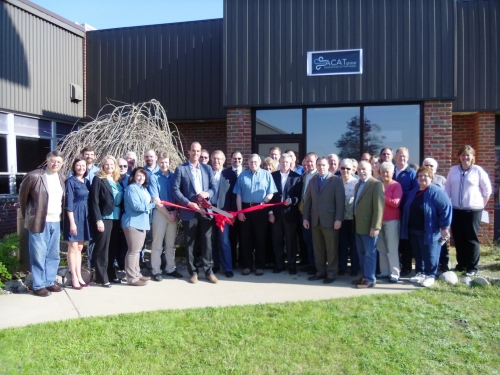 ACAT Global manufactures the world's lightest, smallest, most effective metallic catalytic converter substrates. The substrates improve the efficiency of internal combustion engines, fuel cells and smokestacks, utilizing a unique and proprietary "herringbone" technology developed by Delphi/GM. This design revolutionizes catalytic converter efficiency with implications for automotive, industrial, power generation, fuel cells, flame/spark arrestors, wood burning stoves, commercial road trucks, military, locomotives, small engines, heavy equipment and self-cleaning ovens, among others.
Michigan State University Extension staff working through the Northern Lakes Economic Alliance assisted ACAT with finding a location and worked with the Michigan Economic Development Corporation and Marion Township on incentives that helped them choose Charlevoix, Mich. for their newest location.
Their estimated $8 million investment in new machinery and equipment and building renovations will help create 22 new jobs by 2013, up to 60 new jobs by 2016 and will diversify the Northwest Michigan region's economic base. This new investment will result in an estimated $240,000 new local taxes over the next 12 years.
With their West Coast Operations in Costa Mesa, Calif., they recently opened ACAT Europe in Hungary to serve the European market. A South American division is in the works.
For more information about this exciting new company, visit the ACAT Global website.
Photo: Government and community representatives show support for Charlevoix's newest manufacturing facility at a grand opening in May, 2012.
MSU Extension has had a unique partnership relationship with the regional economic development organization Northern Lakes Economic Alliance for more than 20 years. Recognizing the strength of combining resources, this partnership focuses on economic development, entrepreneurship growth and community infrastructure throughout a four-county region in the northwest Lower Peninsula, specifically Antrim, Charlevoix, Cheboygan and Emmet counties. As a result, NLEA utilizes resources offered through MSU Extension and the NLEA provides leadership to state-wide programs sponsored by MSU Extension.