Going with the "process" flow of fresh produce
Writing a process flow is an excellent way to start creating a food safety plan for a fresh produce farm.
Trying to assess food safety risk can be scary and the assessments can be very different from one farm to the next. When beginning the process, it's best to break the task up into manageable steps.
The first step in any risk assessment is to follow the produce from the time it's picked until it leaves the care of the farm. Food safety experts call this a process flow. A process flow breaks down every step of the journey from the ground to the table. This process flow serves as a back bone for all risk assessments and food safety manuals. In the case of celery, for instance, an individual grower may mechanically harvest it, transport it to a packing facility, wash it, hydrocool it, package it into cellophane, then transport it to a cooler until it is shipped to a store.
The process flow would look something like the diagram below. This may be very different from one grower, who may only grow celery and harvest it, to another grower who may only pack and hydrocool celery.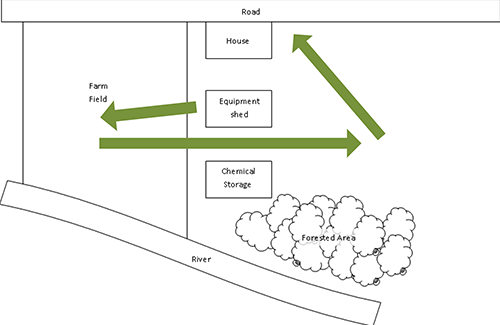 Once you have a draft process flow put together, run it by others that are active on the farm. Does it make sense to them? Is it free of extra steps? Is it missing steps? Once you have feedback from others, then you can be reasonably assured that your process flow is just right. Having an accurate process flow is essential to getting started on the right foot.
If you would like more information on creating a process flow for your farm, or have general questions on implementing good food safety practices on your farm, contact the Michigan State University Extension Agrifood Safety Workgroup at 517-788-4292 or gaps@msu.edu.