Grand Rapids area tree fruit update – April 2, 2019
Another slow start to spring is good news to tree fruit producers.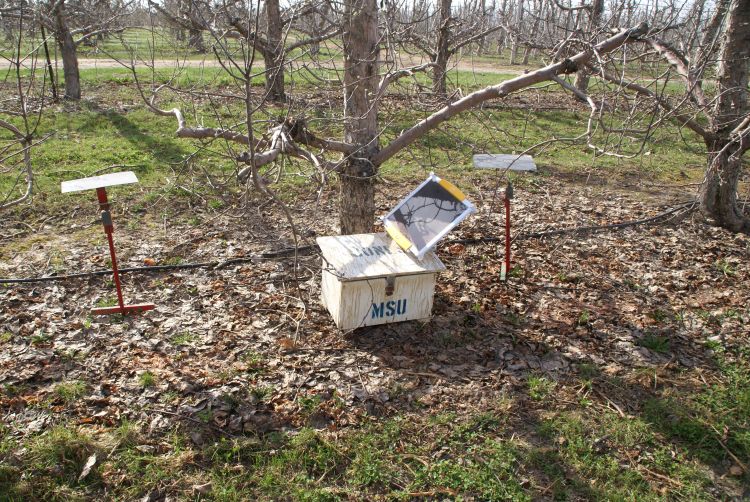 Weather
After a mild start to winter, much colder than normal weather moved in to make February and March colder than average. I'm sure we are all ready for some warmer weather, but happy with the slow start to spring. There are still some remaining snow piles and frost on the ground in some areas, so trees are likely to move forward at a slower than normal pace. We think green tip will be slightly delayed for 2019, perhaps by a week or so, but we all know how fast that can change.
Degree-day totals for the general west Michigan area are very much behind normal average, but not quite as far behind as we were at this time in 2018. The Michigan State University Sparta Enviroweather station has accumulated 34 degree-days base 42, which is 14 days behind the average for Jan. 1 to April 1. Degree-days base 50 at Sparta are 6.8, which is 21 days behind normal from Jan. 1.
Diseases
Even though green tip is likely a couple of weeks or more away, it's not too early to be thinking ahead to those first sprays. Copper sprays are best placed as close to green tip as possible to get the most longevity from this early scab and fire blight management tool. Copper sprays in sweet cherry are needed prior to green tissue development. Peach leaf curl sprays could be important again this season if we continue to get a slow, cool weather pattern during bud swell. If you didn't apply something last fall, do it this spring.
My apple scab spore monitoring equipment is up and running. The past few years I have caught spores well ahead of green tip, so I always put up my equipment a couple of weeks early.
Insects
San Jose scale was a major issue in some blocks in 2018. The best management tool for this insect pest is dormant oil. Many have moved away from early oil sprays recently, which could be contributing to the increases in this "old" pest in both apple and cherry blocks. Dormant oil does come with special precautions to avoid leaf and fruit damage and the window for optimum use is not always right for Michigan spring weather. If you have blocks with San Jase Scale in high numbers, consider dormant oil on a case-by-case basis to try to get it back in check.
Meeting announcement
The annual Spring Spray Meeting will be held Tuesday, April 16, 2019, from 4 to 6 p.m. at the Goodfellow Farm, 2267 12 Mile Rd, Sparta, MI 49345. Please use the orchard entrance near Laubach Road, west of the house drive. We will meet in the large, white building located behind the houses. This meeting is sponsored by the Michigan State Horticultural Society and MSU Extension. MDARD pesticide recertification credits and CCA credits have been granted.