Grand Rapids area tree fruit update – Aug. 3, 2022
Tree fruit is continuing to put on size.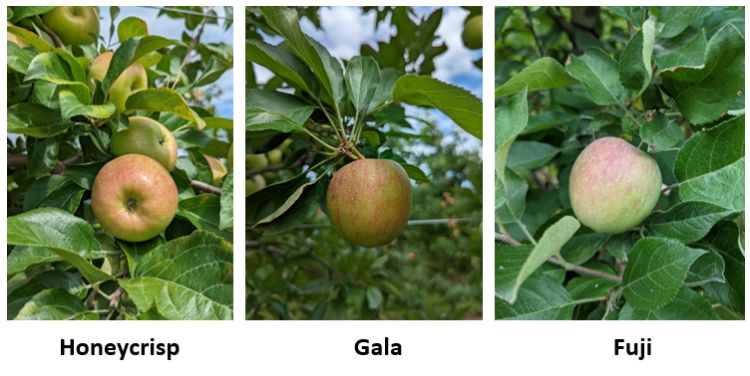 Weather and phenology update
Conditions in the Grand Rapids, Michigan, area this week were milder, although they continued to be very warm and dry. Temperatures over the past week were in the mid to upper 70's (F) most days with overnight lows in the mid to upper 50s. As of Aug. 1, the Michigan State University Sparta Enviroweather station has accumulated 2433.0 degree days base 42 F (DD42). This is slightly above average, which is 2301.8 DD42, and approximately 5 days ahead of normal.
The area has been very dry. Most weather stations have recorded <0.1 inch since the significant rainfall received two weekends ago (July 23-24). Presently, nearly all of the Grand Rapids area is abnormally dry (D0) and some parts of Eastern MI are under moderate drought conditions (D1), according to the U.S. Drought Monitor, despite the rainfall two weekends ago.
Expect very hot weather this week, with temperatures moving into the upper 80s and overnight lows in the 60's. Weather will be drier than normal. Scattered thunderstorms are likely on Wednesday, with the possibility of up to 0.5 inch of accumulation. Another chance of thunderstorms is predicted Sunday morning, with low accumulation likely. More rain showers are likely early next week. Overall, warmer and drier than normal conditions are projected to persist in the long-term forecast, through August and September.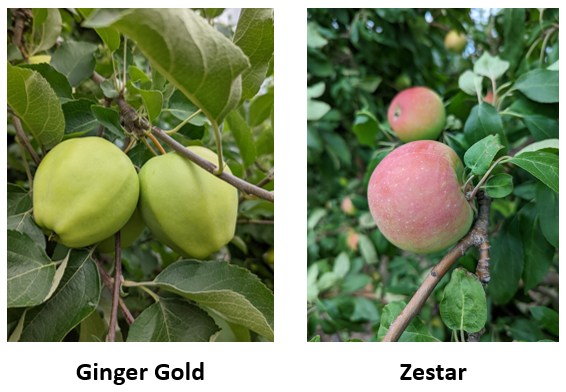 Tree fruit is continuing to put on size. Apples are sizing well and beginning to put on color. Hand thinning and summer pruning continue in most places. Some very minor sunburn and early lenticel damage has been observed. Peaches are being picked, with the first Red Haven beginning by the end of the week. Predicted harvest dates can be found on the Enviroweather model and are near normal or slightly ahead.
Degree day accumulation at Enviroweather stations in the Grand Rapids area
Weather Station
Degree Days Base 32 from Jan. 1
Degree Days Base 42 from Jan. 1
Degree Days Base 50 from Jan. 1
Aetna - Fremont
3637.6
2376.7
1552.8
Alpine
3799
2498.8
1650.6
Belding
3737.4
2454.8
1623.1
Clarksville (CRC)
3803.2
2497.4
1655.8
Conklin
3799.8
2503
1651.5
Fremont
3693.9
2420.5
1595.4
Grant
3680
2399
1571.8
Kent City
3713.5
2436.7
1605.7
Reeman-Fremont
3701.1
2421.6
1590.6
Sparta
3718.7
2433
1597.1
Sparta 20m Tower
3726.8
2435
1595
Sparta - North
3746.7
2456.5
1613.8
Standale
3857.5
2535.7
1682.8
Average DD from Sparta historical data for Jan. 1 to date
3631.8
2301.8
1471.3
Comparative Date of Averages @ Sparta
3-Aug
6-Aug
8-Aug
Days +/- Average @ Sparta
+ 2 days
+ 5 days
+ 7 days
For these updates, we used averages for 1997-2021 from the Michigan Automated Weather Network (MAWN) to represent normal conditions. Weather data was gathered from MSU Enviroweather.
More information and reports on normal weather conditions and departures from normal can be found on the NOAA Climate Prediction Center website, NOAA U.S. Climate Normals website, NOAA Climate Normals Quick Access Page (which may be searched by region) and Midwest Regional Climate Center website.