Grand Rapids area tree fruit update – July 12, 2022
Slightly cooler and wetter conditions this week, then expect a return to warm, dry weather for the remainder of July.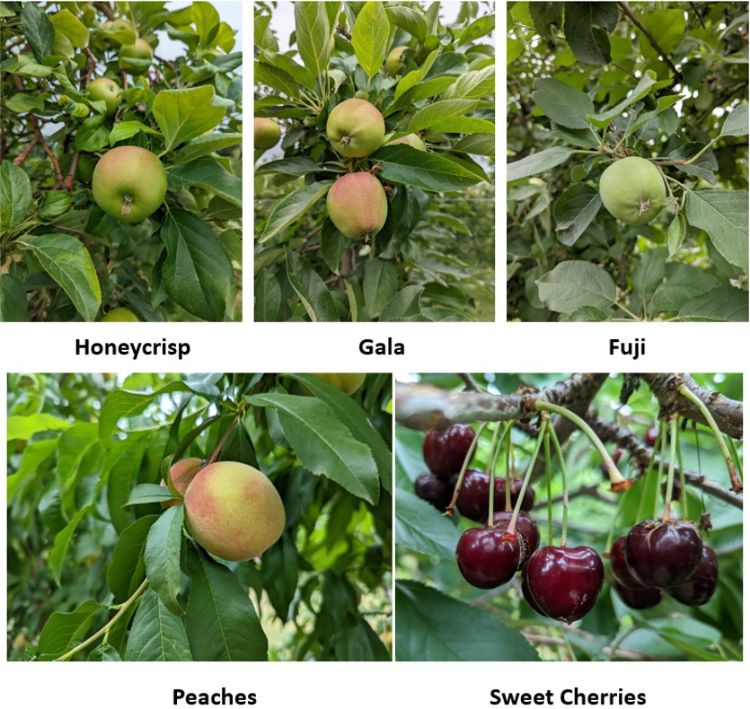 Weather and phenology update
Over the past two weeks, the Grand Rapids, Michigan, area received some much-needed rainfall. Across most of the area, weather stations recorded over 1.5 inches of accumulation at the beginning of last week and an additional 0.5 inches Monday afternoon and evening. Temperatures have continued to be very hot, with highs in the 80s and lows in the 50-60s (degrees Fahrenheit). However, water demand has been considerably lower, with PET values generally less than 0.25 inches. As of July 4, the Michigan State University Sparta Enviroweather station has accumulated 1831.1 degree days base 42 F (DD42). This is slightly above average, which is 1702.4 DD42, and approximately five days ahead of normal.
Over the next few days expect slightly cooler conditions than normal, with highs in the 7's and lows in the 50s. Scattered showers are possible over the next two days as a low pressure Canadian air system moves through the region. Additional scattered showers or storms are possible over the weekend, but total accumulation will be minimal. Afterward expect a return to hot, dry weather for next week and the remainder of the month. The high pressure 'heat dome' that has been over the middle of the country for the past week will move into the Great Lakes region bringing with it dry conditions with temperatures again reaching into the 80s.
Tree fruit is continuing to size. A very good potential crop is setting well in most locations. Most varieties of apples are greater than 50g or more in size. Some very minor sunburn has been observed.
Peaches continue to size. Predicted harvest dates can be found on the Enviroweather model. For the most part, they are close to average harvest dates this year, with earliest varieties expected to begin harvest at the end of July, other varieties beginning early-mid August. Mid-season sweet cherries are ending harvest.
Degree day accumulation at Enviroweather stations in the Grand Rapids area

Weather Station
Degree Days Base 32 from Jan. 1
Degree Days Base 42 from Jan. 1
Degree Days Base 50 from Jan. 1
Aetna - Fremont
2835.8
1784.9
1129
Alpine
2980.7
1890.5
1210.3
Belding
2929.4
1856.8
1193.1
Clarksville (CRC)
2992.7
1894.8
1218.4
Conklin
2976
1889.2
1205.7
Fremont
2886.1
1822.7
1165.6
Grant
2878.1
1807.1
1147.9
Kent City
2899.8
1833
1170
Reeman-Fremont
2901.7
1832.2
1169.2
Sparta
2906.8
1831.1
1163.2
Sparta 20m Tower
2922
1840.2
1168.2
Sparta - North
2937
1856.8
1182.1
Standale
3037.4
1925.6
1240.7
Average DD from Sparta historical data for Jan. 1 to date
2822.3
1702.4
1038.9
Comparative Date of Averages @ Sparta
14-Jul
16-Jul
17-Jul
Days +/- Average @ Sparta
+ 3 days
+ 5 days
+6 days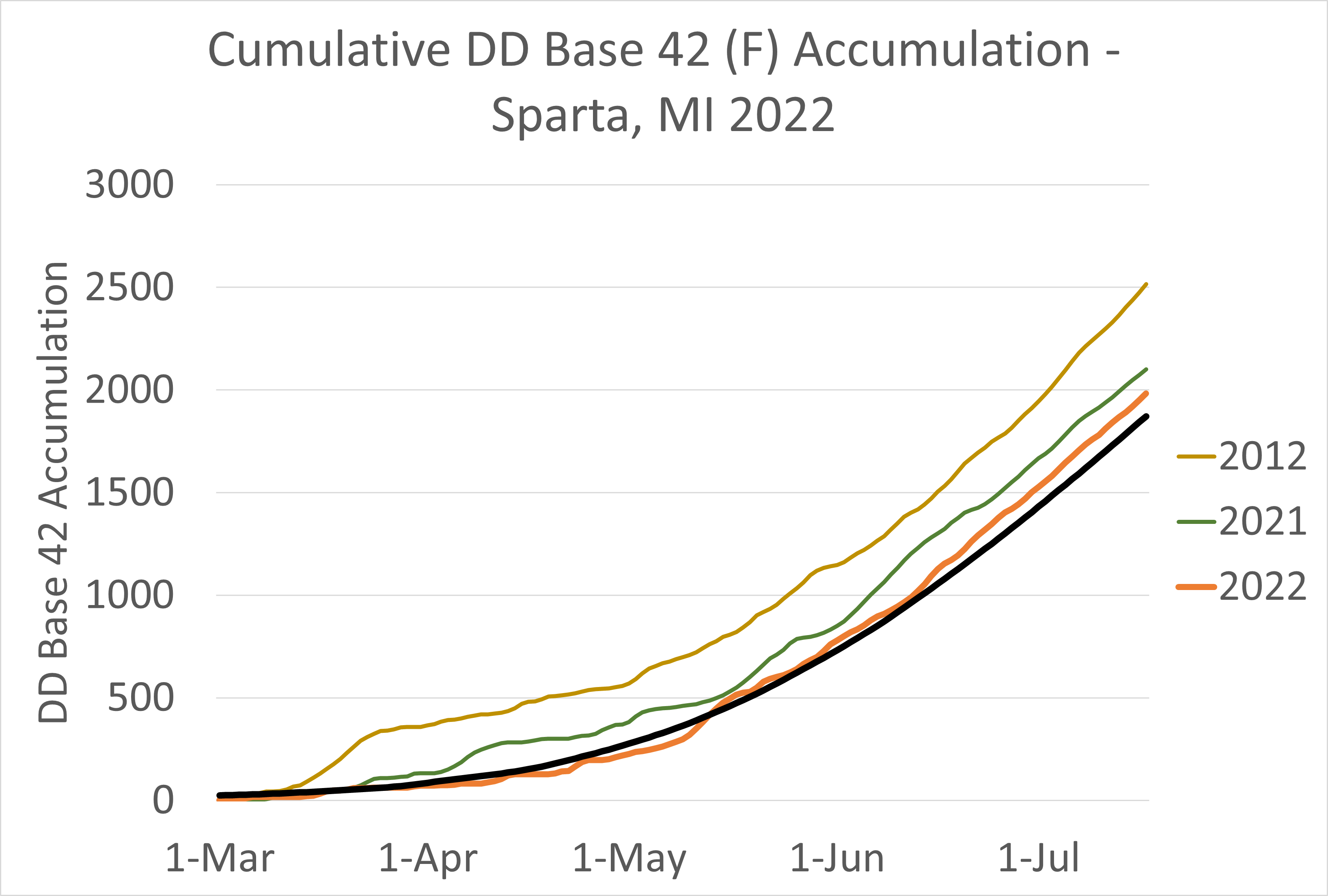 For these updates, we used averages for 1997-2021 from the Michigan Automated Weather Network (MAWN) to represent normal conditions. Weather data was gathered from MSU Enviroweather.
More information and reports on normal weather conditions and departures from normal can be found on the NOAA Climate Prediction Center website, NOAA U.S. Climate Normals website, NOAA Climate Normals Quick Access Page (which may be searched by region) and Midwest Regional Climate Center website.
Tree fruit diseases
Primary apple scab is over for 2022 and more reports of breakthrough scab starting to come in now that fungicide rates have been reduced. Careful scouting for apple scab is still necessary and it would be great to get samples to the Sundin lab for resistance testing if you have some suspect breakthrough scab. Please contact Amy Irish-Brown if you want your orchard sampled.
Fire blight risk should be lower as we move into the hotter and dryer months of summer. Some varieties are setting terminal buds which also reduces blight potential. Should there be storms that rip and tear foliage, trauma blight would only be a risk in blocks that have active blight in them, so keep a keen eye out for strikes and remove them quickly.
With terminal bud set, powdery mildew infections should lessen. While mildew is low overall, there are still blocks that seem to have more than expected. Take note of these blocks for the 2023 season so mildewcides will be added in earlier in these potentially high inoculum blocks.
Summer disease management in apples should be considered in areas where the MSU Enviroweather model indicates adequate wetting hours for disease expression. This is not everywhere as rainfall and wetting have been quite variable this year. Be sure to check the summer disease model for the weather station nearest you for guidance.
Tree fruit insects
Codling moth: Grand Rapids regional biofix set for May 15, 2022 (254 DD50) with 908 degree days accumulated since. First generation adults and egg activity should be ending. Some larval feeding will continue. Second generation adults could begin to emerge any day now. This is a great week to change out lures for codling moth.
Obliquebanded leafroller: Grand Rapids regional biofix set for June 14, 2022 (1076 DD42) with 756 degree days accumulated since. Adult moth numbers have declined significantly as expected. Egg hatch should well underway. First small larvae started to be found this week, right on time with the model predictions.
Oriental fruit moth: Grand Rapids regional biofix was set for: May 12, 2022 (312 DD45) with 1250 degree days base 45 accumulated since. Adult flight has increased from last week as second generation ramps up. Early egg hatch should be also underway and cover sprays in stone fruits are again critical to prevent shoot and fruit infestation. Monitor for shoot flagging in apples, particularly non-bearing and nursery trees where oriental fruit moth can do a lot of damage.
Green apple aphid populations are highly variable by block and variety – some blocks have none, some have every growing tip infested. Most green apple aphid populations have several beneficials at work and there are more winged aphids now present indicating this pest will be moving to other hosts soon, especially as apple terminal growth shuts down.
Just as green apple aphids start to decline, woolly apple aphids are getting increasingly active. Woollies are an old pest that is trying to be new again. It was likely managed with broad spectrum pesticides over the years and resistant rootstocks. Use of both these tools have changed in recent years and woolly apple aphids seems to be enjoying a comeback. It does have favorite varieties – Red Delicious, Empire, Jonagold, Gala, Golden Delicious and more. A field woman pointed out to me that they never see woollies on Honeycrisp, so that's a plus. MSU entomologist Julianna Wilson is still looking for woolly apple aphid populations to sample from across our region. Please contact Amy Irish-Brown if you want samples taken from your blocks.
San Jose scale - A regional biofix for the general Grand Rapids area was set for May 20 (288 DD51) with 857 degree days accumulated since the regional biofix. Crawlers have settled down on shoots and occasionally fruits making management of first generation more difficult. Second generation adult males should start to fly in the next week or so – time to replace traps and lures.
All stages of European red mite are present. Predatory mites continue to be found in European red mite populations. There are a few twospotted spider mites in some areas. Summer miticides should be considered in blocks over the July threshold of five mites per leaf.
Adult Japanese beetles are increased in number from last week and the recent rains will continue to push them out of overwintering soil sites.
Apple maggot adult emergence also started with rains last week. Numbers are very, very low and not all sites are yet finding them at this time. We should be at the very beginning of emergence with several weeks to go. Traps need to be in place if you want to monitor apple maggot effectively for decision making.