Grape pest and beneficial search now available online
Grape producers have a new tool to assist in identifying diseases, insect and mite pests and beneficials in vineyards.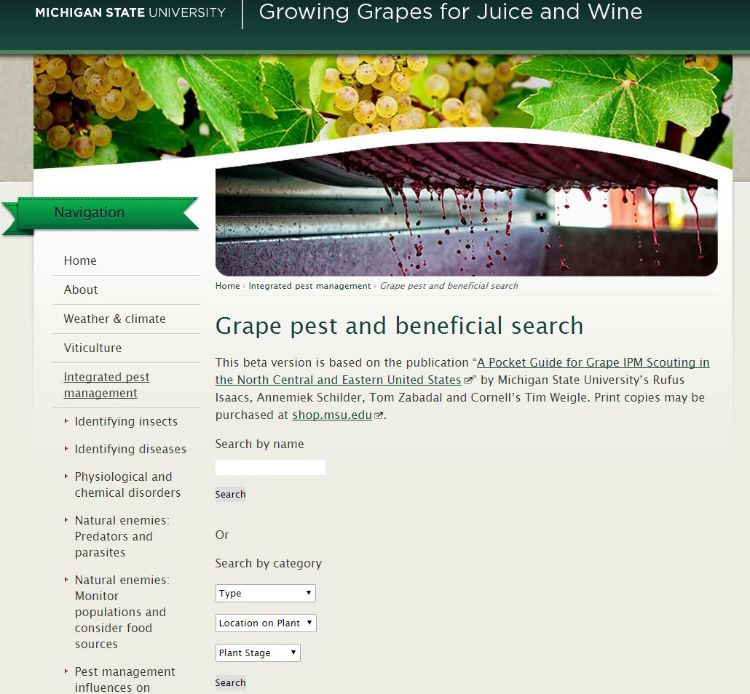 Growing grapes on any scale in the Great Lakes region or in the Northeast means dealing with a lot of fungal diseases, viral diseases and insect pests. To better assist growers with these challenges, Michigan State University Extension has developed the Grape pest and beneficial search, a new online tool for identifying diseases, insect pests and beneficial organisms in vineyards.
The information is largely drawn from "A Pocket Guide for Grape IPM Scouting in the North Central & Eastern United States." The new tool is formatted as a search engine where the user can enter either the name of the pest or beneficial, or the time of year when the pest or beneficial appears on the plant and where on the plant it's located (fruit, leaves, buds, roots, shoots).
Enter any of these and get a detailed description of the pests or beneficials you're likely to be encountering, complete with damage description, life cycle and pictures. We hope the search will be useful to growers, crop scouts and those with a backyard vineyard.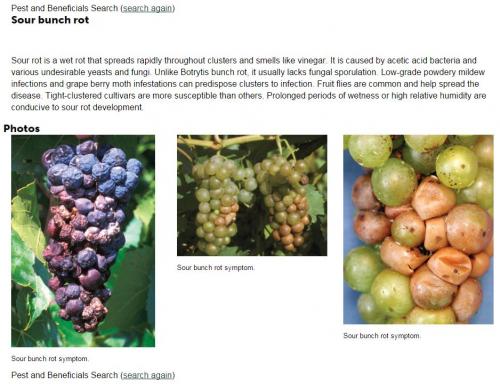 We're still fine-tuning this online tool, so if you have suggestions, please offer them. You can do so by filling out a survey after you use the search engine.
If you have questions about insects or diseases in grapevines that you can't find in scouting guides or the grape pest and beneficial search tool, you may be able to find help at your local MSU Extension office, or use eXtension's Ask an Expert to get in contact with Extension professionals who can help you with identification.
This project was funded in part by grants from the by Project GREEEN and the MSU Integrated Pest Management Program.