Greenhouse disease and insect management recommendations for 2023
Insect and disease management recommendations for the 2023 growing season.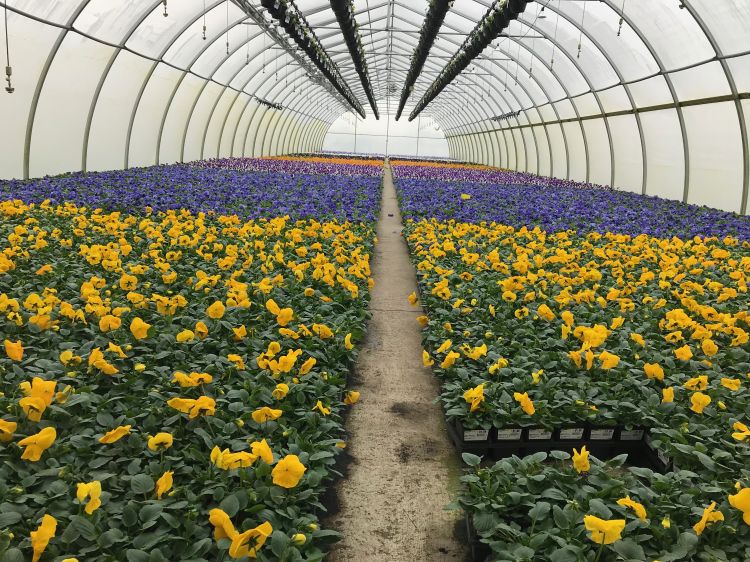 Michigan State University Extension has updated their insect and disease management recommendation guides for the 2023 greenhouse season. While the disease management guide has undergone only minor alterations, significant reformatting has been implemented in the pest management guide. These documents are updated yearly to reflect the efficacy of pesticides as MSU Extension specialists and their nationwide colleagues perform research trials evaluating the products against common greenhouse insects, mites or diseases.
Insect management
The MSU Extension floriculture team has released their "Greenhouse Insect Pest Management 2023" guide. These are the recommended products to control thrips, aphids, whiteflies, spider mites, broad and cyclamen mites, fungus gnats, mealybugs and caterpillars.
Growers of greenhouse vegetables and greens can use the guide "Recommended Insecticides for Common Greenhouse Pests on Vegetables, Herbs, and Leafy Greens" when considering an insecticide application. The guide provides the names of the products, active ingredients, labeled crops, and the pests they control. For more information on the guide, see the MSU article "Insecticides for Common Pests on Greenhouse Vegetables and Transplants".
Download 2023 Greenhouse Pest Management with Insecticides Recommendations
Notes on formatting changes
The 2023 pest management guide has undergone significant modifications to provide farmers with comprehensive and up-to-date information to make informed decisions about pest management. The switch to a table format allows for better highlighting of crucial information. The table includes the trade name of the pesticide, its active ingredient, mode of action (MoA) group, and restricted re-entry interval (REI). This format gives growers quick and easy access to the necessary information to manage pests effectively.
This year's guide features two new sections: "Resistance Management" and "Phytotoxicity." The "Resistance Management" section provides a general overview of proper pesticide rotation to help prevent the development of resistance in pest populations and prolong the effectiveness of pest management products. The "Phytotoxicity" section outlines methods to reduce the risk of unintended harm to crops and avoid significant economic losses.
Notes on insecticides for 2023
With help from university entomologists, researchers and growers, as well as invaluable information gained from IR-4 trials, the revised list of insecticides and miticides now includes products that incorporate alternate chemistry. This revision enables growers to diversify their rotation and delay the onset of pesticide resistance. For summaries of research evaluations of insecticides on ornamentals, go to the IR-4 Ornamental Horticulture website.
Disease management
MSU Extension plant pathologist Mary Hausbeck has released her new "2023 Greenhouse Disease Management" guide. The products are classified in a range from "A+" or "B/B-" team products. The "A" team products provide the best disease control, and "B" team products provide limited control and are good to include in a spray rotation. The "2022 Greenhouse Impatiens Downy Mildew Program" for susceptible and impatiens downy mildew-resistant cultivars is now included in the 2023 guide.
Are you looking for recommendations for vegetables and herbs? Hausbeck and colleagues developed a guide for disease management specifically for vegetable and herb crops. It includes information on registered products' active ingredient, trade name, FRAC code and re-entry interval and is categorized by crop group and target pathogen.
Download 2023 Greenhouse Disease Management Recommendations
Changes from 2022
The disease management recommendations for the 2023 growing season are consistent with those of the previous year, with some notable changes.
Broadform (fluopyram + trifloxystrobin) has been moved from the "A" team to the "A+" team due to its consistent effectiveness in producing disease-free plants even under high-pressure situations. This decision was made based on continued data collection and analysis.
Two new products, Tourney (metconazole) and Disarm G (fluoxastrobin) have been added to the list for powdery mildew and downy mildew, respectively. These products have undergone multiple years of testing and have shown enough promise to warrant their inclusion.
Nordox 75WG has been removed from the bacterial disease recommendations because the State of Michigan no longer registers it. The list of recommended products is checked annually to ensure that only legally registered products are included.
If you have questions about these insect and disease management recommendations, contact the author or your local MSU Extension greenhouse educator. You can also find more information on crop safety and the efficacy of products on the Environmental Horticulture Research Summaries page of the IR-4 Project website.