Growing lavender in Michigan: Advice for a purple garden
Lavender thrives in alkaline, rocky soils where many other agricultural crops do not grow. Learn the basics of lavender production.
It's that time of the year to start thinking about your perennial garden, and what's showier and more aromatic than lavender? Not only is it a beautiful addition to your garden, but its multiple uses mean you can harvest sprigs as bouquets, for the kitchen, for your medicine cabinet and bath and body needs. Lavender is also an excellent pollinator plant for pollinator gardens. If you are considering planting lavender, here are some guidelines to follow.
First, consider where you plan on sourcing your plants. Commercial greenhouses or nurseries often start their plants from seed, but this method is most successful in a controlled environment or greenhouse; it can take up to two to three months for lavender to germinate in field conditions. Therefore, residential or commercial lavender growers transplant young plants into the garden. Growers should purchase plants from a reputable propagator who uses best management sanitation and disease management practices. Lavender can be planted from May to September in Michigan.
Soil preference
In many cases, stony soils that are considered poorer quality for many other plants are well suited to lavender; lavender thrives in rocky, sandy soils with low fertility. Lavender is native to the hot, dry climate of the Mediterranean and grows in rocky alkaline soils. A sandy loam, well-drained soil with a pH between 6.5 to 8 is ideal. If the pH is too low, add lime when planting to boost the alkalinity. For commercial growers, the general rule of thumb is that adding 100 pounds of pelletized lime per acre raises the pH 0.1 units. For home gardeners with acidic soils, start with applying 1/8 of a cup of lime per square foot on the soil surrounding the plants.
Prior to planting, soil tests can determine if additional nutrients are needed. Clay-based or heavy soils will need to be amended to facilitate drainage; the French drainage method (a commonly-used method in the industry) includes adding one or two handfuls of stone to the hole before planting or surrounding the plants with stone is also a popular additive to facilitate drainage. Another common practice to promote drainage is to plant in mounded (18-24 inches) cultivated soil. In order to determine your soil pH and type, you can send a sample into the Michigan State University Soil and Nutrient Laboratory.
Plant production
In addition to excellent drainage, lavender requires full sun (6 or more hours per day) and can benefit from relatively close natural or structural windbreaks to protect it from harsh Michigan winters, such as a stone fence or the side of a house or barn. Most lavender varieties are hardy to USDA Hardiness Zone 5. In a residential landscape, lavender grows best in a location with a southwest facing exposure and hand-weeding will likely be sufficient for weed control.
In Michigan, most commercial lavender growers plant young propagules during the last week of May or the first two weeks of June, weather permitting. Generally, lavender is planted 24 to 36 inches apart to allow for adequate airflow between plants. Commercial growers often use weed barriers or landscape fabric, similar to that of other perennial crops and some annual vegetable crops. The landscape fabric would cover the mounded area and the grower can cut a hole in the fabric every 24 to 36 inches where the lavender propagules will be planted. This will allow weeding to be confined to the small hole in which the lavender is planted. The black fabric also absorbs the sunlight and warms the soil, providing enhanced growing conditions for lavender. Wood mulches are not appropriate for lavender cultivation because they trap moisture by the roots, which isn't ideal for an arid-loving plant.
Lavender is drought-tolerant and needs very little water. During the summer months, most Michigan locations receive enough rainfall that supplemental irrigation is often not needed. For example, Grand Haven, Michigan, receives between 2.5 and 4 inches of rain per month from May through October. The Provence region of southern France, where much of the lavender historically has been cultivated, receives between 1.8 and 3 inches of rain per year. However, the driest month is July where the area receives less than 0.5 inch of rain where there are only 1.6 days with rainfall on average.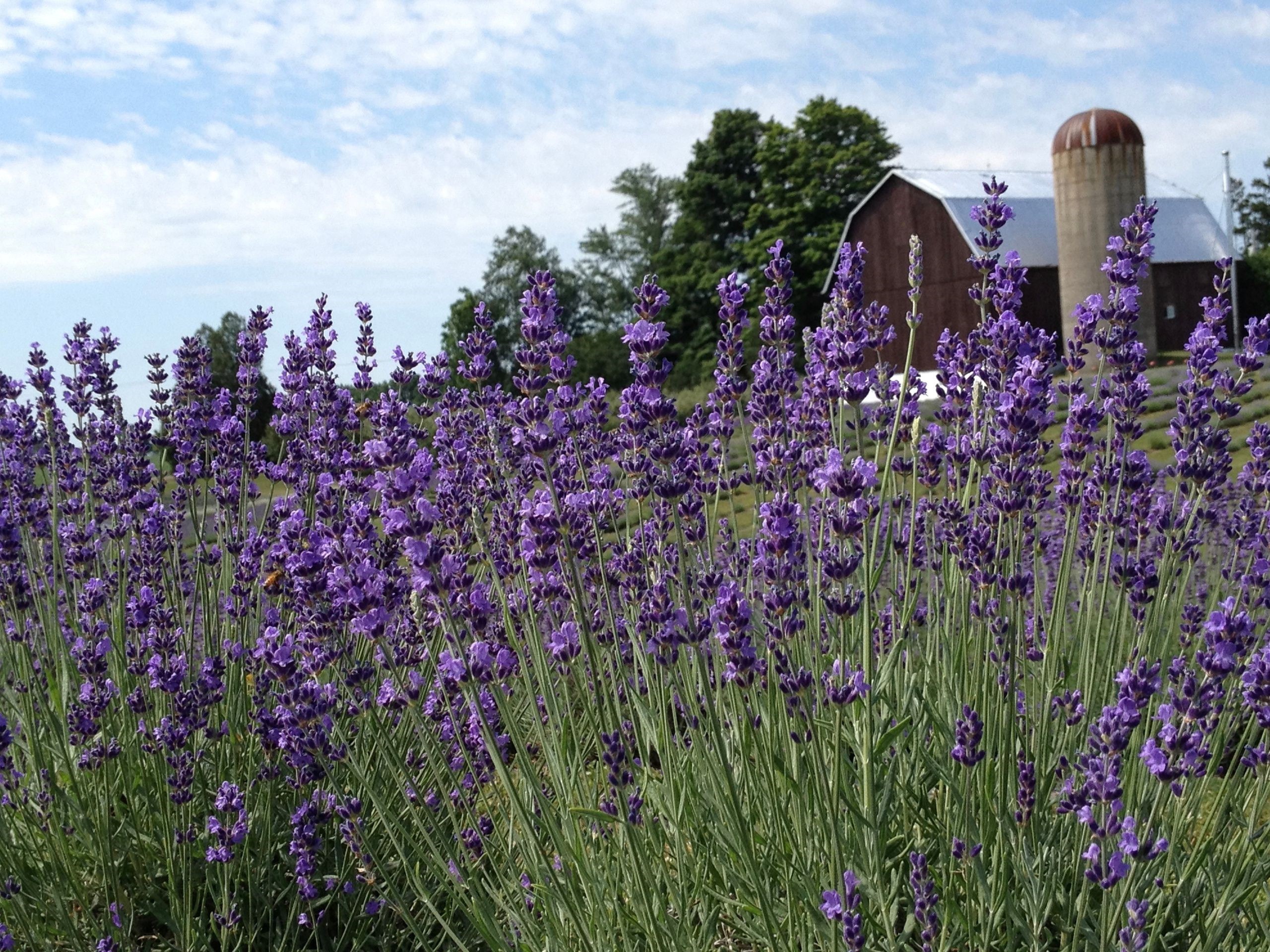 Without regular rainfall, young lavender propagules will need to be watered every four to five days during the first month in the field and especially during hot summers or in windy locations. Be sure to let the plant roots dry out between irrigations to prevent root rot diseases.
Further resources
For more information about the varieties of lavender, further production information and information surrounding marketing, check out "Growing and Marketing Lavender," bulletin EB2005 from Washington State University Extension.
For those who are interested in learning more about lavender cultivation, a new self-paced, online course titled "Growing Lavender: A Curriculum for Lavender Growers" is now available. The online course is hosted by Michigan State University Extension, Kansas State University Extension and the U.S. Lavender Growers Association. It has seven modules:
Why and How to Grow Lavender
Establishing Lavender
Selecting Lavender Varieties
Managing Lavender Crops
Harvesting and Post-Harvest Recommendations
Developing a Business Plan
Marketing Lavender
The cost of the curriculum is $30 per person. We will be working to monitor and improve our content so if you have suggestions, feel free to contact the instructors.
Go purple today and learn more about how to commercially grow lavender. To learn more about the course and register, visit "Growing Lavender: A Curriculum for Growers."