Growing zinnias in your flower garden
It's not too late to plant zinnia seeds for late summer color that will last until the first frost. They also make an incredible cut flower with a long vase life.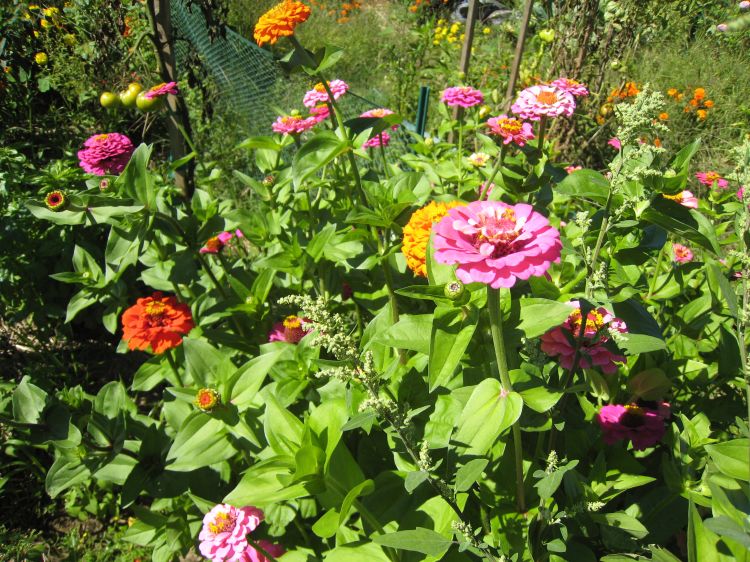 Zinnias are one of the tried-and-true garden flowers recommended for even the most novice gardener. My first introduction to zinnias was from my earliest memory of gardening. There was always a row amongst the bush beans and tomatoes saved for zinnias. Zinnias are still my favorite annual flower and now they get a coveted spot next to my back deck so I can enjoy them while enjoying the summer weather.
Zinnias are easy to grow; they like full sun and well-drained soil. They can be transplanted or direct sown into the garden. If you choose to get an early start and plan to transplant, plant them in a peat pot that can be planted directly into the garden or planting bed, as not to disrupt the roots.
Zinnias come in a multitude of varieties. They can be dwarf to giant, ranging from 6 inches to over 4 feet. The flower heads come in a variety of shapes from single and double blooms, to spidery-shaped to domes.
The best thing is the fantastic range of colors. Zinnias are available from the faintest pastel to the most vibrant colors. They come striped, speckled, solid and multicolored.
To have blooms from early summer to frost, Michigan State University Extension suggests dead heading zinnias. Dead heading helps to promote the zinnias to keep preforming throughout the season. Nevertheless, zinnias get tired, so I recommend succession plantings of zinnias every two weeks. I plan succession plantings commencing in late May and continue through about the first week of July. This guarantees showy blooms through late September. It is not too late to plant a few zinnia seeds for late summer color that will last until the first frost.
In addition to zinnias' spectacular garden show where ever you need a burst of color, zinnias are an incredible cut flower. Many varieties of zinnias will last from seven to 12 days in a vase. Zinnias are the workhorse of the farmer's market, too. Flower farmers will attest that zinnias with their brilliant colors, easy care and long vase life are one of the most profitable flowers to grow.
Two of my favorite zinnia varieties are 'Benary's Giant' and 'Cut and Come Again.' Their names tell their story. 'Benary's Giant' are large bloomed, brilliant flowers on tall stems ranging from 40-52 inches. 'Cut and Come Again' just love to produce and, like all zinnias, if you cut the stem just above a bud joint, you'll encourage your zinnias to produce nonstop throughout the growing season.