Harbor Bay Real Estate Advisors' Mark Bell engaged audience at the April 2018 SPDC Industry Seminar Series
The MSU School of Planning, Design and Construction held its 12th Industry Seminar Series event on April 20, 2018, in East Lansing.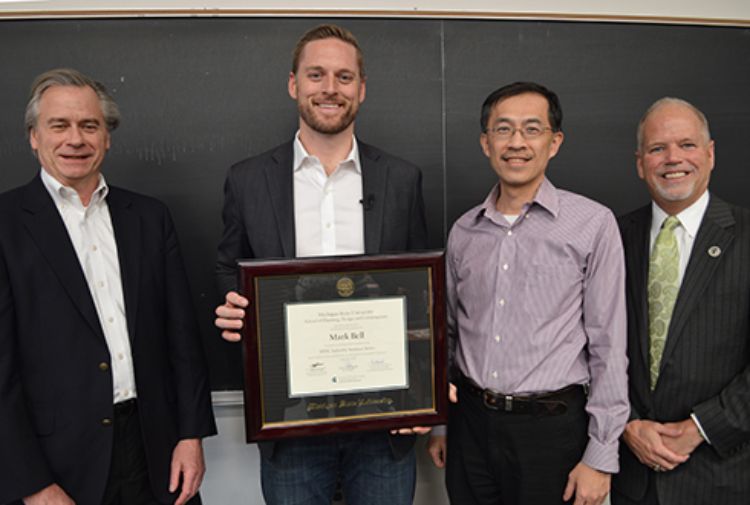 The MSU School of Planning, Design and Construction held its 12th Industry Seminar Series event on April 20, 2018, in East Lansing. The featured speaker, Mark Bell, is CEO and co-Founder of Harbor Bay Real Estate Advisors, based in Chicago. He presented with James Litwin, vice president of construction, on "Transformational Developments – The Story of East Lansing's City Center District."
Joseph Maguire, president and CEO of Wolverine Development Corporation, is the facilitator of the Series. The series continues to be popular with local alumni and industry leaders and helps to show SPDC students real-world examples of what is possible to achieve upon graduation.
Bell's presentation centered around the City Center District, a $125-million project in the 100 block of East Grand River, for which Harbor Bay Real Estate Advisors is the lead.
He began by talking about what he calls "transformational cliché." Bell shared that with many legislators throwing around the world "transformational," the real definition seems to be lost.
"I think it is truthfully used too often, and what we have here is really the quintessential transformational project because it really embodies, in our humble opinion, all the make-up of what a project should be if it is going to be coined transformational," he said.
Bell moved on to discuss planning a project, and Harbor Bay Real Estate Advisors' unique mindset that he thinks makes them successful.
"At Harbor Bay, we really believe in tackling the hardest sites. We see value as a company looking and identifying deals without assistance, and we are then able to procure those deals in a wholesale mentality."
When Bell and his team were assessing the property for the development, he said they drove around the site without a broker in order to take their time and experience pedestrian walkable patterns and vehicular traffic. After being a broker for seven years, Bell said he feels one out of every 10 brokers might be adding value.
"Ultimately, it is better and more authentic to get a call from an owner – owner to owner, developer to owner, versus broker to owner," he said.
Even as a millennial, Bell said he is not a fan of social media and the use of technology to make connections. His advice is to pick up the phone and introduce yourself, your purpose and your value. He feels that emails and reaching out via LinkedIn are a quick way to connect, but remove the authenticity. Instead, he suggests coming from an approach of handwritten thank you notes and face-to-face meetings.
Bell said that you and your competition will have the same challenges, but if you can get through the barriers where others might move on to a new site, there is no reason to look back.
Giving an example from his own experience, he mentioned that he was in Chicago but was interested in a property in Utah. He emphasized that it starts with the face-to-face meeting. During his phone conversation with the owner he said, "I will fly out and get coffee with you tomorrow."
The second half of Bell's presentation focused on the entitlement side of business. He said they faced many challenges in this phase of the project with the City Center District, as it was the largest project East Lansing has considered.
He continued by offering this advice: "You have to check your ego at the door, and you have to listen." Bell said he attended a handful of city council meetings and meetings with the planning commission to discuss height, color, parking, etc.
"You have to know who your audience is and who you are trying to sell to," he said.
Bell also focused on the importance of the comprehensive plan, stating that you have to be respectful, first and foremost, and then remind people of the mission based off the plan.
He then moved on to design principles, and mentioned that for this project they are trying to make a 10-story building feel like it is eight stories. He said they are planning to do this through setbacks and changes of materiality.
They hope Albert Avenue and the new development will be seen as "a destination retail opportunity – a hub of interaction."
In addition to the plan to go curb-less for outdoor seating and greenery, Bell said they are hiring a world-renowned interior designer, because he believes it is vital to the success of the building.
Through engagement with focus groups, they learned storage is necessary in addition to spaces for meetings, because many of the apartment tenants are involved in consulting. Bell said the building will feature a library with breakout conference rooms going through the book shelves in order to fit the needs of the tenants.
Bell wrapped up by discussing their development of the Target store, which will be located on the first floor of the building, and walked attendees through the site plan.
Learn more about these events at SPDC Industry Speaker Series.