Head to Houghton for a Lake Superior Fisheries Workshop on April 30, 2018
Presentations include updates on several important fish issues, public encouraged to attend and provide input.
Do you like to fish on Lake Superior and want to know what others are catching on the lake? Do you want to hear how industrial pollutants from long ago are impacting fish habitat today? Are you looking to tour a world class research facility? The Lake Superior Fisheries Workshop on April 30, 2018, will offer answers to these questions and more.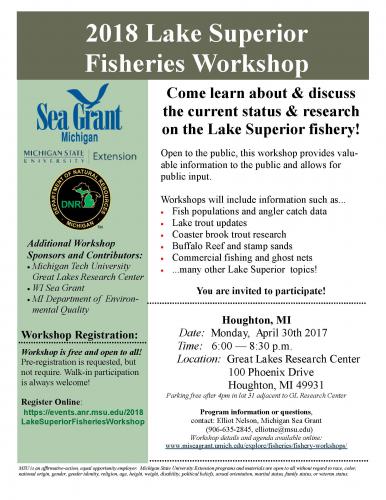 Michigan Sea Grant workshops are intended to inform the angling community and general public about fish populations and management. This year, in cooperation with the Michigan Department of Natural Resources (MDNR), our Lake Superior Fisheries Workshop will be held at Michigan Technological University in Houghton, Mich. The workshop will feature a variety of talks from the university and management agencies of the MDNR and Michigan Department of Environmental Quality. The talks will help anglers and the general public understand what research is taking place on the lake and how it is informing fisheries management decisions. There will also be plenty of time for questions and answers allowing anglers to give valuable input.
The workshop will be 6 p.m. to 8:30 p.m. April 30, 2018, at the Great Lakes Research Center at Michigan Technological University. The address 100 Phoenix Drive, Houghton, MI 49931. Parking is free after 4 p.m. at the adjacent lot 31.
Presentations (see agenda) this year will include:
Buffalo Reef and Stamp Sands Updates – MDEQ and Keweenaw Bay Indian Community
Coaster Brook Trout Population State – MI Tech Great Lakes Research Center
Lake Trout Status, Updates, and Isle Royale Populations – MDNR Fisheries Division
Ghost Nets – WI Sea Grant
Lake Superior Angler Creel Data - MDNR Fisheries Division
MI Tech Great Lakes Research and Facility Tour – Great Lakes Research Center
The Lake Superior Fisheries Workshop is free and open to all interested participants. Registration is requested, but walk-ins are welcome. Register online.
Don't miss out on this exciting opportunity to learn about what is happening with the Lake Superior Fisheries!
Michigan Sea Grant helps to foster economic growth and protect Michigan's coastal, Great Lakes resources through education, research and outreach. A collaborative effort of the University of Michigan and Michigan State University and its MSU Extension, Michigan Sea Grant is part of the NOAA-National Sea Grant network of 33 university-based programs.