Helping an orphaned foal requires quick thinking
See how the MSU Horse Teaching and Research Center had to think quick when it came time to raising an orphaned foal.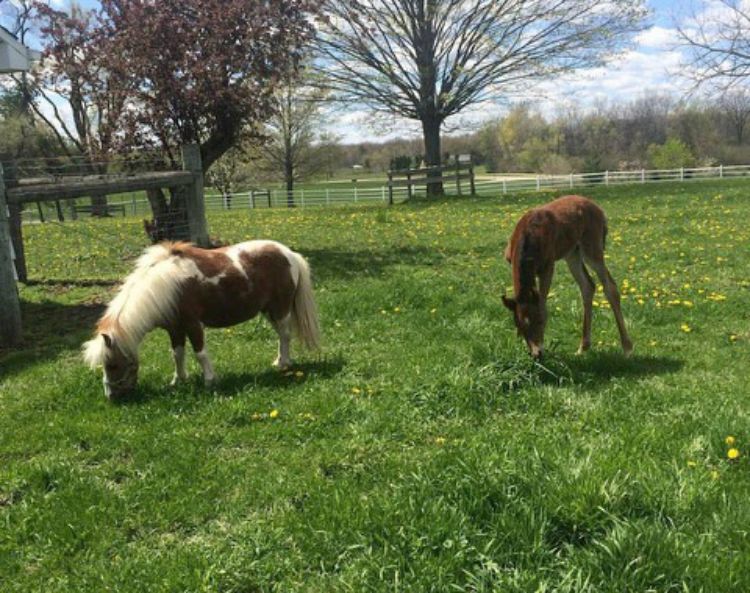 If you've spent any time in the equine breeding industry, you've been faced with trials and tribulations that will require ingenuity, and Michigan State University's Horse Teaching and Research Center is no different. Most recently, a foal born (Monticello V x MSU After Dark) on April 22, 2016, was the lucky recipient of said ingenuity! This little filly was unfortunately rejected by her mother shortly after birth and for her safety was removed from her mother's side.
MSU Horse Teaching and Research Center's farm manager, Paula Hitzler, shared her take on the mare's behavior, "I think in this case it was a maiden mare that had a dystocia delivery and was in a lot of post-foaling stress and pain. She would not let down milk. Probably because stress interferes with oxytocin release, which in turn helps with milk let down. She was overly sensitive on her udder. We sedated the mare, gave multiple doses of oxytocin and pain meds. Nothing worked. After three days of round-the-clock holding an angry mare so the foal could nurse and having the mare go after the foal, we decided it was not worth the effort."
Once realizing they would have an orphaned foal, the best option was to find the foal a nurse mare, but unfortunately the nurse mare didn't take to the new filly either. So in order to provide the foal with the necessary nutrition, an Igloo cooler was retrofitted with a sheep nipple to allow for nursing (see photos below of adapted cooler). Finally, a bit of success! The filly took to nursing from the cooler quickly, allowing for one big hurdle to be overcome.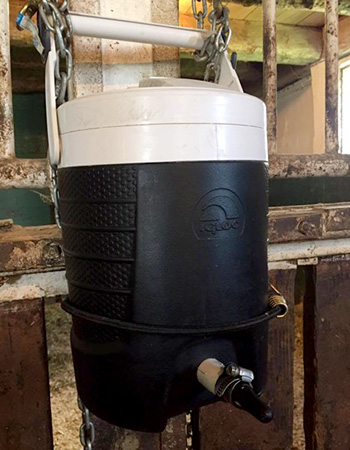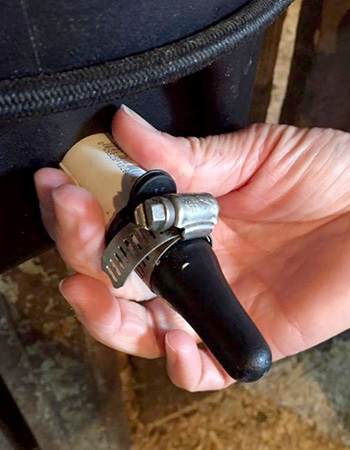 Next up, the behavioral development of the new filly had to be addressed. It is commonly known that orphaned animals can develop behavioral issues due to the lack of parental guidance. Orphaned foals often lose a sense of human's personal space, can lack appropriate ground manners and may not have the same flight instincts as a traditionally-raised foal. In an effort to curb these issues, the filly was introduced to Uncle Bentley. Uncle Bentley is no stranger to helping raise an orphaned foal, as he has held this position in the past. Uncle Bentley is a gelded miniature horse owned by Shannan Bush of Cedar Springs, Michigan. Spending time with her new Uncle Bentley will allow the filly to learn many normal horse behaviors such as grazing, herd hierarchy, play and much more.
MSU Extension encourages you to stop by the MSU Horse Teaching and Research Center at 3327 Collins Road, Lansing, MI 48910. The farm is open to the public and encourages visitors from 8:30 a.m.-4:30 p.m.