Hold an appreciation afternoon
Focusing on appreciation has a personal and professional benefit.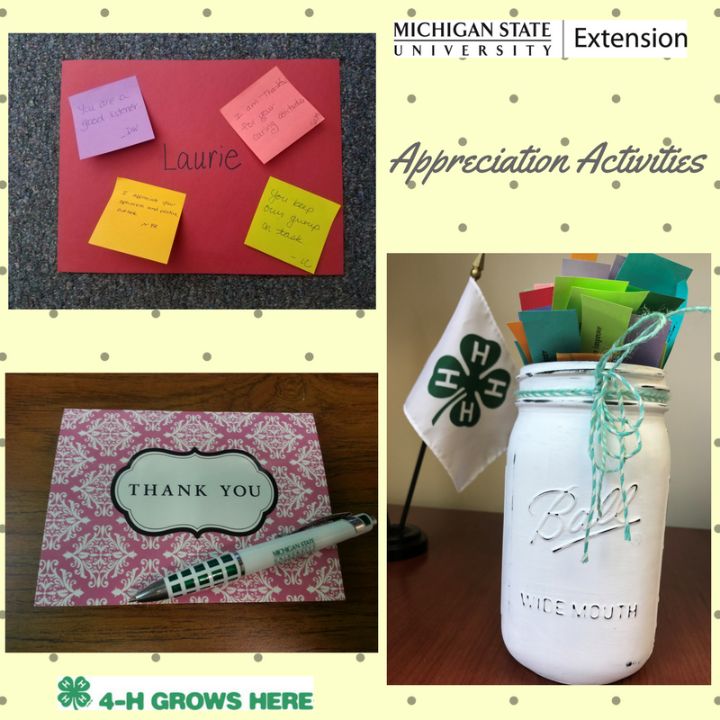 Appreciating others and life, in general, can have many positive benefits, as shared in "The Many Benefits of Showing Appreciation," a research-based article in Psychology Today. Gratitude can go a long way in your personal and professional life. Youth benefit from learning about and practicing appreciation at a young age, too.
Do you want to add appreciation activities to your team, group or club? Hold an appreciation afternoon with one or more of the following stations.
Thank-you notes. Have the Seven Steps to a Great Thank-You Note handout for participants to use. Provide a list of people participants might thank including parents, teachers, caregivers, neighbors, peers, co-workers or mentors, or brainstorm a list with participants.
Thank-you notes are not just for gifts or tangible items. Thank-you notes are good to thank someone for their friendship, their time, for always being a smiling face in your life, or for their support and encouragement.
Have attendees create a sample thank-you note on loose-leaf paper. Once written, they can re-write the message onto quality thank-you note cards to have a nice finished product they can mail or hand to their recipient.
Appreciation pages. Have colorful paper for participants to list all the things they appreciate about a topic. The topic could be their school, club or group, 4-H project, workplace, hometown or even themselves. Being present and grateful for what we have is helpful for emotional wellness.
Positive attribute cards. Put different colored post-it notes on a table. Write the name of each participant on a larger sheet of paper (12-inch by 18-inch works well). Each participant then writes one positive attribute on a post-it note card for every other person in the group and places it on the corresponding sheet of paper. Encourage participants to write positive character traits such as being a good friend, always helping others, asking good questions, etc., as opposed to physical traits like nice hair or stylish clothes. Participants can write their name or initial the note they write or leave it blank.
At the end, each participant takes home their paper with the positive attributes listed there. Participants can hang their positive attribute paper somewhere visible for when a self-worth boost is needed.
Inspiring gratitude jar. Print inspirational or gratitude-based quotes on pieces of paper. To make it more fun, you can print on different colored or patterned paper. Participants cut out the quotes that resonate with them, fold in half and stick inside a jar or container. (A canning jar works well.) Participants can decorate the outside of their jar and every day or on days when feeling discouraged, pull a quote out of the jar for inspiration.
Appreciation calendar. Have group members create an appreciation calendar for use at home, work or in your group or team. Each day or week, list an activity to do related to gratitude and appreciation. Ideas include writing thank-you notes, volunteering, saying thank-you to someone who is under-appreciated or recognizing good service out in the community. Each participant who completes the gratitude task that week records their name on the calendar.
Having a positive framework on life can build on an attitude of gratitude and appreciation. This positive framework supports a healthy relationship network, personal life and career path. Practicing appreciation starts with those involved down that path for success.
Michigan State University Extension and Michigan 4-H Youth Development help to prepare young people for successful futures. As a result of career exploration and workforce preparation activities, thousands of Michigan youth are better equipped to make important decisions about their professional future, ready to contribute to the workforce and able to take fiscal responsibility in their personal lives.
To learn about the positive impact of Michigan 4-H youth career preparation, money management and entrepreneurship programs, read the 2016 Impact Report: "Preparing Michigan Youth for Future Employment."
---