Homemade horse treats
Looking for a fun winter activity with your 4-H club? Making horse treats is a great and educational activity!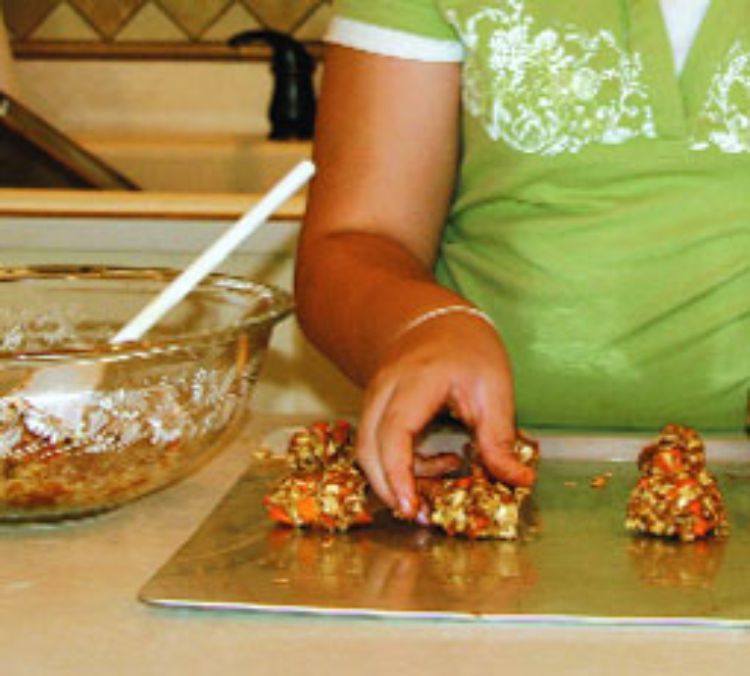 Looking for a fun winter activity? Stay inside on a cold, blustery winter afternoon and make your horse some of these delicious homemade horse treats. I am sure your horse will appreciate the effort!
Don't forget moderation is important, so don't give your horse too many treats in one day! Any abrupt change in a horse's diet can cause problems, so be sure these are used as treats or rewards, not a meal. If you're interested in learning more about equine nutrition, check out this article on Nutrients and Common Feed Sources for Horses.
Molasses Crunch Cookies
Your horse will love the sweet crunchiness of these cookies. They keep well in an airtight container.
Prep time: 15 minutes
Cook time: 10 minutes
Ingredients:
1 ½ cup all-purpose flour
1 cup bran
1 cup molasses
1 cup grated carrot or apple
Preparation:
Preheat oven to 375 degrees Fahrenheit and oil two cookie sheets. Put aside a small bowl of white sugar and a drinking glass with a flat bottom. In a large bowl, mix all the ingredients thoroughly. The mixture shouldn't be too wet and should stick together. Add more flour to make the mixture firmer and hold together if necessary. Drop by the teaspoonful about 1 ½ inches apart on a greased cookie sheet. Grease the bottom of the glass, dip it in the sugar and stamp the cookies to flatten them slightly. Bake for about 10 minutes.
This recipe makes about 25 cookies, depending on the size. Store in an airtight container or bag.
Apple Oat Squares
Treat your horse or pony to these simple squares made of wholesome ingredients. Keep them fresh in the fridge and remember not to feed too many of any treat too often.
Prep time: 10 minutes
Cook time: 30 minutes
Ingredients:
1 ½ cups unsweetened applesauce
1 cup oat bran cereal or ground oatmeal
½ cup all-purpose flour
Preparation:
Preheat oven to 350 degrees Fahrenheit and oil a 9 x 9 inch cake pan. Spread the batter evenly in the cake pan and bake for 20 - 30 minutes. The batter will start to shrink away from the sides and it will be firm to the touch. Slice the product into squares while still warm. Keep squares in the refrigerator in an airtight container or bag.
Enjoy making these delicious horse treat recipes from Michigan State University Extension!