Honoring the Life and Legacy of Ronell Burgett Scheller, '82
Chip Foster, '82 packaging, established the Ronell Burgett Scheller Memorial Fund in memory of his best friend from college.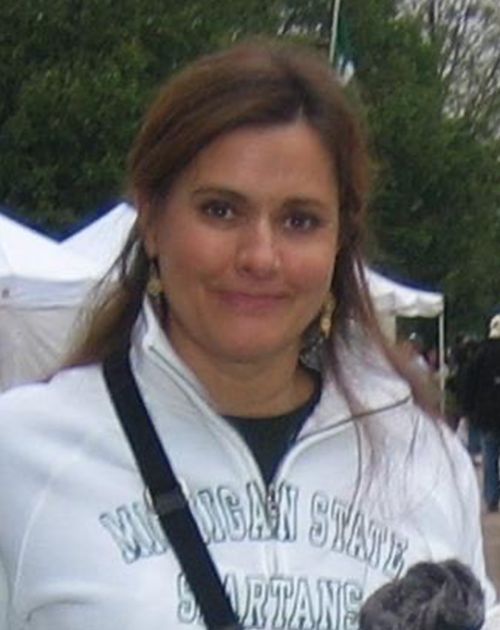 When MSU School of Packaging alumnus Chip Foster, '82, and his wife Marcia made their financial commitment to the School of Packaging building renovation they were determined to do more than just donate, they also wanted to honor the life and legacy of their friend and alumna Ronell "Roni" Burgett Scheller, '82.
As the children of MSU alumni, both Chip and Roni knew that MSU was the only school for them. As Chip put it, "There was no question if I was going left or right. It was always going to be Michigan State."
Roni's father was an MSU alumnus and former football player. According to Roni's daughter, Calla Scheller McLaughlin, "My grandfather actually played football at Michigan State in the 1950s. He and my grandma got married while he was at MSU."
Chip entered his freshman year as a pre-veterinary medicine student, but after taking Dr. Bruce Hart's packaging class as an elective, he knew he wanted to be a packaging engineer. It was in his packaging classes that he met Roni.
"We went through almost every packaging class together," Chip said. "We shared notes afterwards. She helped me through tests. We shared a sense of humor, and we both participated in Greek life. She became my best friend at college."
After graduation in 1982, life and careers took over and Chip and Roni lost touch for almost 30 years. Chip married Marcia and went to work for Alcoa for five years, then spent 30 years at Pepsi. Roni's career took her to multiple places including L'Oréal, Kraft, Cadbury, and Morton Salt. Fast forward to around 2012.
Chip recalled, "I was sitting in a Packaging Alumni Association (PAA) Board meeting and a Packaging student came in and introduced herself. It turns out that it was Calla, and she was in the School of Packaging. Later, I pulled her aside and said, 'Hey, are you who I think you are?' We called Roni on the phone that day and Calla said 'Mom, you'll never believe who I met.'"
After that fateful day, Chip and Roni reconnected. They finally met in person at a packaging show in Chicago during a PAA event. They remained in touch through texts and emails, would see each other at MSU football and basketball games and, occasionally, meet for dinner when Chip traveled to Roni's home base of Chicago for business.
Chip also took Calla under his wing and became a mentor and friend to her for the remainder of her time at the School of Packaging and into her career. According to Calla, "It was a great experience because Chip kind of went from just my mom's friend to someone who I could call a mentor and friend and as well. It was also amazing to me when I did graduate, how many people that my mom worked with over the years, I then interacted with because packaging is a small world, but it's a lot of fun."
In 2016, Roni was diagnosed with ovarian cancer and was treated for three years at Northwestern. Chip said, "I didn't see her while she was in the throes of the disease. But after she was feeling better, we got together. We went out to dinner, probably spent three hours together talking. I think I sent her a text for her birthday, which is end of December, and she responded back and said, 'Thanks so much.' Calla contacted me in early January 2020 to let me know that she had passed away." Roni was 59 years old.
To honor Roni, Chip and Marcia Foster established the Ronell Burgett Scheller Memorial Fund. This fund will be used in the future to name a space within the Packaging building. Additional donations are welcome to help grow this fund in Roni's memory.
"To have my mom memorialized in this way is so incredible. Chip and Marcia are so incredibly generous. I think my mom, and I, and everyone who has graduated from the School of Packaging is so passionate about what a great place it is — we want to make sure it's going to be great for generations to come," Calla said.
Chip's connection to the School of Packaging and the life-long relationships he has fostered through it have really inspired him to do more.
"I couldn't think of a better thing to do than establish a fund to memorialize Roni who had such an impression in my life and the School of Packaging. If that small seed of a donation in memory of Roni can inspire others, we want to do it and hopefully grow that into something larger," he said.
To help grow the Ronell Burgett Scheller Memorial Fund , you can make a gift online at: https://givingto.msu.edu/gift/?sid=16295 or contact CANR Advancement.