Hops: The importance of selecting the appropriate training date
Date of training can affect yield and cone quality.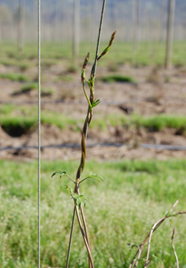 Many factors affect hop quality and yields including fertility management, proper irrigation and pest and disease control. As Michigan growers continue to refine their production practices to increase the yield and quality of hops, one important aspect that may be overlooked is selecting the appropriate date to train hop bines. The practice of training involves selecting two-four bines and wrapping them around each coir string in a clockwise direction.
The appropriate date of training can be affected by several factors including spring weather, cultivar, bine height and latitude. In the Washington and Oregon, training typically takes place in May, three weeks to a month after pruning. At this time the bines are usually around 2 ft. tall.
A four-year study highlighted in "Hop Production: Developments in Crop Science" looked at the effect of different training dates on hop yield, length of cones, numbers of shoots, density of setting (number cones per 10 cm of shoot) and mean length of shoots. The optimal training date for middle Europe (49 degrees N), was after May 10. The training date that conferred the greatest yield of fresh cones was May 12, followed by May 4, and June 1. Late training reduced fresh hop yields by 38.5 percent, while early training reduced yield by 10.3 percent. The color of cones was the poorest with earliest training. The late training also decreased the length of cones but did increase their setting density.
Jason Perrault of Perrault Farms in Washington State addressed the issue of training at the Great Lakes EXPO in 2012. He suggested that the timing of training is critical and varietal specific, but very difficult to determine.
"…if we know a variety is late, we know that the later varieties need to be trained later. If the variety is early then we know that it needs to be trained earlier. The problem is, certain varieties fall completely out of that classification all together. Take Cascade for example. That's kind of a medium maturing variety and we would expect that it should be trained the first week of May, the second week of May and it would be fine. But that is not the case. Over the years we find that if we train Cascade at the end of April, we get our best yield. So, a lot of it is really just learning the variety."
What growers should take from this is that accurate record-keeping over time should help Michigan growers begin to develop the knowledge necessary to obtain the best possible yields.
Please visit the Michigan State University Extension hops page or the MSU Hops Facebook page for up to date information on all things hops happening in Michigan.