Horseweed confirmed resistant to glyphosate in Michigan field crops
Here are tips for managing horseweed this season and beyond.
In 2007, Michigan State University's Diagnostic Services confirmed the first glyphosate-resistant weed biotype found in Michigan. This glyphosate-resistant weed was a horseweed (a.k.a. marestail) population that was collected from a Christmas tree plantation in Mason County, Michigan. Since this discovery MSU with funding provided by Michigan Soybean Promotion Committee has been actively screening horseweed and other weed populations that growers have suspected to be resistant to glyphosate. This past winter two horseweed samples suspected of being resistant to glyphosate were screened and were confirmed resistant to glyphosate. These samples were collected from a no-till soybean field and a stale seed-bed sugarbeet field in Ionia and Gratiot counties. These are the first reports of confirmed glyphosate-resistant horseweed in Michigan field crops.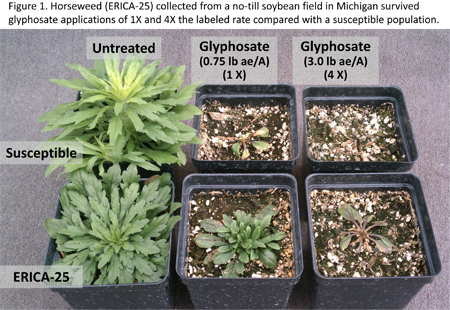 Both of these populations were able to survive applications of glyphosate at 1X and 4X the labeled rate (Roundup PowerMax at 22 and 88 fl oz/A + AMS at 17 lb/100 gal) (Figure 1). Similar to what has been observed with other glyphosate-resistant weeds these plants showed some signs of injury, but were able to survive these applications.
Management of glyphosate-resistant horseweed
Many of the strategies that are used to reduce the development of glyphosate-resistance can also be used to manage glyphosate-resistant weeds. However unlike other weeds, even if you follow the strategies to reduce the development of glyphosate-resistant weeds you may find glyphosate-resistant horseweed in your fields. The main reason for this is that horseweed seed is wind-blown and can blow in from other sources. In fact, a paper in Weed Science strongly suggests that horseweed seeds can enter the Planetary Boundary Layer, where long-range transport is possible. In addition, we also have several horseweed populations in Michigan that are resistant to ALS-inhibitors. While the samples that we screened do not appear to be resistant to both glyphosate and the ALS-inhibitors, it is important not to strictly rely on these herbicides for management of horseweed, since the only effective POST herbicides that can be used in soybeans are ALS-inhibitors and glyphosate. Control of horseweed resistant to both of these classes of herbicides can be extremely difficult postemergence in soybeans.
Key principles to horseweed management
To effectively manage horseweed, it is important to control horseweed prior to planting.
2,4-D ester (1 pt/A) or Sharpen (1 fl oz/A) should be included in glyphosate burndown applications prior to planting soybean. Remember a minimum of 7 days is needed between the application of 2,4-D ester (1 pt/A) and soybean planting. Methylated seed oil at 1% v/v must be included with Sharpen + glyphosate tank-mixes. Remember Sharpen or Sharpen the containing products (Optill or Verdict) cannot be tank-mixed with Valor (flumioxazin) or Authority (sulfentrazone) containing products.
Ignite (29 fl oz/A) is another burndown option for control of glyphosate-resistant horseweed.
Horseweed is most susceptible in the rosette stage (less than 2-inches in height).
Herbicides should be applied before plants are 4 to 6 inches in height.
Spring burndown applications with residuals will help prevent new emergence of horseweed. In soybean the herbicides that provide good residual activity of glyphosate-resistant horseweed are the ALS-inhibitors, chlorimuron and cloransulam (Classic and FirstRate containing products) if the population is not ALS-resistant; Valor; and metribuzin containing products. The most effective of these residual herbicides are the ones that contain two different modes of action. In soybean, the premixes Valor XLT, Envive, Sonic, Authority First, Authority XL, Gangster, Canopy, and Authority MTZ. Authority (Spartan) alone only provides fair control of horseweed. In many of the metribuzin containing premixes the rate of metribuzin maybe too low to provide adequate residual activity, according to research conducted at Ohio State University. Remember many of these products have pH restrictions and long rotation restrictions to sugarbeet, dry bean, and other specialty crops.
Management of horseweed in corn is generally not an issue. There are several effective PRE and POST herbicides that can be used to control glyphosate-resistant horseweed in corn.
Another place where glyphosate-resistant horseweed may be a problem is in Roundup Ready sugarbeet, particularly if sugarbeet is planted into a stale-seedbed. If you suspect you may have glyphosate-resistant horseweed in a field that will be planted to sugarbeet, tillage prior to planting is recommended.
For more information and specific herbicide recommendations there is a fact sheet on Controlling Horseweed on page 177 in E-434, 2011 Weed Control Guide for Field Crops. Also visit www.glyphosateweedscrops.org to view a regional bulletin on the Biology and Management of Horseweed.
---