How food purchasing changed in 2020 – Did we get it right?
How did consumer food purchasing habits change in 2020 and what does it mean for the future?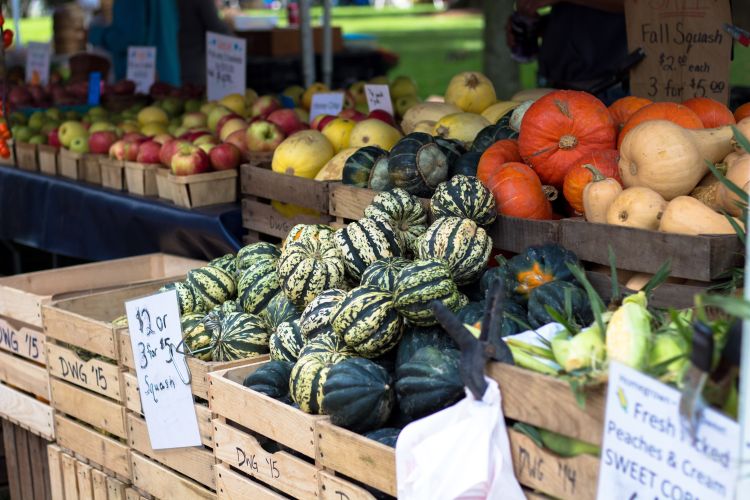 The COVID-19 pandemic continues to disrupt our lives. In May, we wrote this article with our predictions on how food purchasing would possibly change during the upcoming growing season. Now that the growing season is over, we've updated this article to see how accurate we were and look ahead as to how we think food purchasing habits in 2021 and beyond might continue to be affected.
Our first prediction was that there would be less travel, and that proved true. From Transportation Security Administration numbers, April 2020 air travel dropped to 25% of April 2019 and by November it was still only 40% of 2019 levels. Likewise, according to YCharts U.S. Gasoline Station Sales, April 2020 gasoline usage dropped to 60% of 2019 and by November it was 87% of 2019. Finally, according to Statista monthly occupancy rate of hotels, April 2020 hotel occupancy dropped to 25% and at this writing is 20% below 2019 levels.
Two other predictions that proved true were fewer dollars spent eating out and less consumer buying power. These predictions were due to government restrictions on dine-in restaurants and decreased spendable income due to higher unemployment and furloughs. United States Census Bureau Statistics revealed 2020 restaurant and bar sales dropped from $65 billion in February to $30 billion in April. Sales have since recovered to near $55 billion. Fast food drive-through and restaurants with significant take-out revenue were not as affected as dine-in restaurants. In most areas, dine-in restaurant restrictions have been partially lifted, and national unemployment has decreased from 14.7% in April to near 7% in November.
We also predicted that with less travel and cancellation of summer events, consumers would turn to other outdoor activities and that would include a visit to direct market operations and farmer's markets since they would be perceived as safe options for an outdoor activity due to greater openness of the facility.
These were "no-brainer" predictions, but the intent was on how these changes would influence food purchasing and the trickledown effect on fruit, vegetable and other producers. Less travel for any reason has a serious effect on food consumption patterns and purchases. When people travel, they eat meals at restaurants. One salad, or tomato and lettuce on a sandwich or hamburger may not seem like much, but magnify that by all the salads, hamburgers and sandwiches not served and it becomes a substantial number of items not consumed. With travel and dining out currently increasing, demand has partially returned. However, much of this downturn occurred during the northern vegetable production season where decreased demand resulted in lower prices and decreased sales. Food purchasing patterns that effected sales also changed drastically when schools and universities went virtual.
People still needed to eat, so in contrast to decreased restaurant sales, interest in meal and grocery delivery service increased substantially. These two services gave consumers the option of having restaurant-style meals and groceries delivered directly to their door. This was especially helpful to those in a high health-risk group wanting to maintain a safe social distance.
The final three predictions we made were an increase in buying local, an increase in home food preservation and more pick-your-own activity, all these proved to be true. A summary of Google searches as reported by Alba Collart found an increase in searches for the phrases "local food," "cottage food" (home food processing) and "home gardening."
An item produced locally is thought to be touched fewer times and therefore has a greater perception of safety. The buy local/home gardening/home food production and preserving interest was first seen in an increase in vegetable seed purchases and then how quickly garden centers and greenhouses sold out of vegetable transplants and feed stores sold out chicks and ducklings. The interest continued through the season with direct farm marketers seeing an increase of 30 – 50% over 2019. This increase came through more customer visits and an increase in sales per customer. Direct farm marketers worked hard to quickly make significant and costly changes in their farms to keep customers distanced and safe. Pick-your-own operators also experienced an increase in customer activity of 20% or more. The increase in customer activity was so great for some pick-your-own farms, that customers were required to make a picking appointment.
We also warned consumers that if they were going to do home food preservation, they should get supplies as soon as possible. We were correct, according to Syracuse's "No can do: Pandemic canning trend causing shortage of lids and jars for home gardeners."
There was, and still is, a national jar and canning lid shortage. Many online sales sites still indicate their water bath, steam and pressure canners are out of stock and stores are bare of canning lids and quart jars. These shortages have led to price gouging of canning supplies, hoarding and extravagant shipping costs, and frauds from online sales. These consequences have caused some consumers to use unsafe processing methods, such as paraffin as a sealant. Botulism is highly toxic and is a main concern in home preserved foods. It is not visible and has no smell or taste. Using improper food preservation methods can have deadly consequences. For safe, researched information on safely preserving foods at home, Michigan State University Extension recommends visiting the National Center for Home Food Preservation.
Renewed interest in home preservation probably has two reasons—safety and security. Confidence in safety is increased through greater understanding of how the food was produced and processed. More control over package handling increases confidence in its safety. Confidence in food security is increased because the user has the product stored at their house and is less concerned about the item disappearing off the shelf in the event of panic buying. The ability to process and store also enables them to take advantage of promotional food sales and lower prices when supply is high. Another measurement of the food security concern is seen in the demand for locally produced protein. Delivery of local produced beef is currently four to six months from the date of order.
So, what do we foresee for 2021 and maybe beyond? Even if a vaccine comes out by early next year, it is unlikely we will return to a pre-COVID-19 way of life anytime soon. Some things will temporarily change, while others have a chance of being permanent. The one big thing COVID-19 has taught us is the fragility of our current way of life and how dependent we are on things and people beyond our control. There will be an effort by some to become less dependent and better plan for emergencies and this is probably a good thing. Numerous internet sites and written materials exist to aid those making emergency preparedness plans. However, caution is warranted since some sites may cause more fear than security. A good place to start is the US government website Ready.gov.
The "buy local" movement was on the upswing prior to COVID-19, so that is expected to continue and strengthen now that additional consumers have experienced farm markets, farmer's markets and direct sales of fruit, vegetables, beef and other protein products. How much of an increase is hard to gauge but it would be worthwhile for direct market producers to plan on increased 2021 sales and adjust production and marketing. Those not doing direct marketing should consider direct marketing if they are in a position to sell a portion of their products in this manner. Beef producers selling locally should also consider increasing herd size since local beef demand will probably remain high. Farm supply businesses will probably also have increased demand in chicks in ducklings for at least 2021.
Direct marketers with value-added products (bakeries, jams, jellies, etc.) and agritainment facilities should likewise plan for similar demand in 2021 as they had in 2020. Events and festivals may return but there will still be some residual concern about crowded events. A significant portion of those who had this farm-oriented experience for the first time in 2020 will most likely be back in 2021, especially if they have children. This will also be true for pick-your-own. If customers do not see pick-your-own as a means of saving money, many will do it again for the experience.
One adjustment made by many direct marketers that will continue was their increased use of various social media platforms and online sales. Most were already using multiple platforms for advertisement, but many set up an online system where customers could go to see product availability and to order and pay. Customers would then go to the market and an employee would load their order into their vehicle. This created a touchless, social-distancing experience. This will continue for some operations, but consumers should expect to pay for the service in the future. Many operations had to hire extra employees to assemble, pack and transport the orders and were willing to absorb the cost in 2020, but that is not economically sustainable long-term.
Consumers frequenting farmer's markets in 2020 probably noticed many vendors had prepackaged items. This will continue and probably become the norm rather than the exception. Prepackaged items don't allow for inspection and selection of individual items, but they are safer since the item is not directly touched by customers that are simply curious.
Home food production and preservation will probably continue so consumers should again get supplies early. Many first-time home gardeners probably have new appreciation for commercial producers. Production of many fruit and vegetables is not as easy as they might have thought and to produce enough at one time to fill a 7-quart canner takes a lot more space, effort and time then what they thought. However, many will try it again in 2021 and perhaps purchase quantities locally rather than produce it themselves.
With the expected introduction of a successful and safe vaccine, institutional food service and restaurants will likely make a gradual return to a more normal level, which will be good for commercial growers. However, producers targeting these markets should be cautious about increasing production and probably stay at or near 2019 production levels. To be profitable the restaurant business depends a large part on volume sales. With volume decreasing during the COVID-19 pandemic, several restaurants may not reopen. As consumers remain cautious, fast food and take out sales are expected to continue to be strong for the near future at least.
One permanent change that will happen for some consumers is continued use of delivery services, especially grocery. Many consumers did not enjoy, or life's demands were too great for the grocery store experience in the first place, and having experienced not doing it, they will gladly pay someone else to do the actual shopping and deliver items to their door.
We are social beings with a strong desire for community and interaction. Everyone desires a return to pre-COVID-19 normal, but that will not happen. Therefore, we must proceed forward adapting to changes as they come and doing the best we can for our families, our community and ourselves.